A month in Indonesia
I've been back in The Netherlands for about 2 months now after spending almost a month in Indonesia. It was my first time travelling alone and I had no idea what to expect but I had the best time ever. I went there with little to no plan at all, only thing I knew was that I started in Jakarta and hoped to end somewhere near Lombok.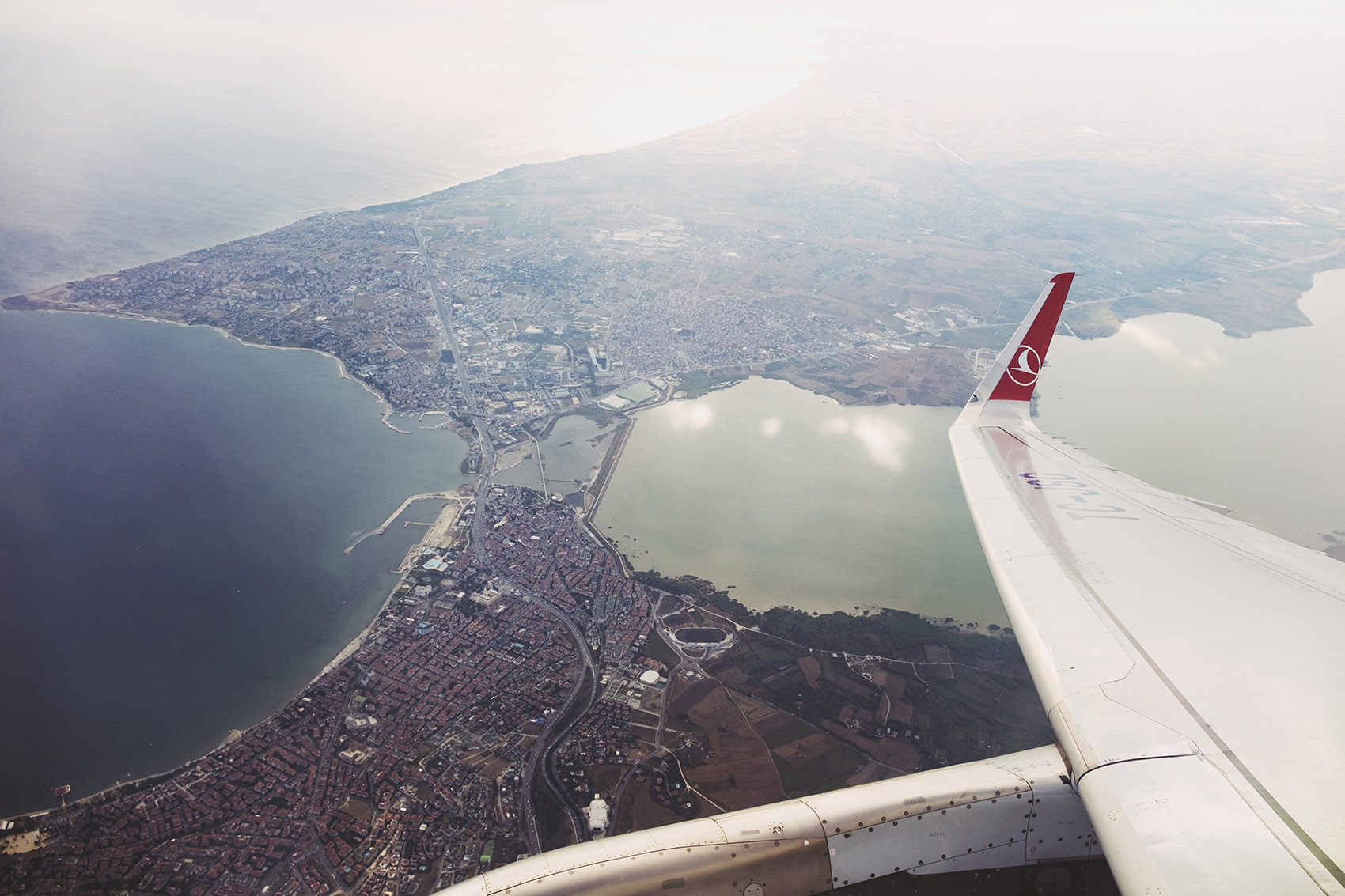 I started my trip to Amsterdam, flew to Istanbul and had to wait for 9 hours to catch my flight to Jakarta. At arrival I instantly took a bus to Bogor because I didn't want to start in Jakarta since I would also have time there at the end of my trip. So it took me around 33 hours to get from Amsterdam to Bogor, since I'm not able to sleep anywhere except in a bed I was really loving the TV in the airplane, watched about 7 movies, best invention ever.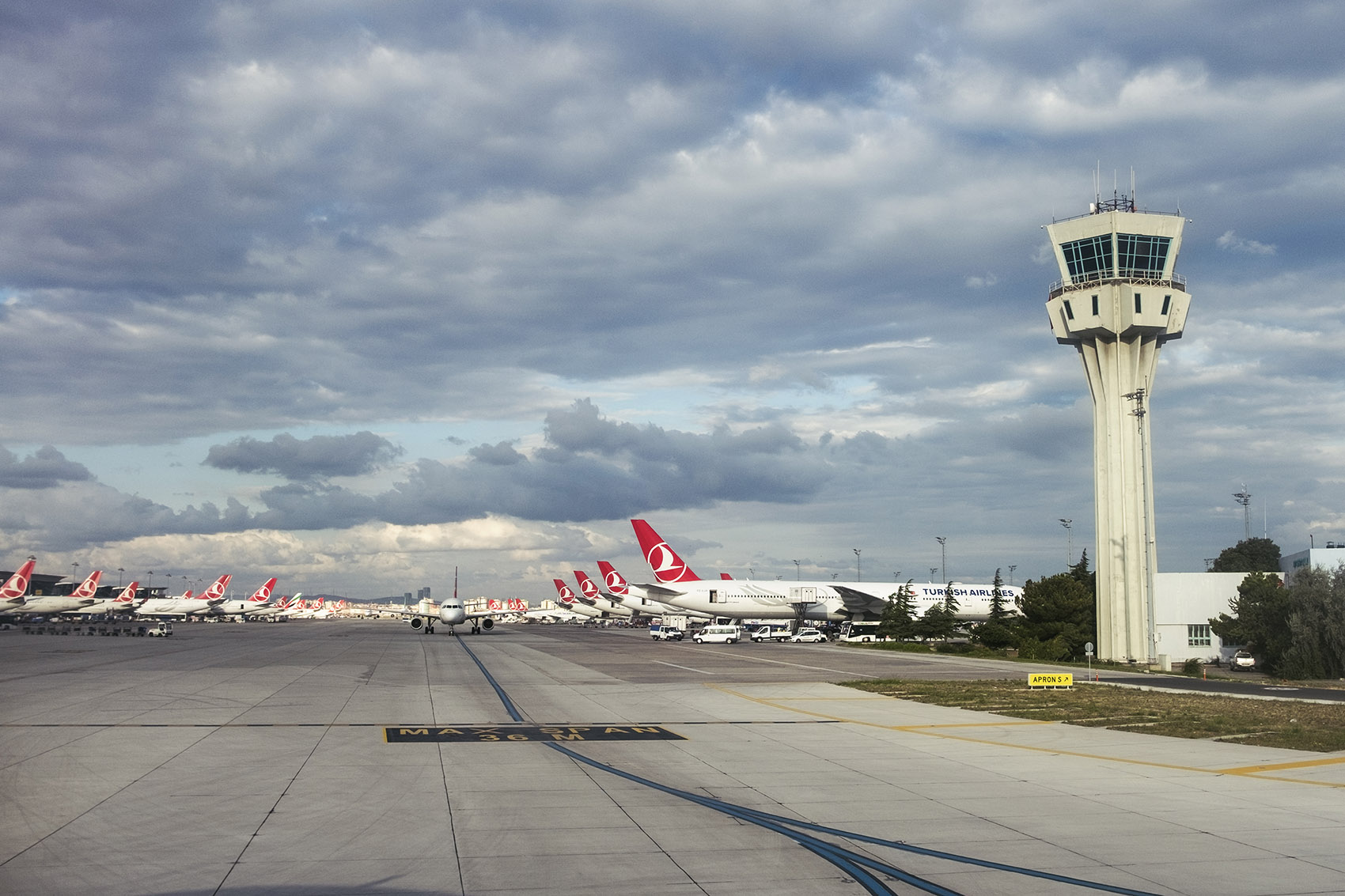 When I arrived at my hostel in Bogor at around 22:30 I met two awesome people, Twan & Chantal, who were also from The Netherlands. We drank some beers and talked about our plans for our trip and had a good time. Since then we travelled a lot together, even if we split up on moments because I wanted to go to another city we would meet up again in another place. Most people who travel in Indonesia kind of follow the same route so you meet a lot of people that you will randomly see again in another place. Which is fun because you built some sort of connection in the short time you spent time together.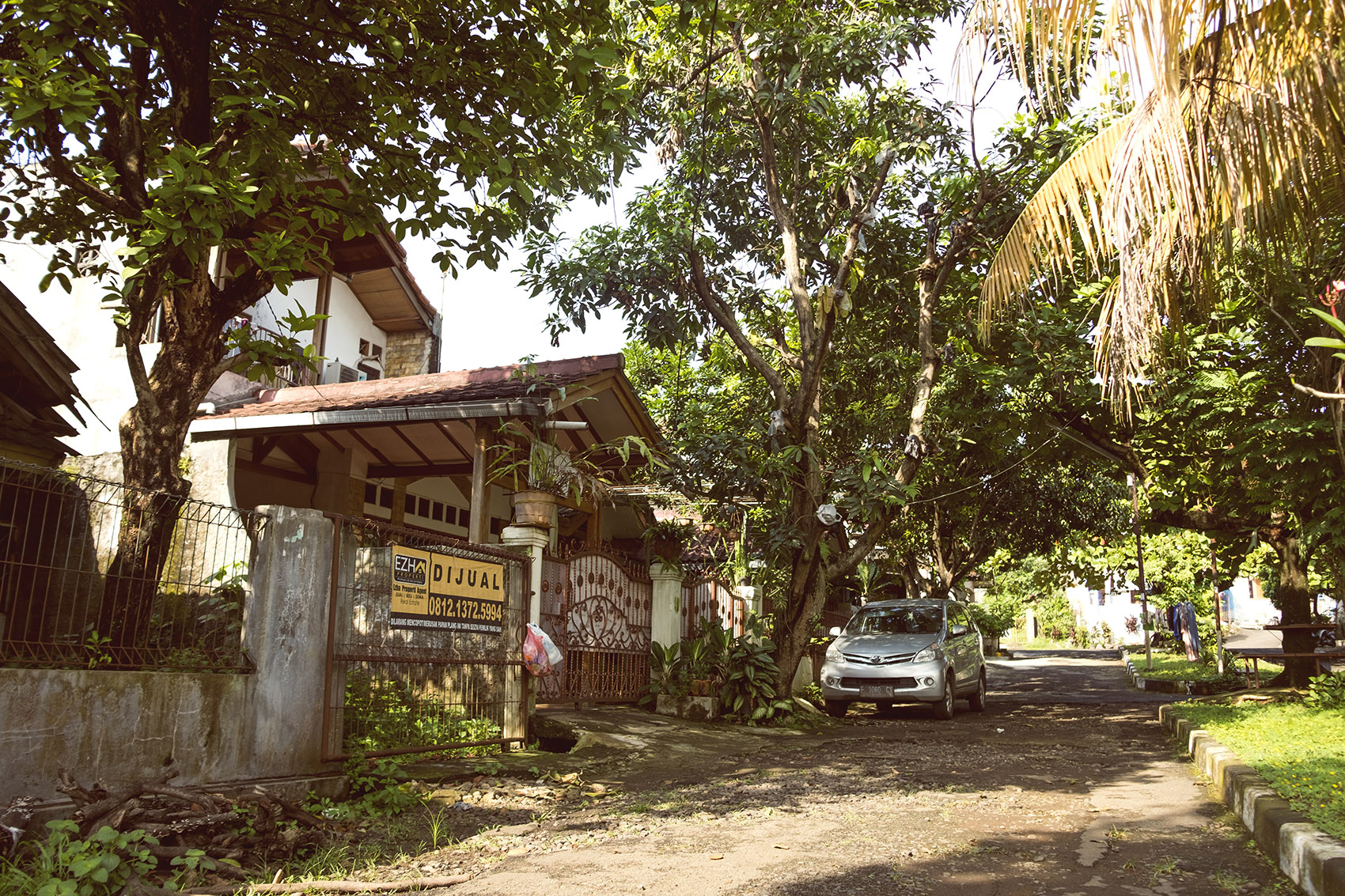 This was my first hostel in Bogor with the nicest host, she was really helpful and would even drive us to the station etc. I went to bed around 2:30 which was a bad idea because what I didn't knew was that a mosque was standing next to it. At around 4:15 you would hear someone call for the muslims to come and pray at the mosque at a volume so loud your ears almost start bleeding. Why they just can't set an alarm clock is beyond me but okay, it was something I had to get used to.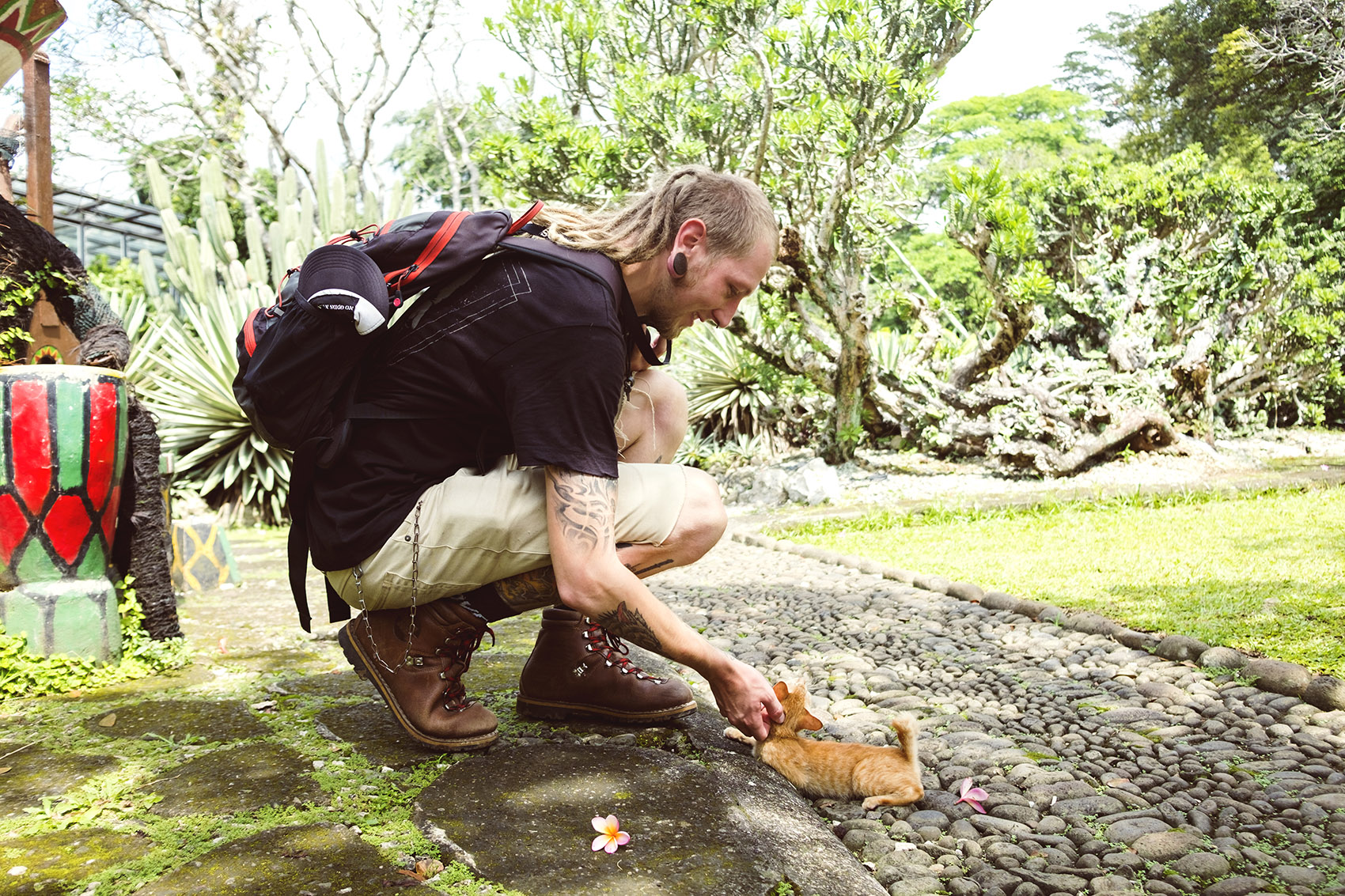 Twan in the Botanical Garden of Bogor.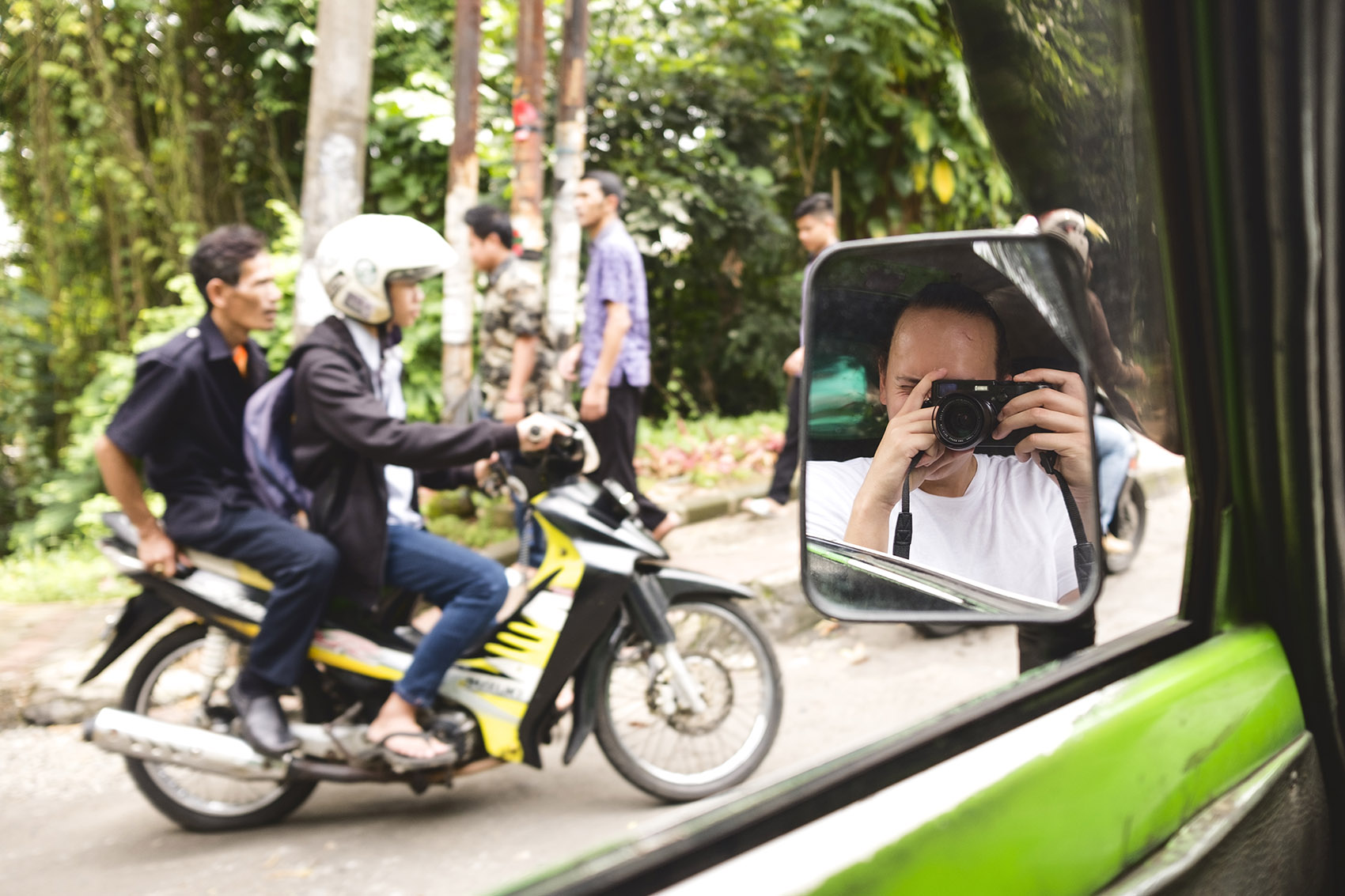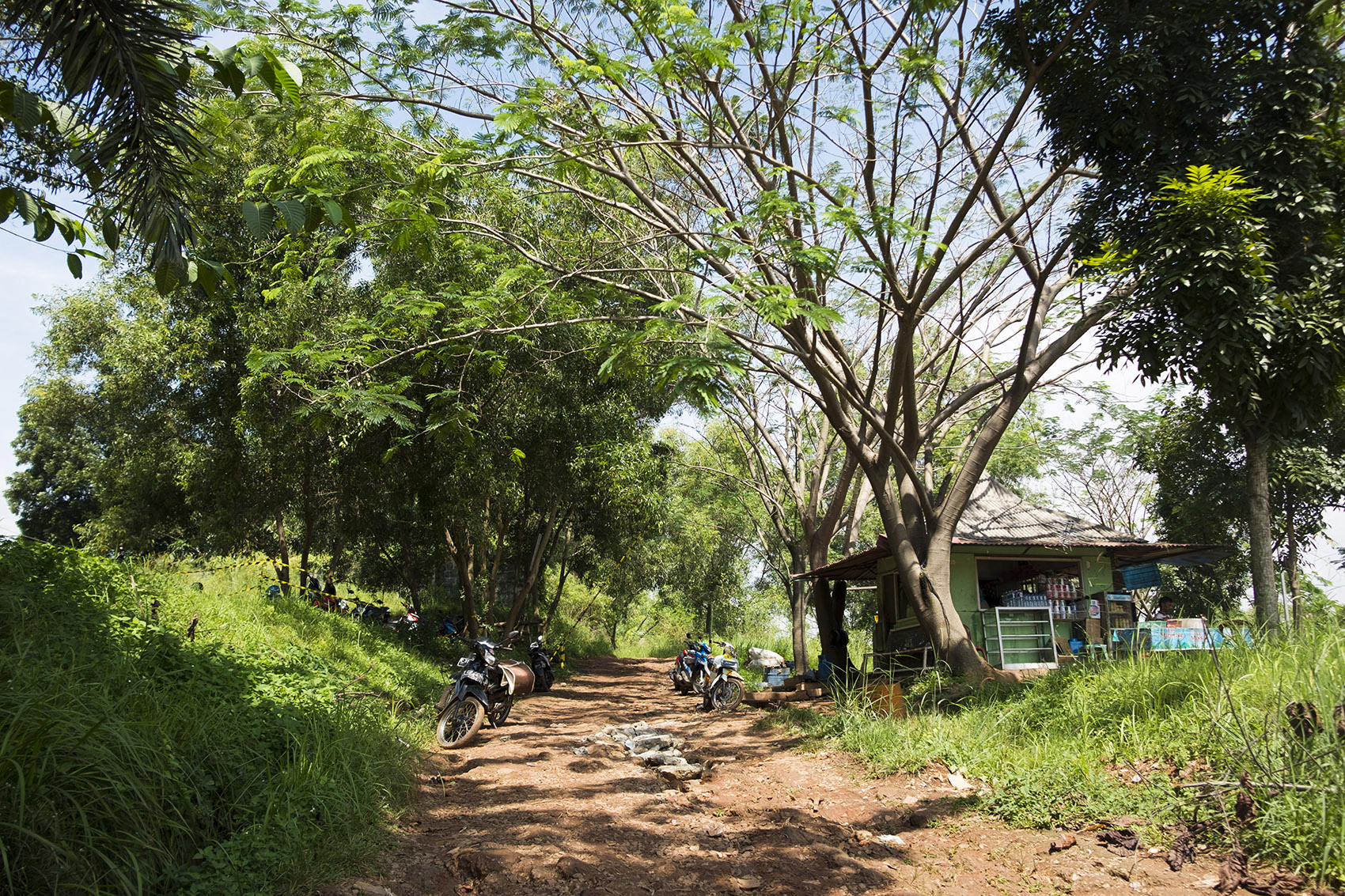 After Bogor we were supposed to go to Bandung together but unfortunately Chantal got sick so they stayed and I took a bus to Bandung. The trip is about 125 km and google says it takes around 3 hours. They lie. It took me around 6 hours to get there because the traffic is insane. When the bus entered Bandung it took another 2 hours to reach the busstation. Thank god I asked if the bus had airconditioning before entering, otherwise it would've been hell.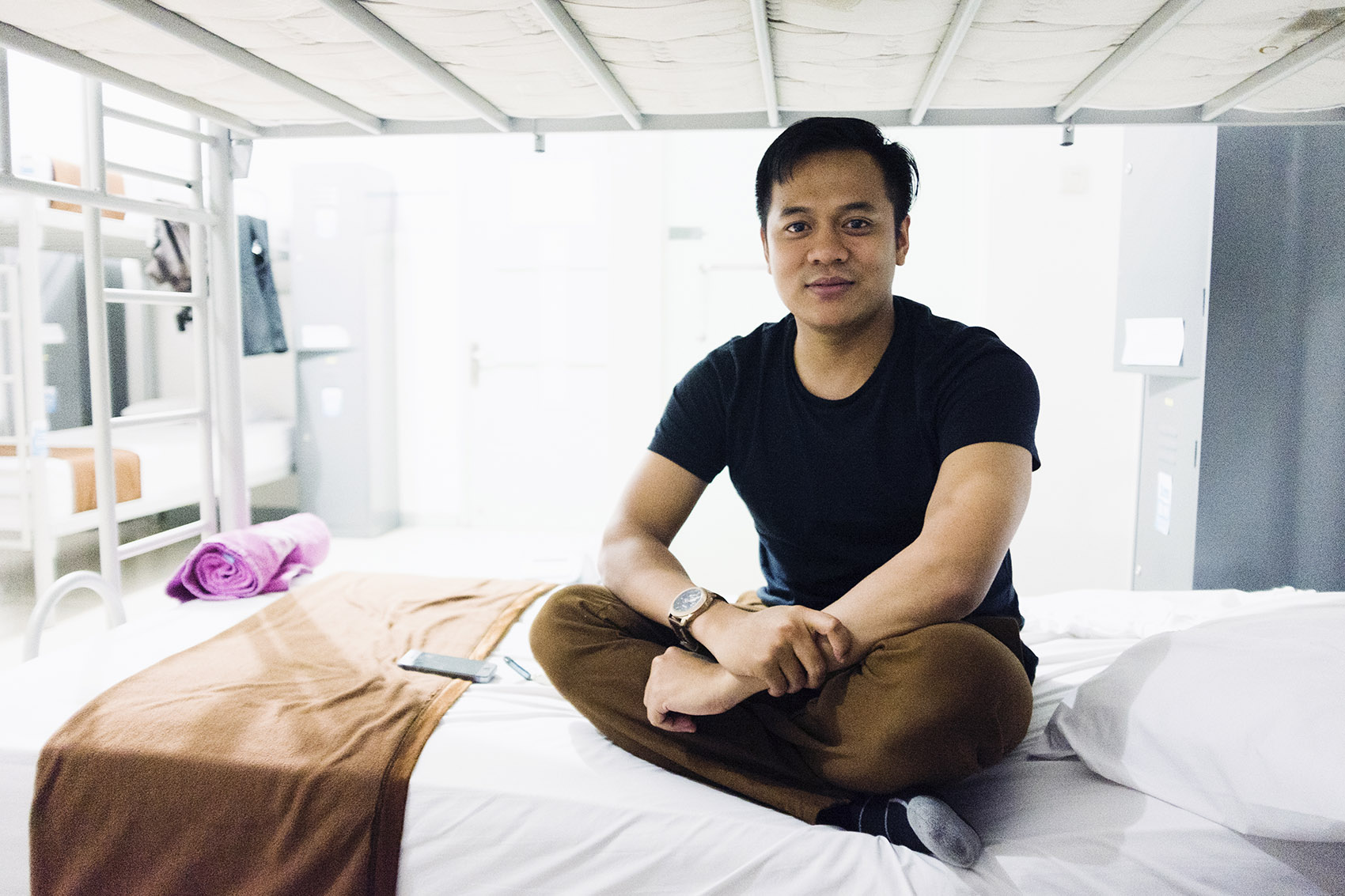 I stayed in a Hostel (Chez Bon Hostel) and shared a dorm with 18 people. One of them was Dikta who came from Jakarta and was here to meet his friends. He gave me a tour through Bandung and taught me how to cross the street, which is pretty fucking scary at first haha. There are so many cars and scooters and since everyone ignores the traffic lights the rule is to just go. You raise your hand and just start walking and magically everyone will stop or avoid you.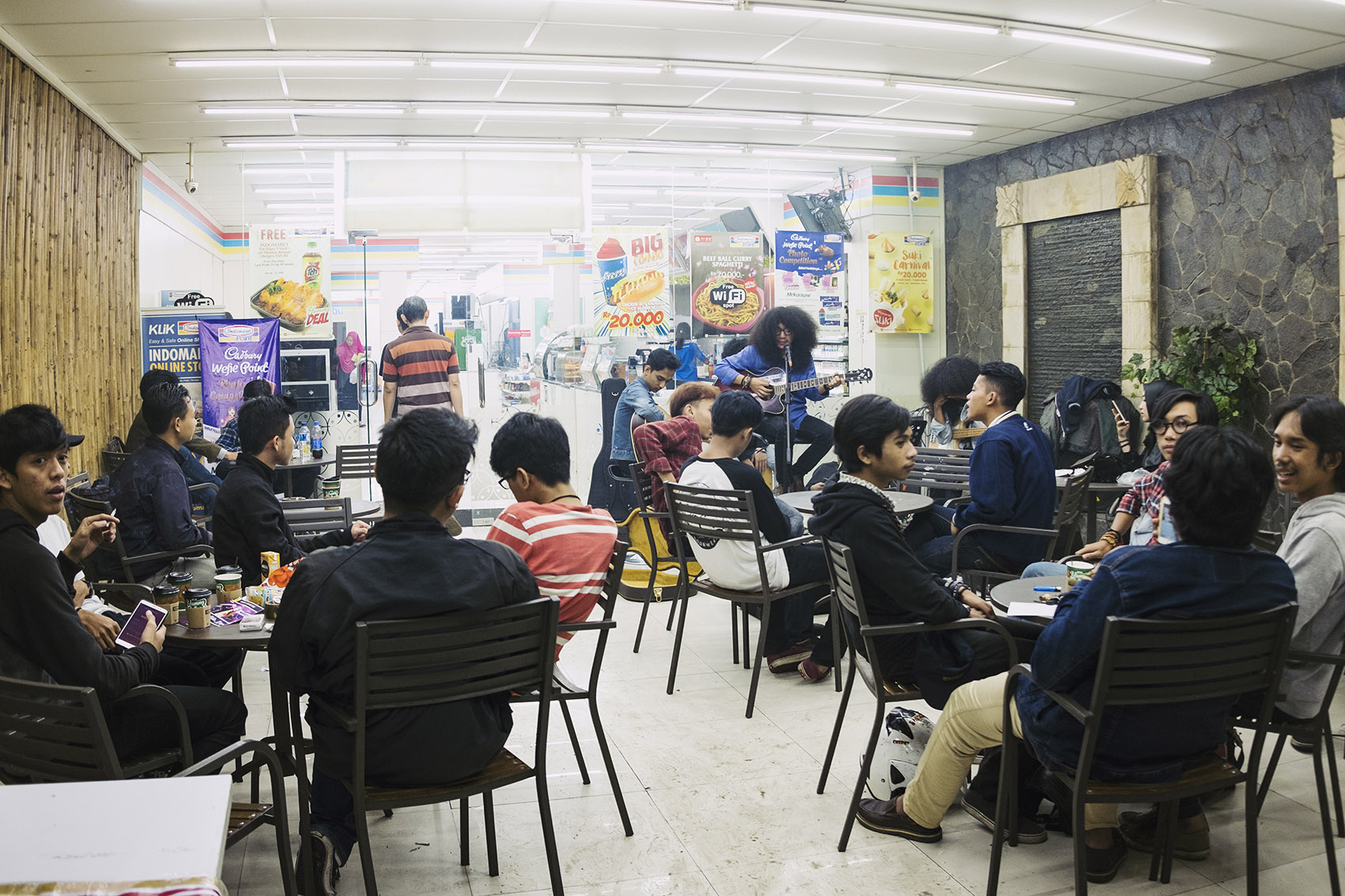 A lot of supermarkets had café style places in front of them with live music. Almost every Indonesian I met could play an instrument or could sing. I've mostly heard them sing american love songs which they're actually pretty good at. Because Indonesia used to be a Dutch colony there were still a lot of buildings with dutch words on them. So I would tell Dikta what they meant and he would tell me about Bandung and his country.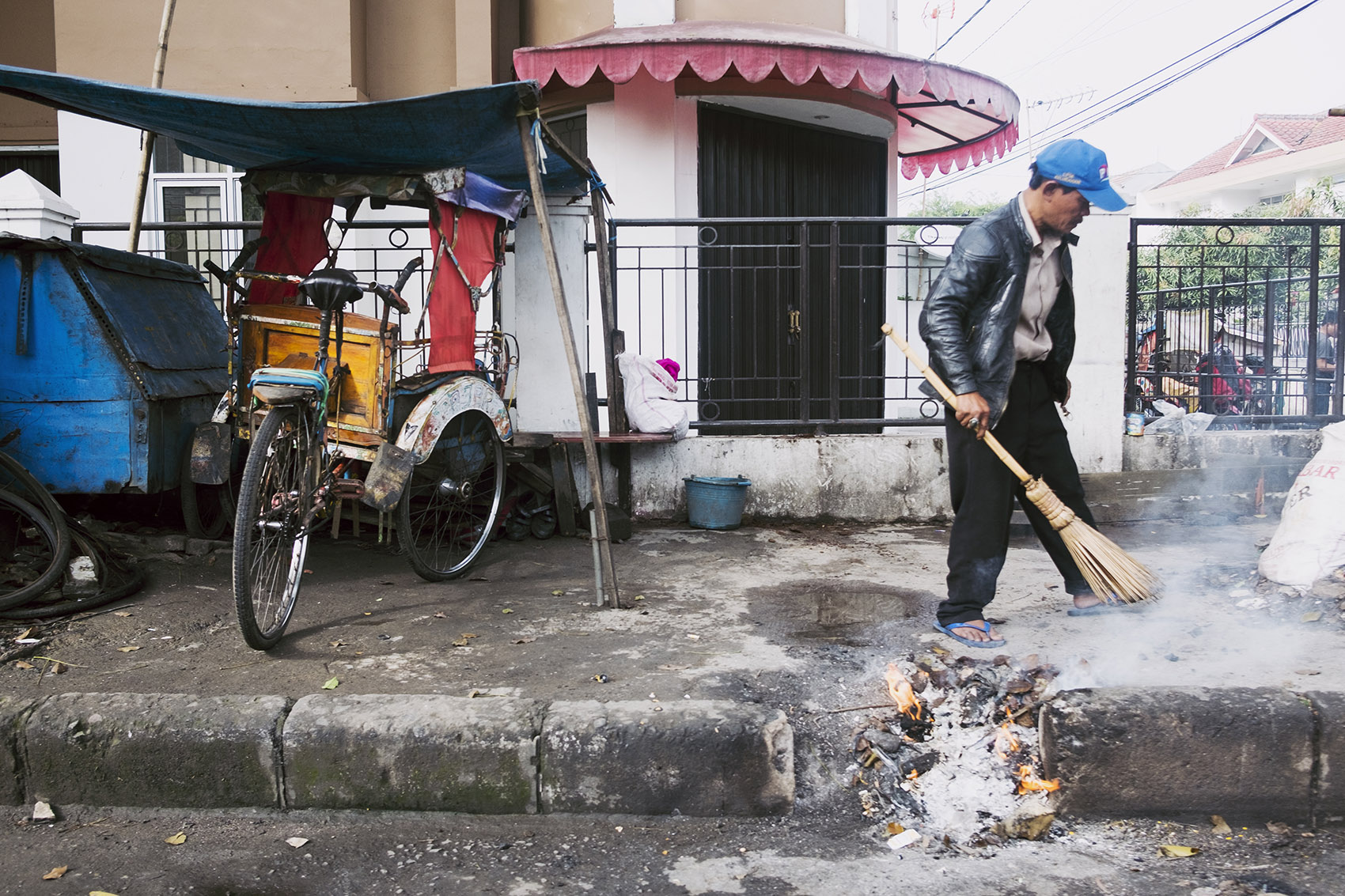 From what I saw they didn't have any garbage system. Everywhere you would go there were piles of burning trash, they just light everything on fire.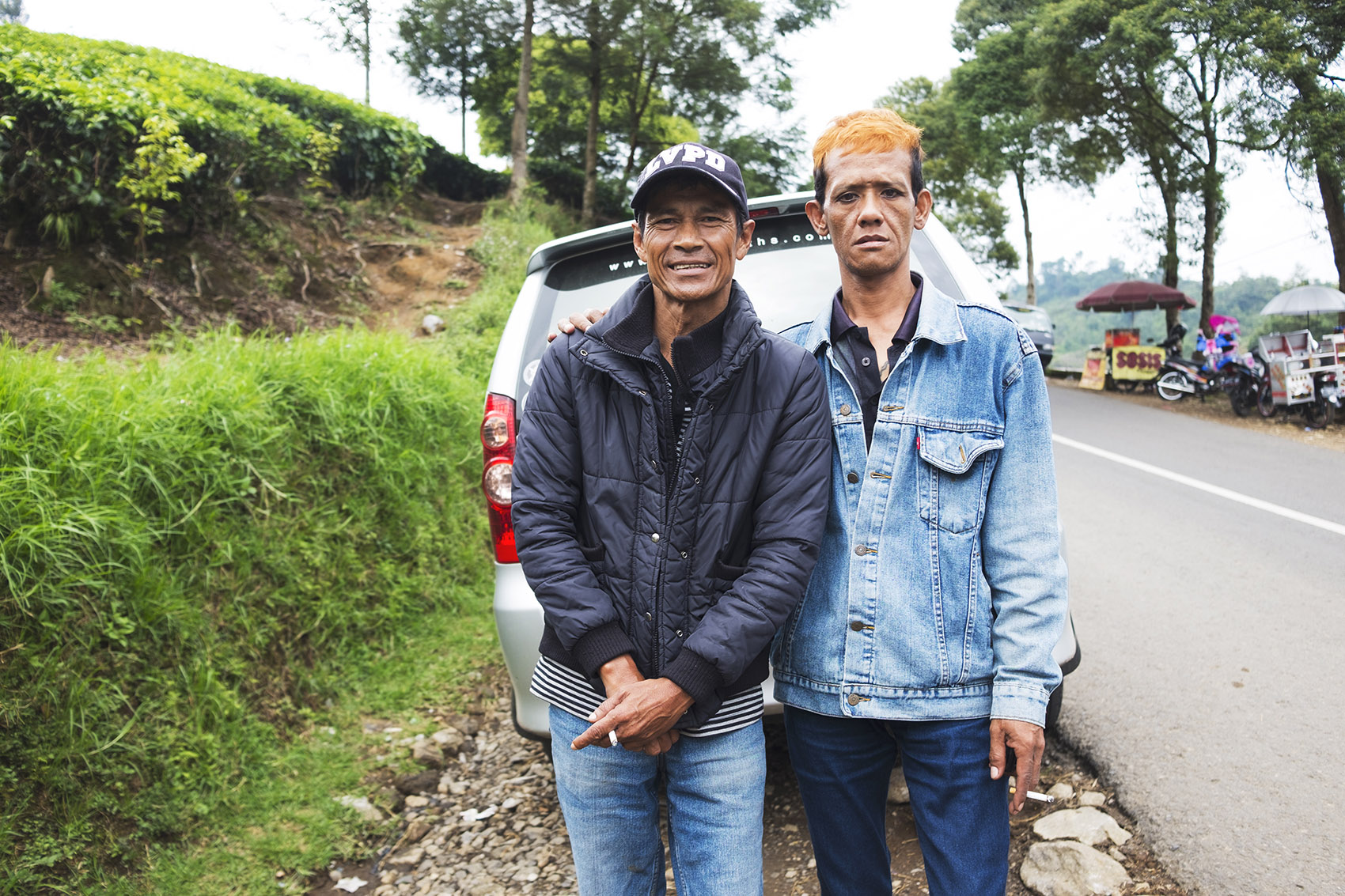 This is Benny (left) and his driver (awesome hair, right). I met Benny on the streets of Bandung and we started talking because he has family in The Netherlands. I told him I wanted to see some of the mountains and scenery around Bandung and he was a guide that could take me there. He would pick me up the next morning at 7 am to go to "Kawah Putih", a volcanic lake, the tea fields and the hotsprings. During the tour I met 2 girls from France, Philippine and Aude who also happened to pass by Benny on the streets.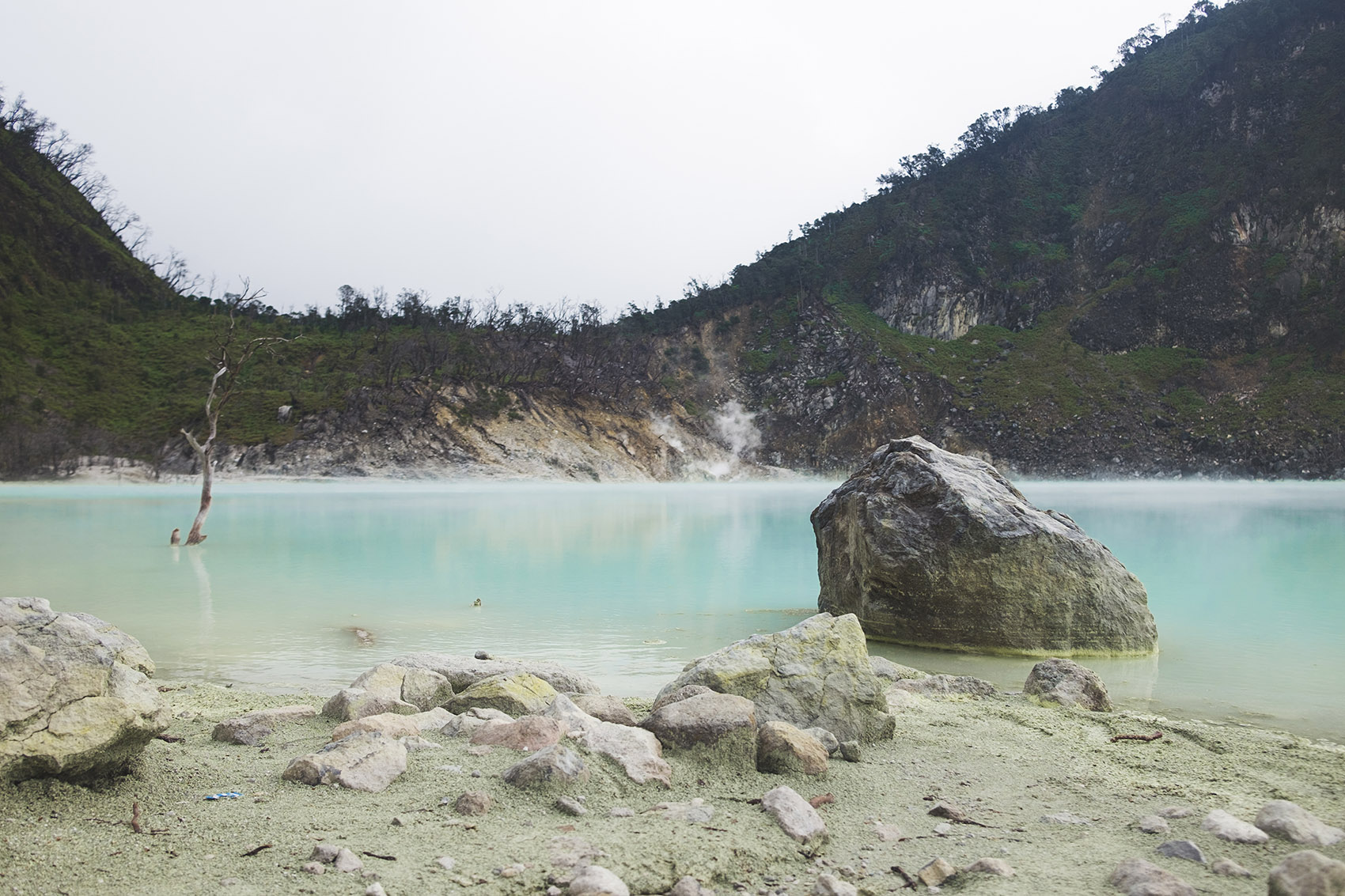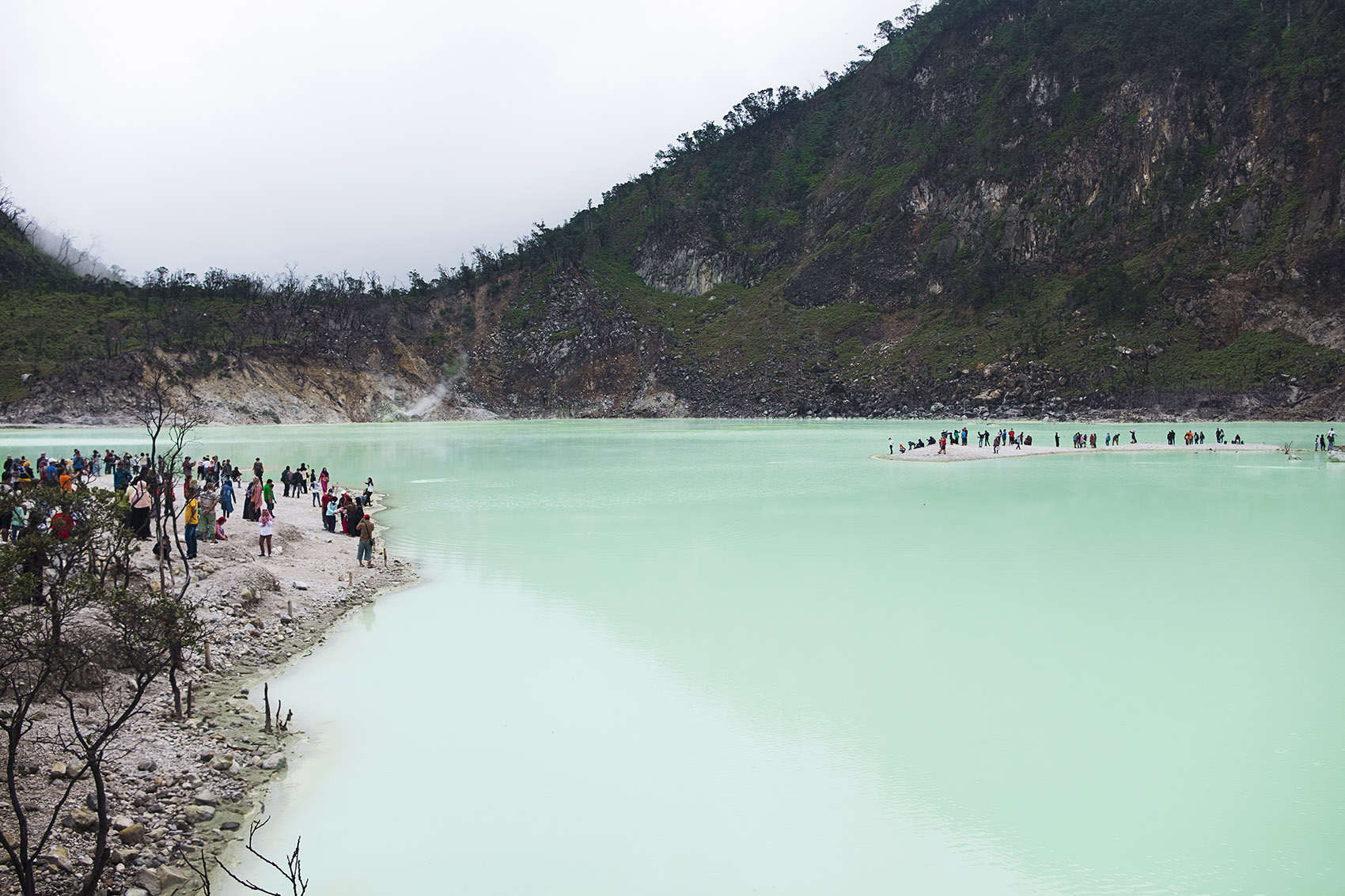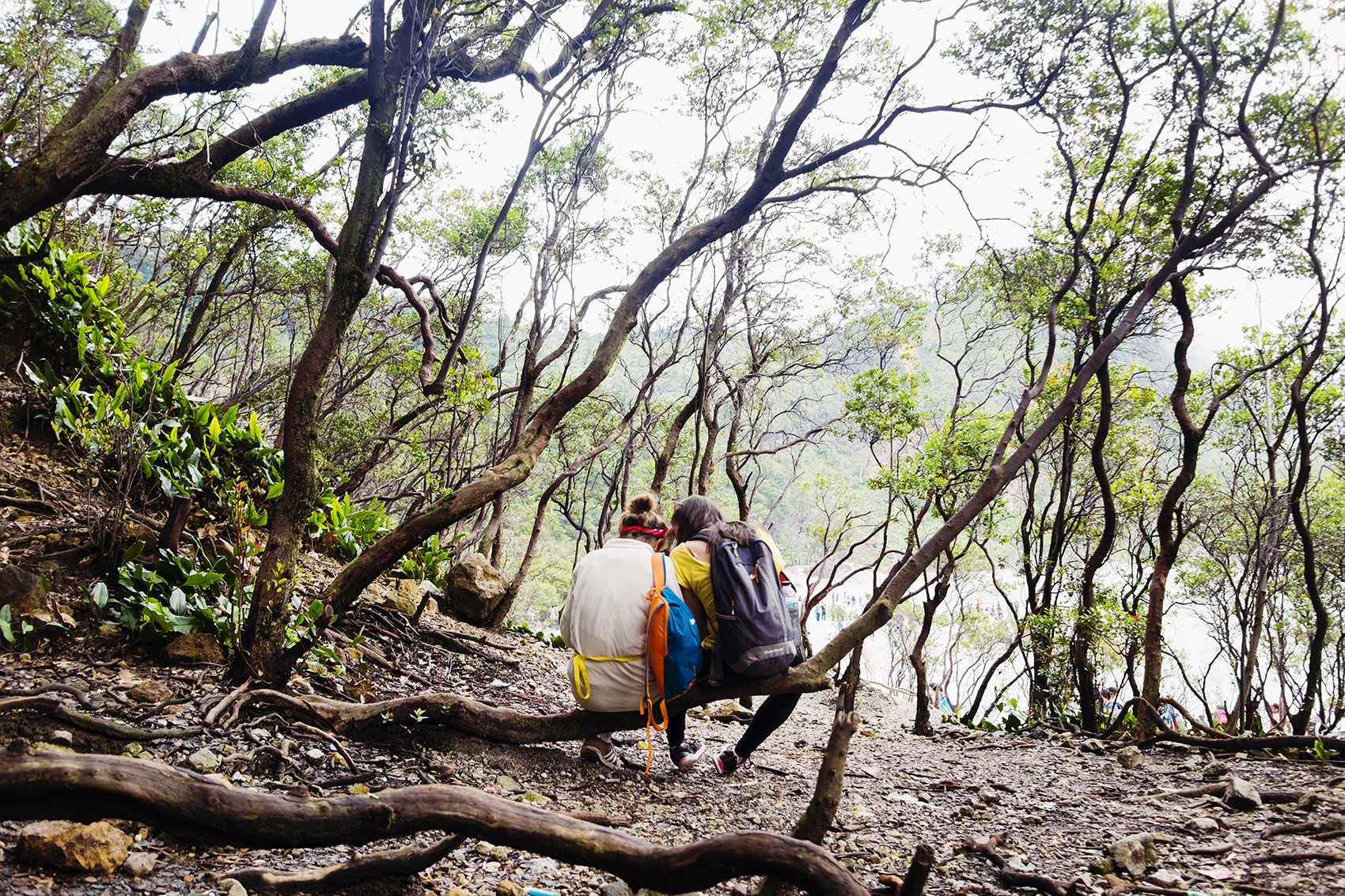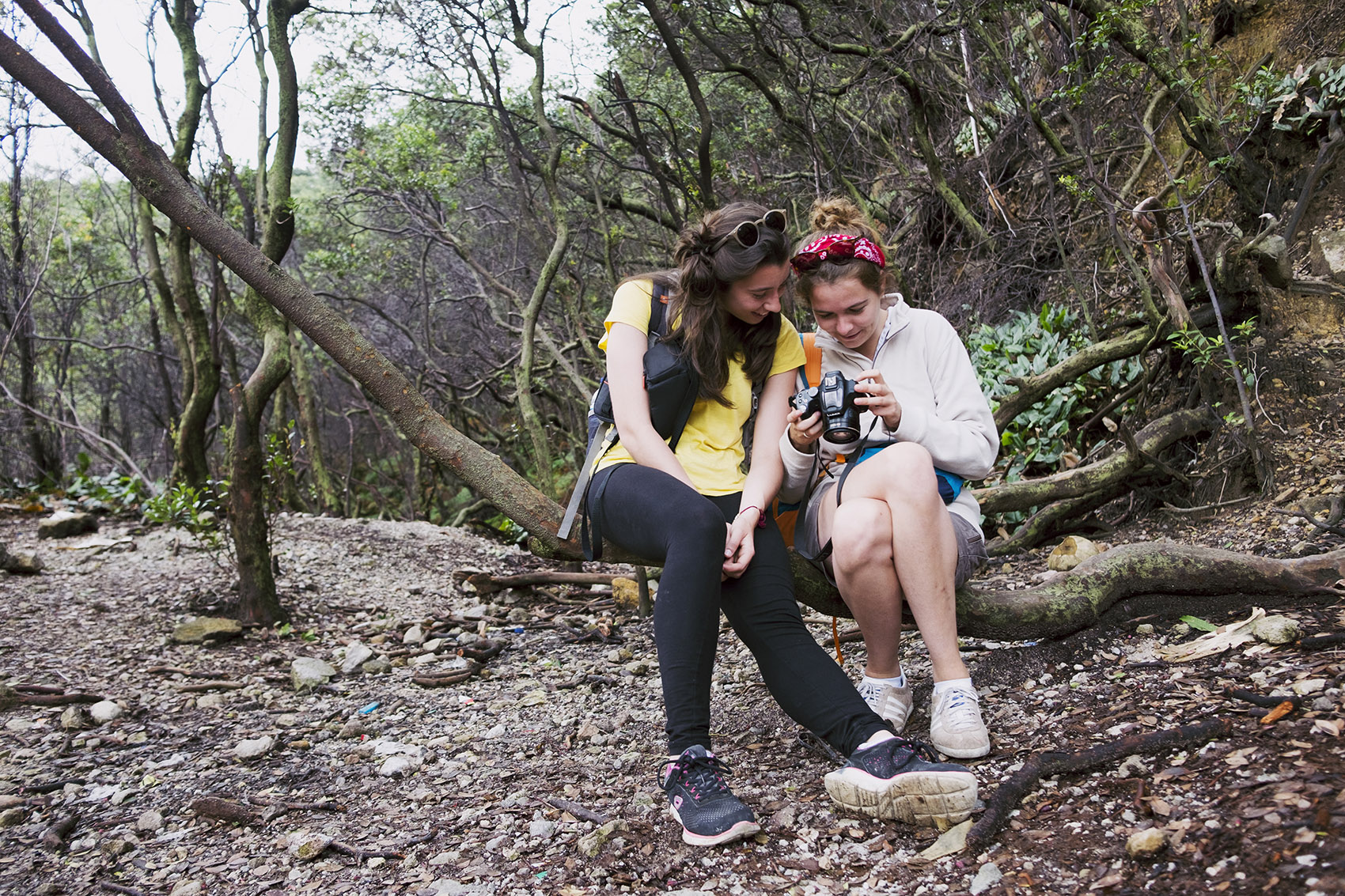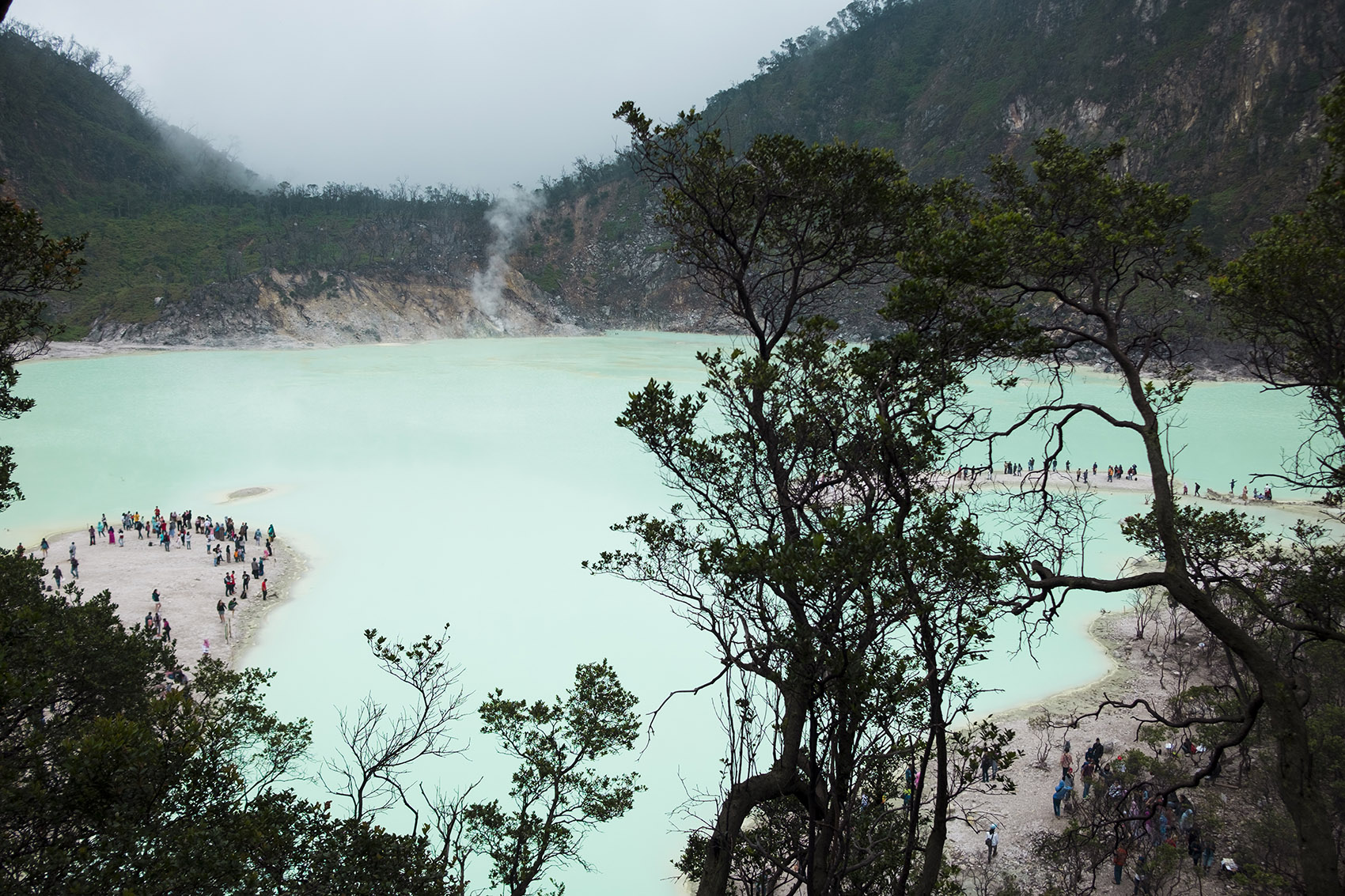 First we went to "Kawah Putih", the volcanic lake. Apparently sunday is the worst days for a tour because the traffic is even worse than normal and the locals also go to the touristic places making it even more crowded. But after some hours of driving we reached the mountain which was pretty cool to check out. The water was a bright, light blue and there's smoke coming from the water. It smells like sulfur which is pretty bad haha.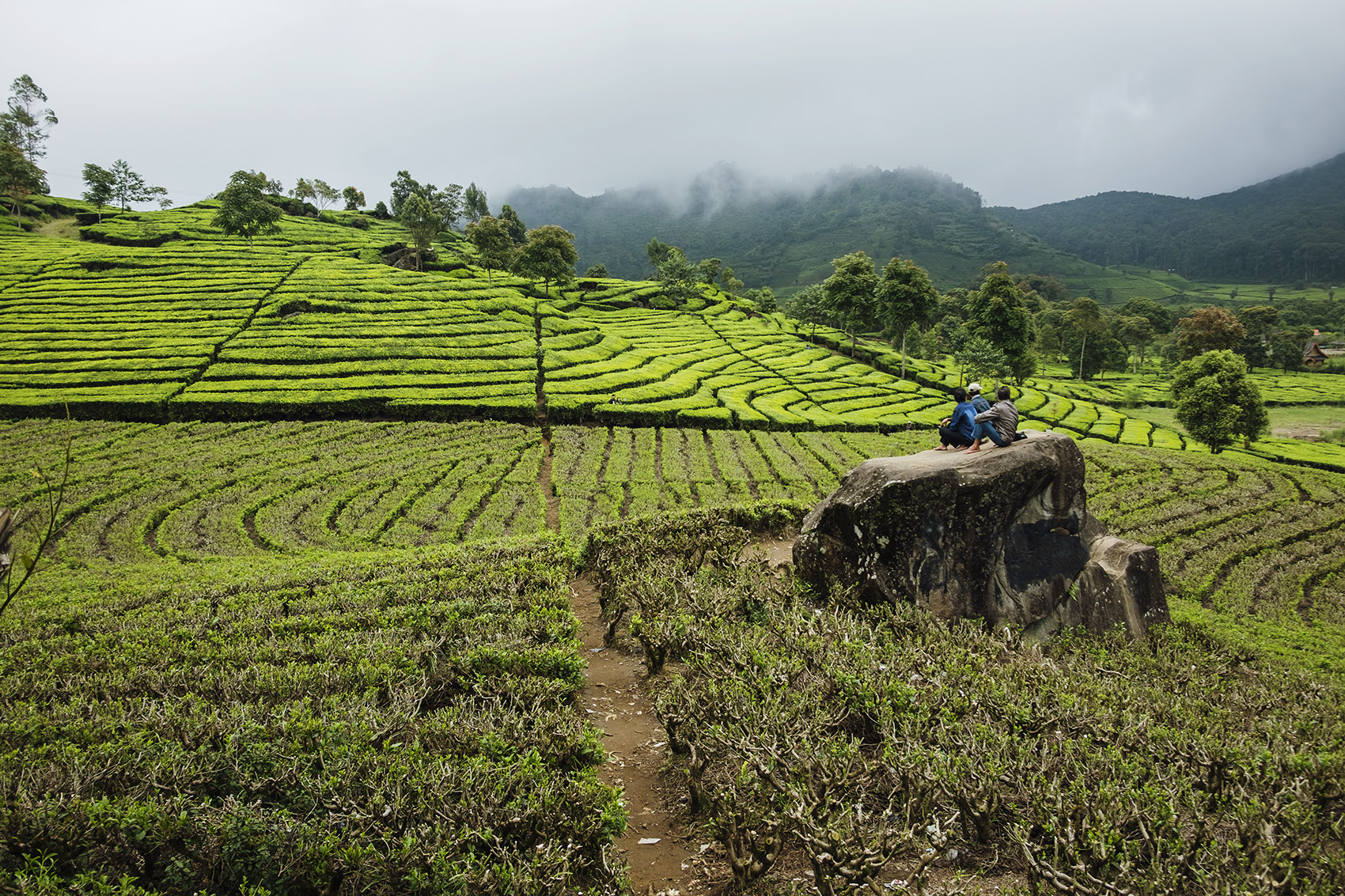 Tea fields – Bandung.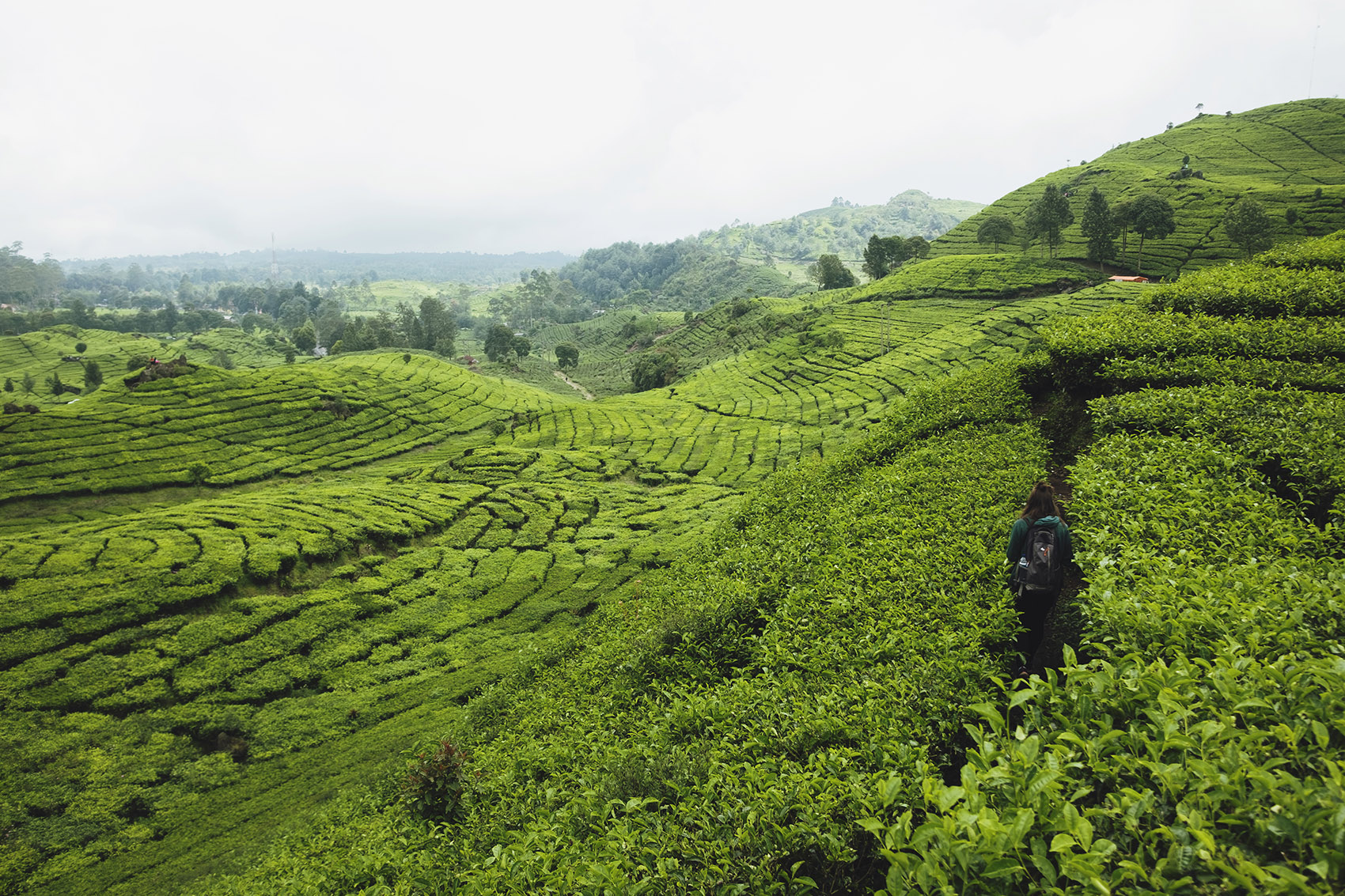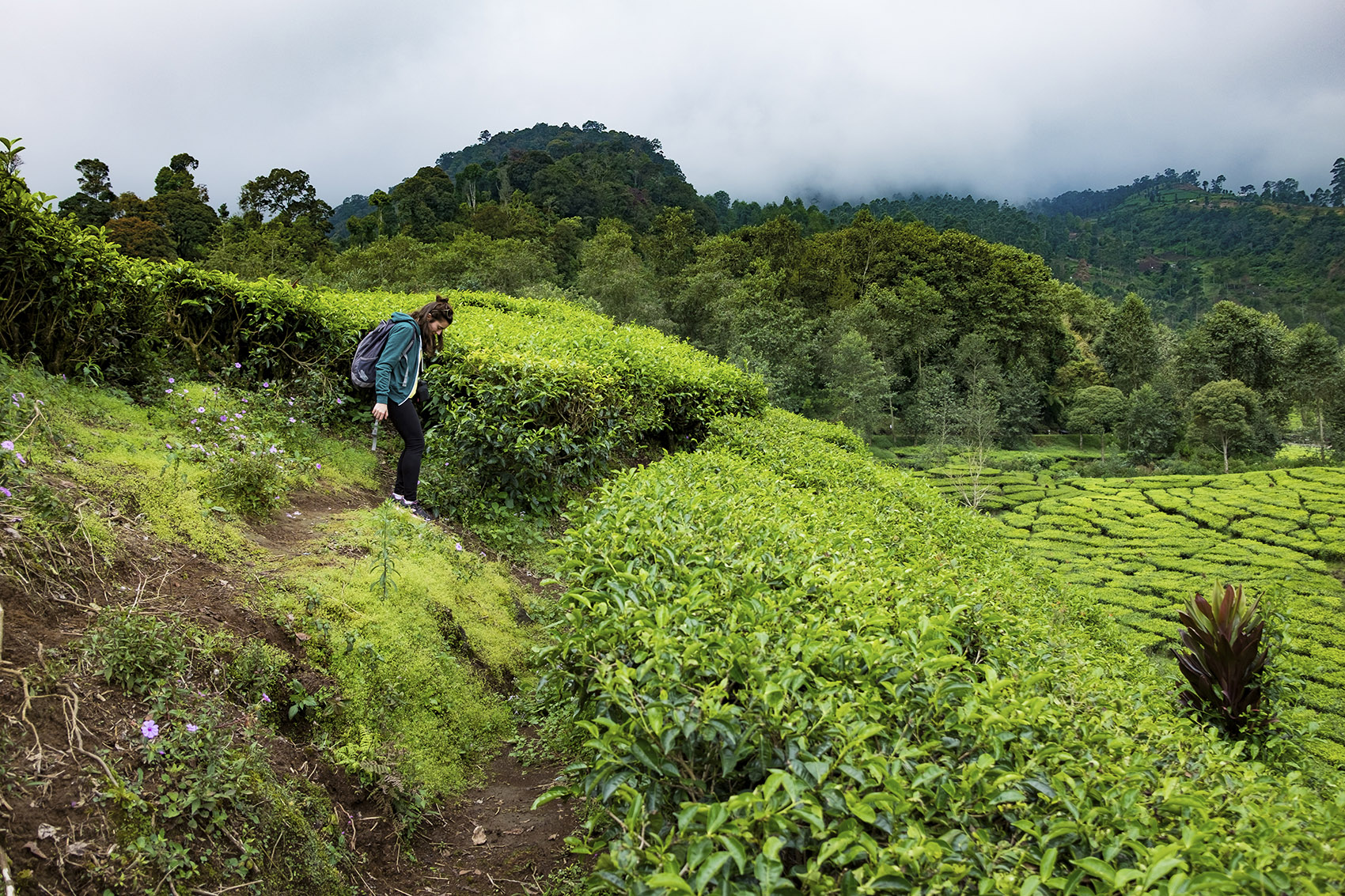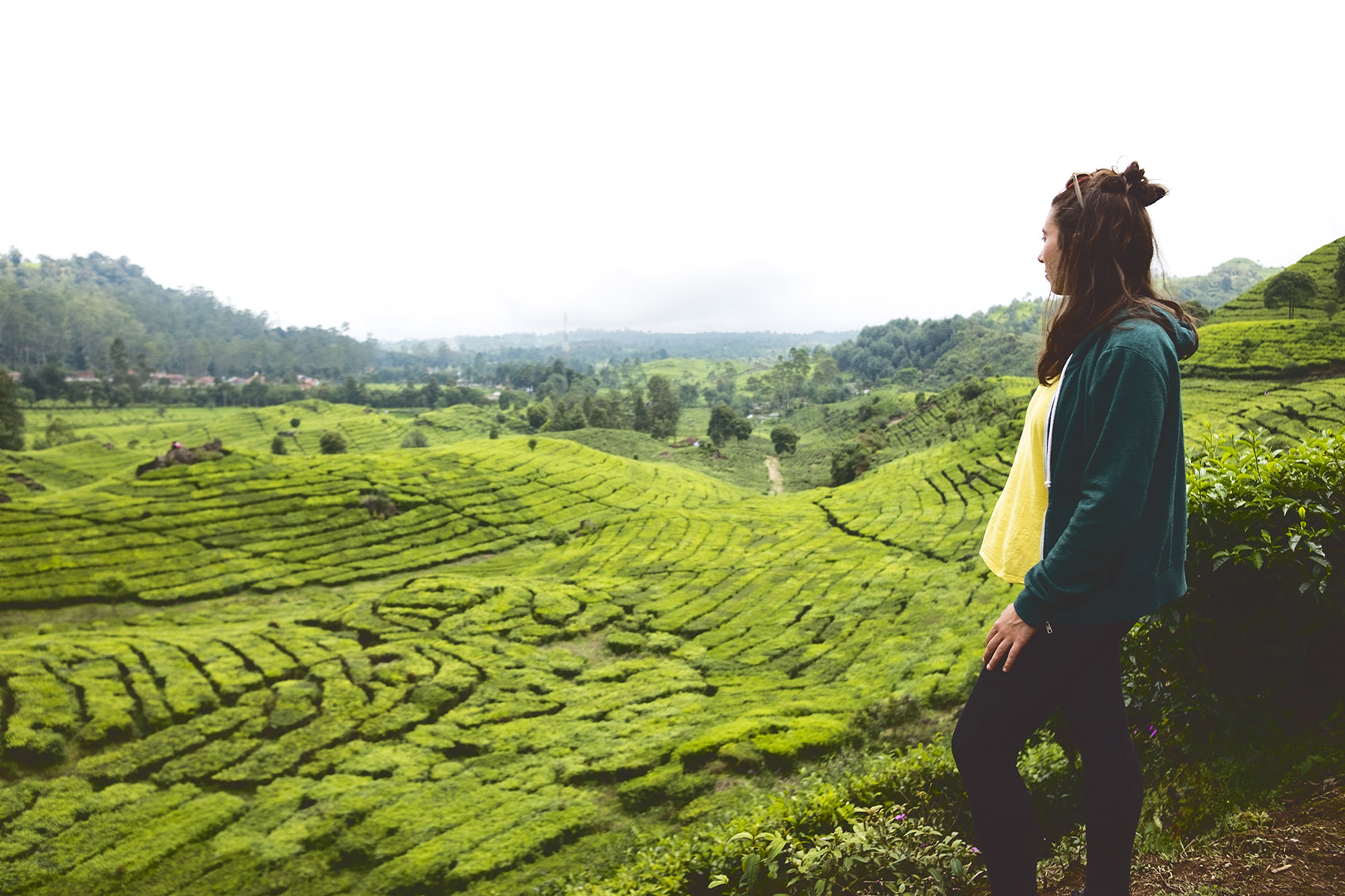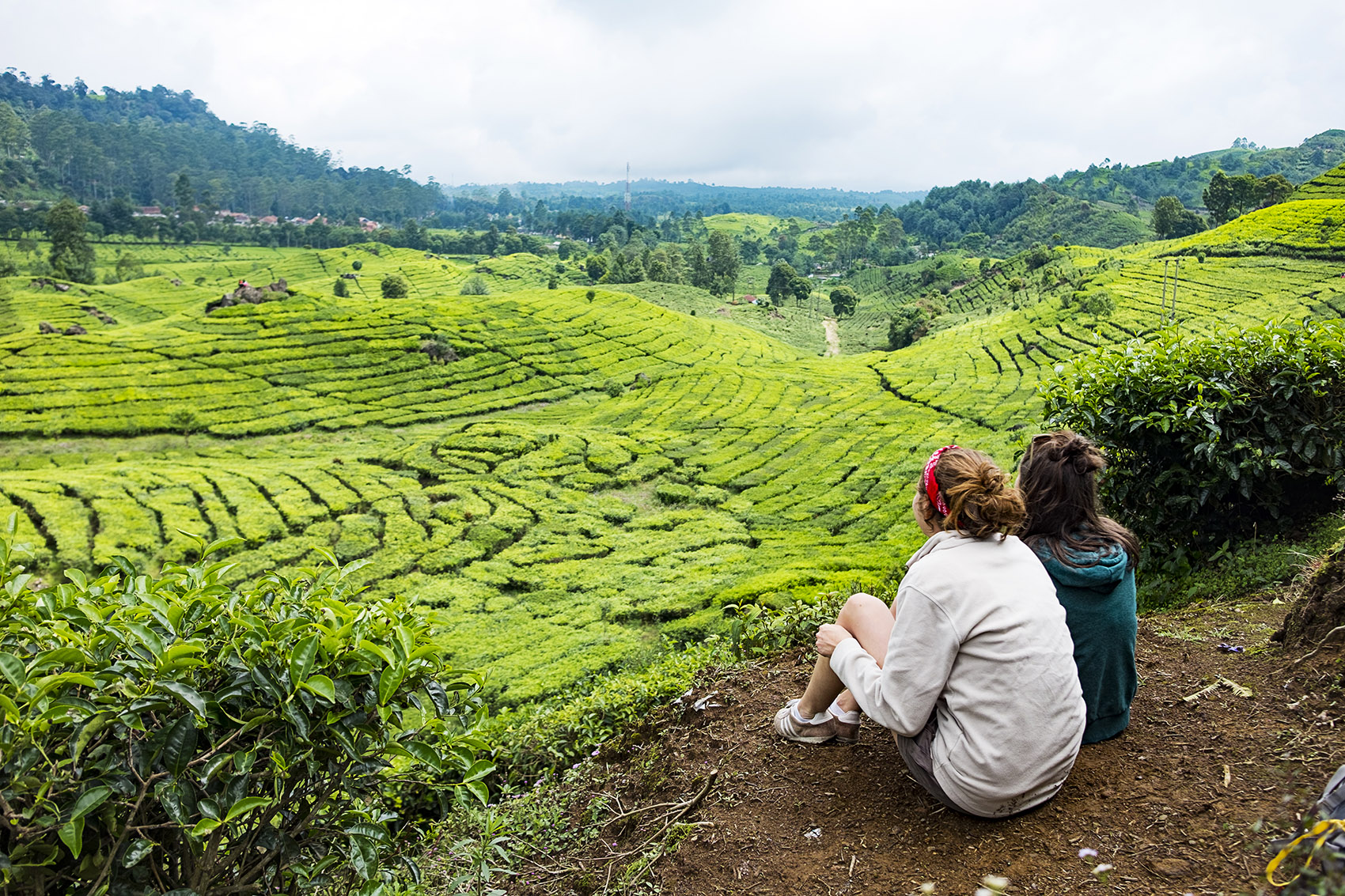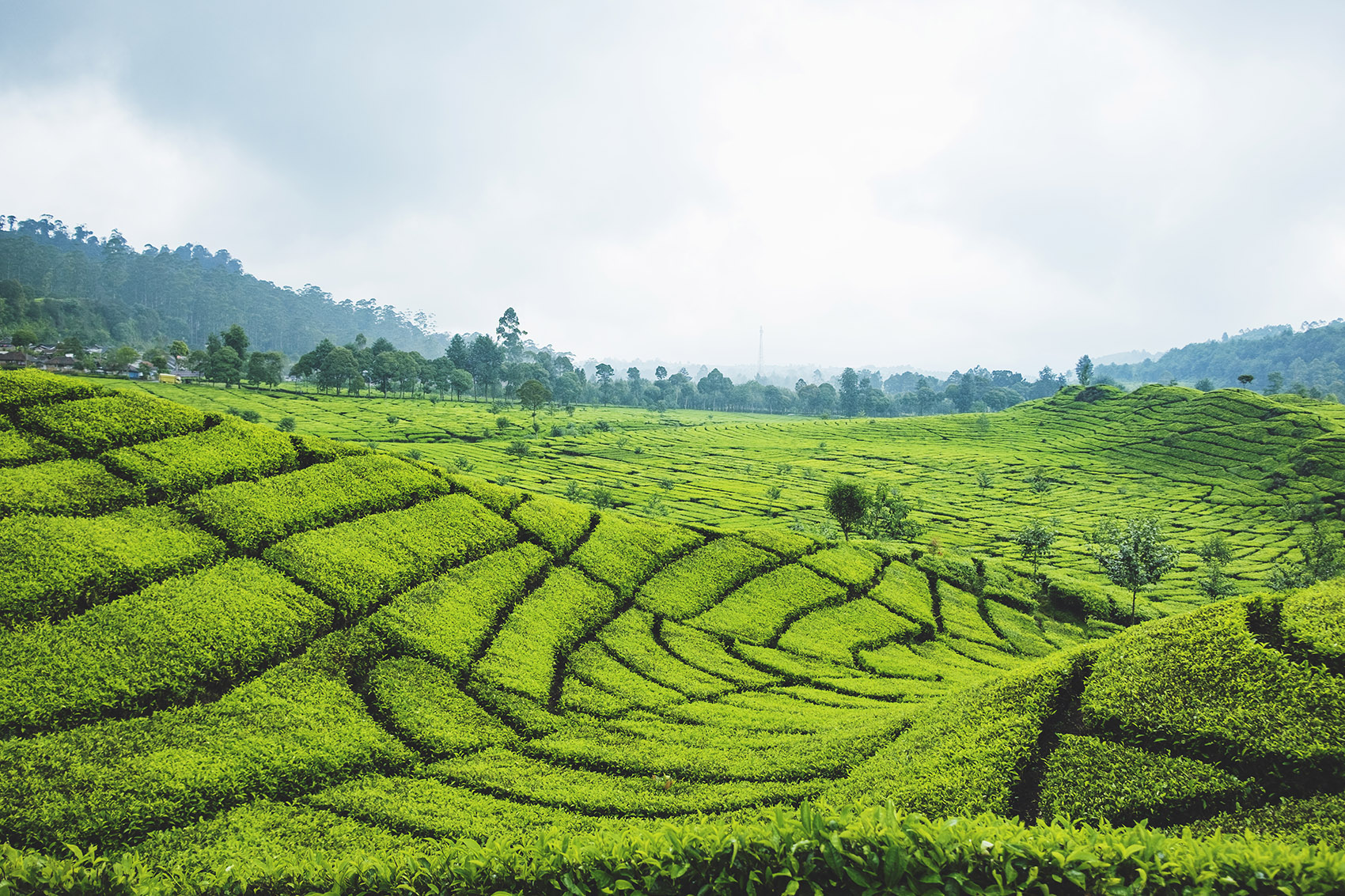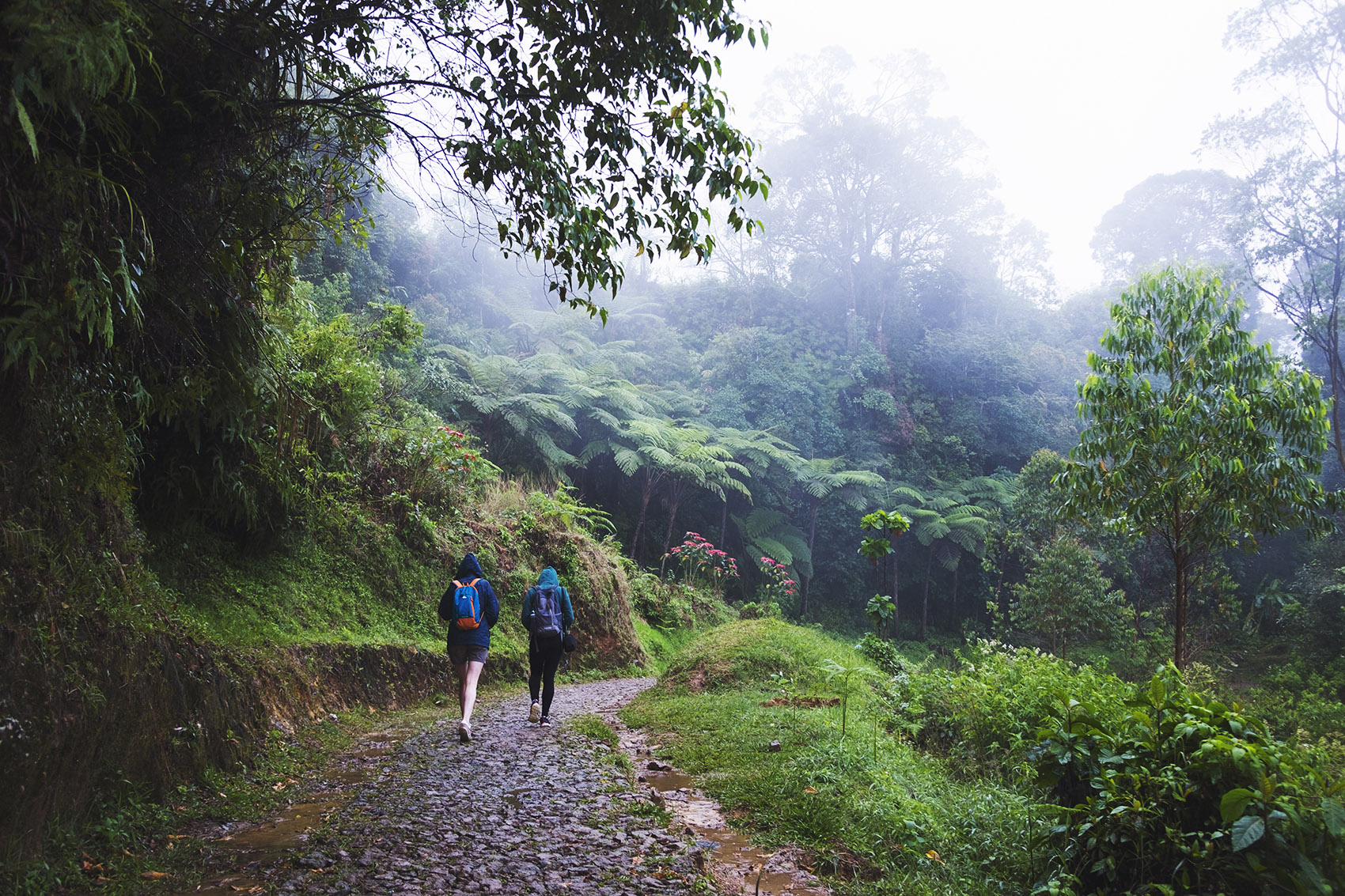 After the tea fields we walked through some jungle to get to the Hot Springs. I of course forgot my swim pants so I had to borrow one of some random dude. It's pretty awesome how hot the water naturally is from the heat of the volcano, even though it was raining it was still a nice experience.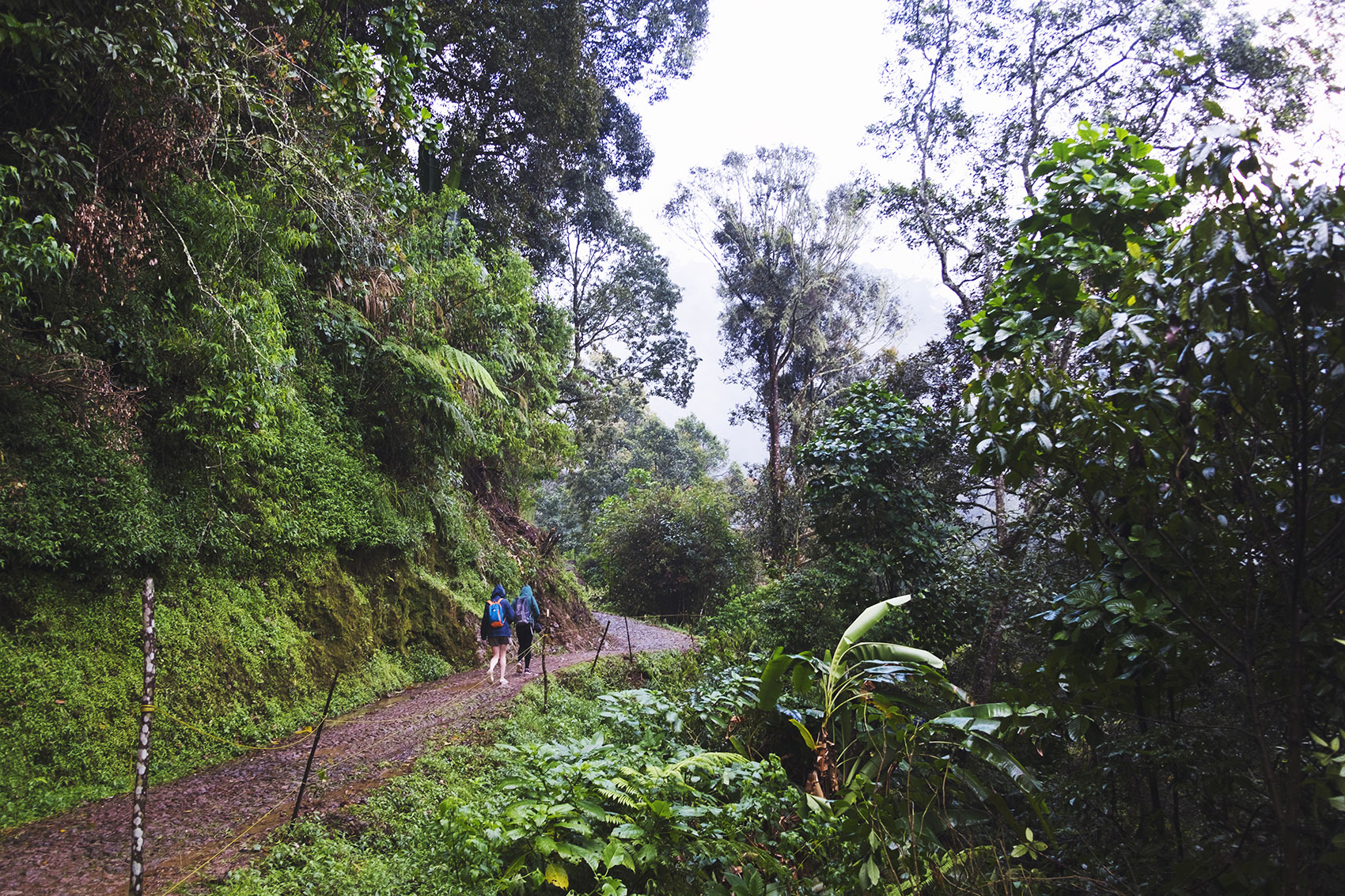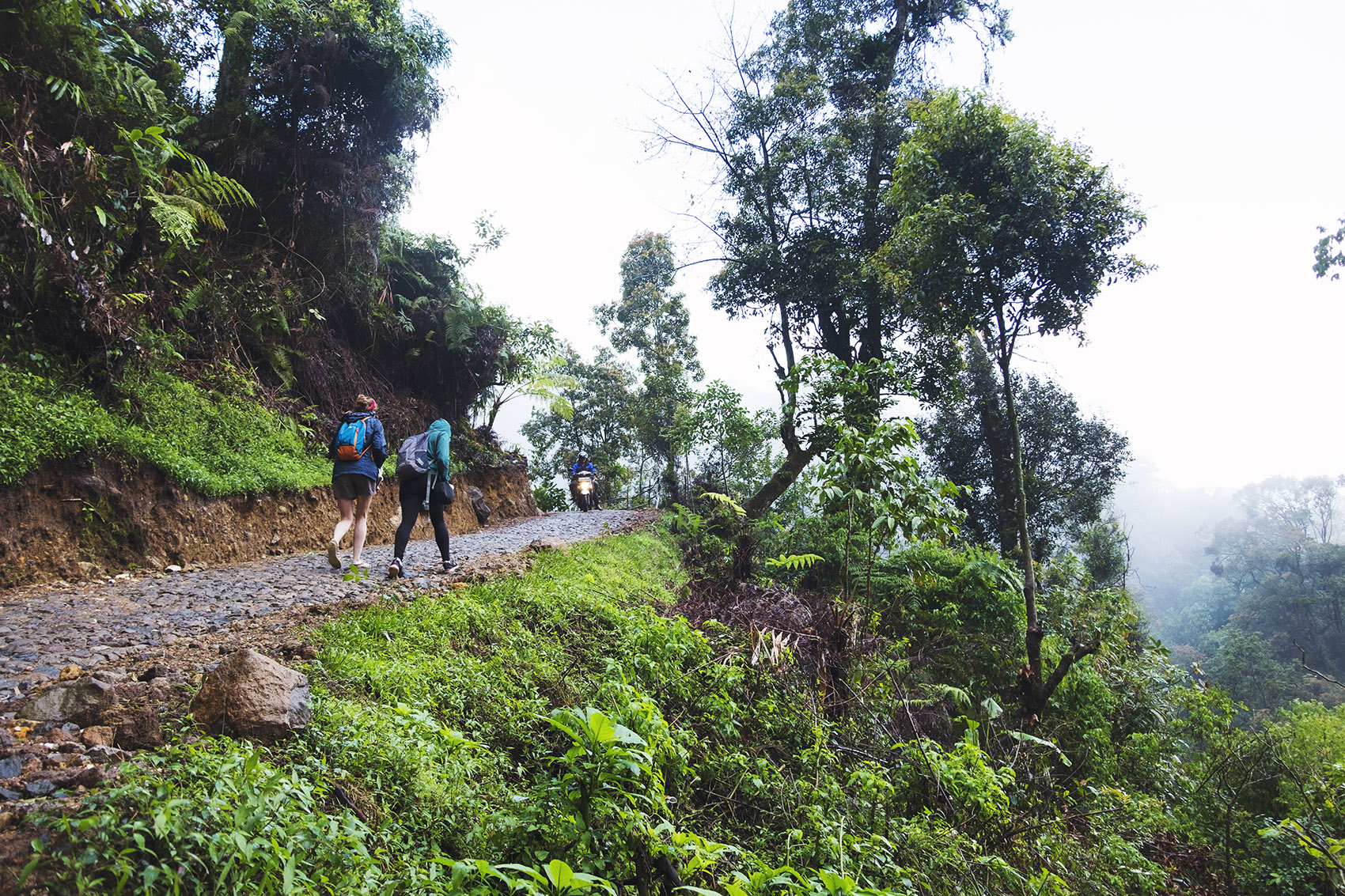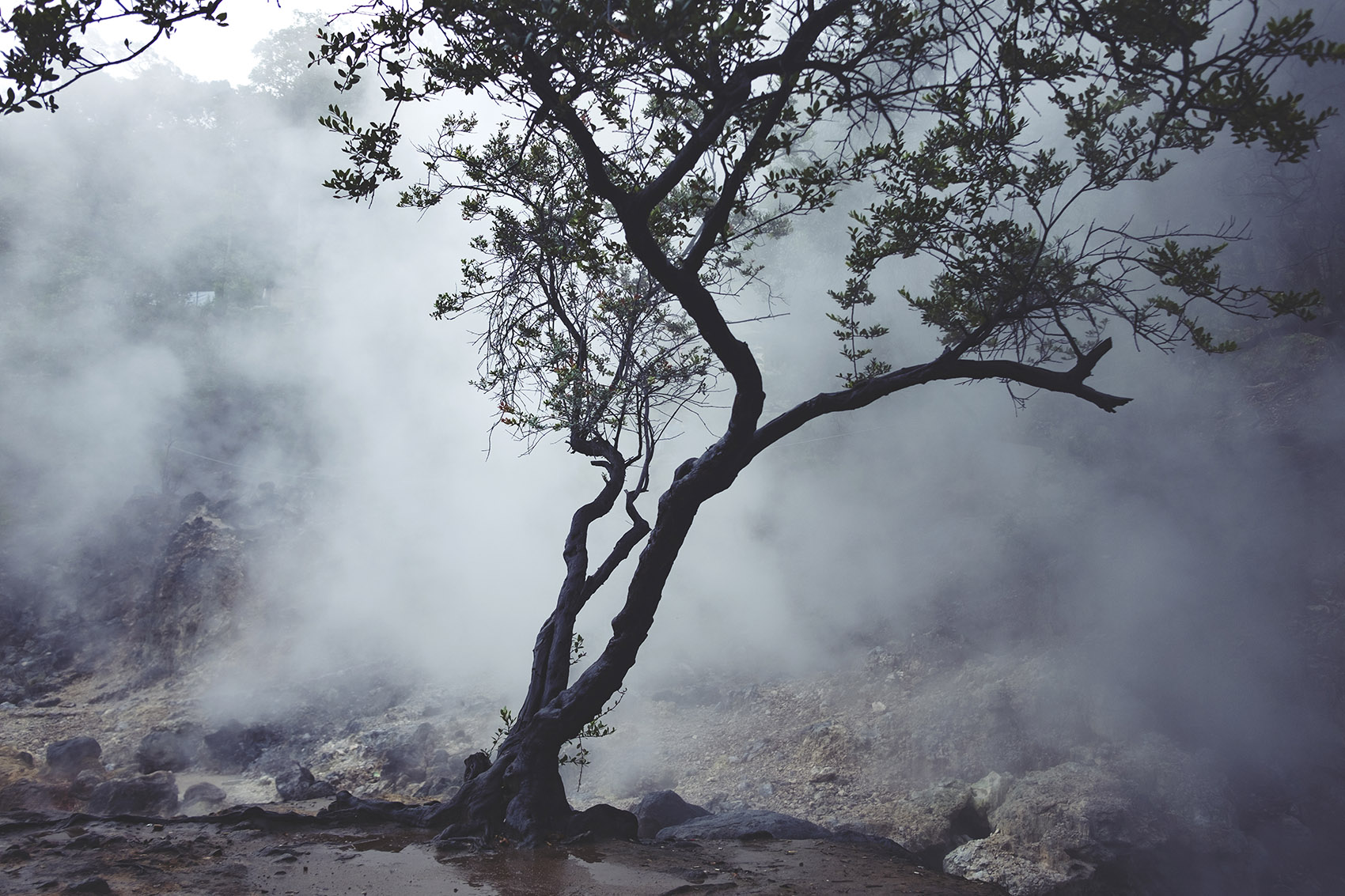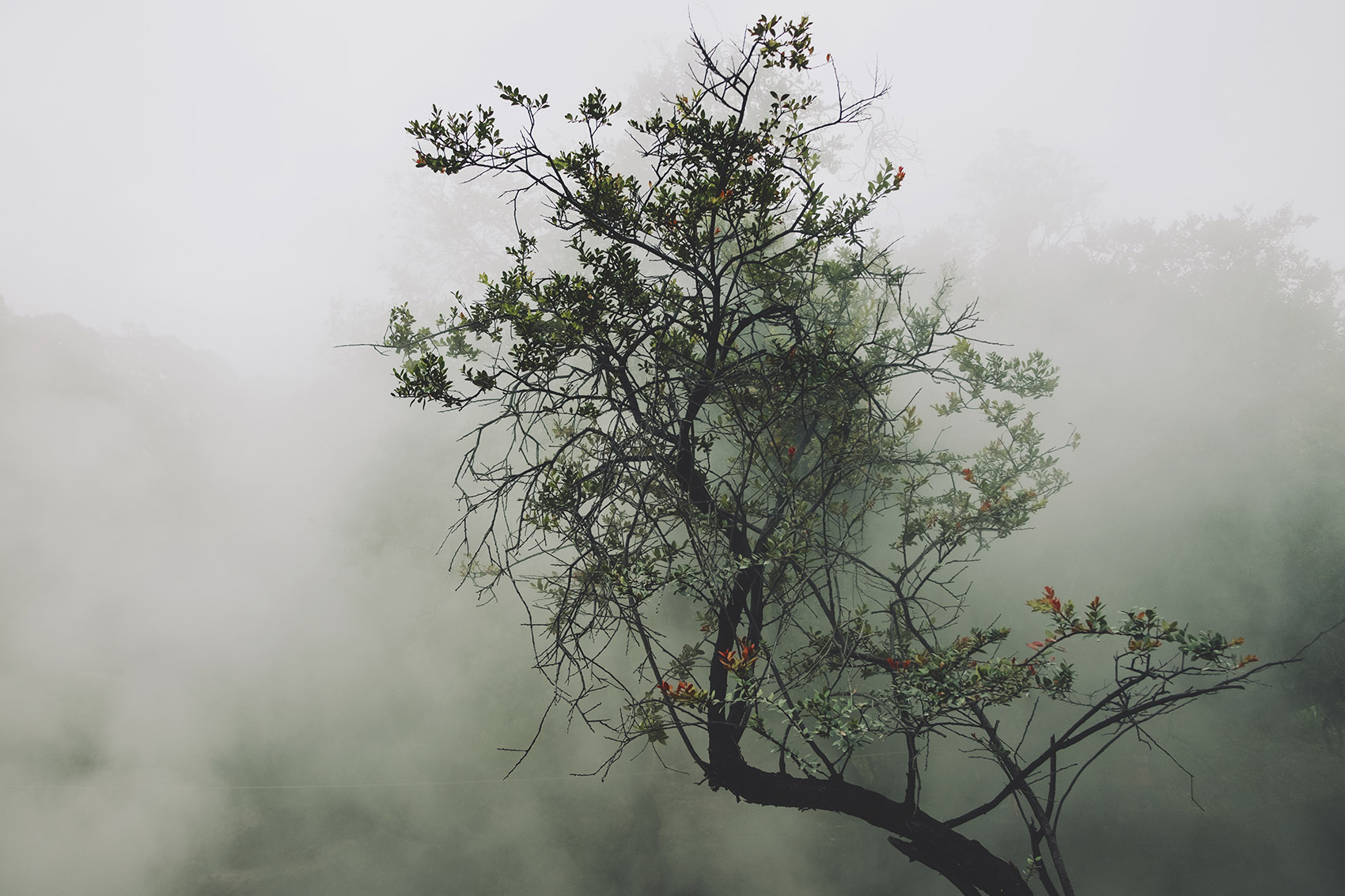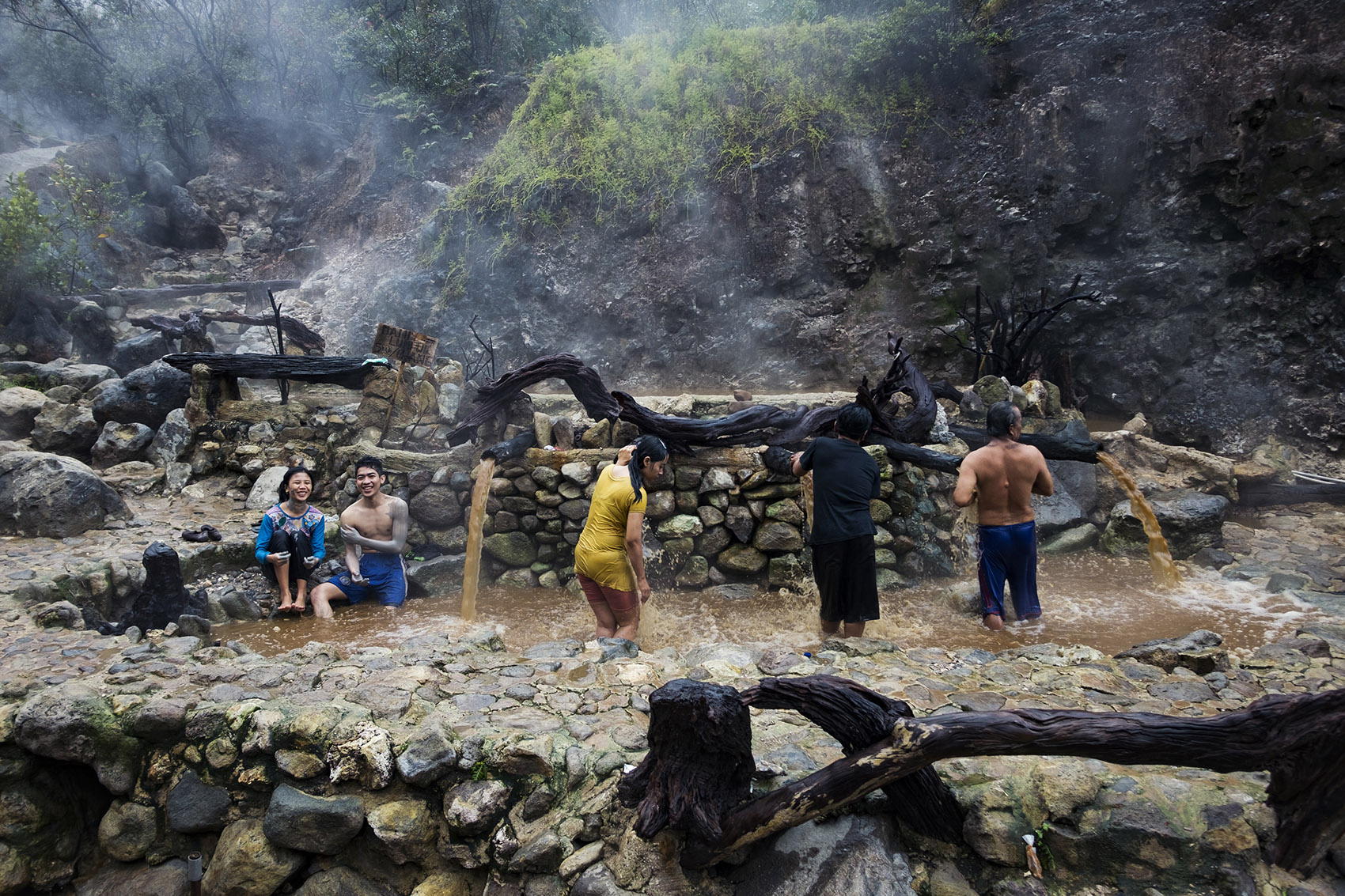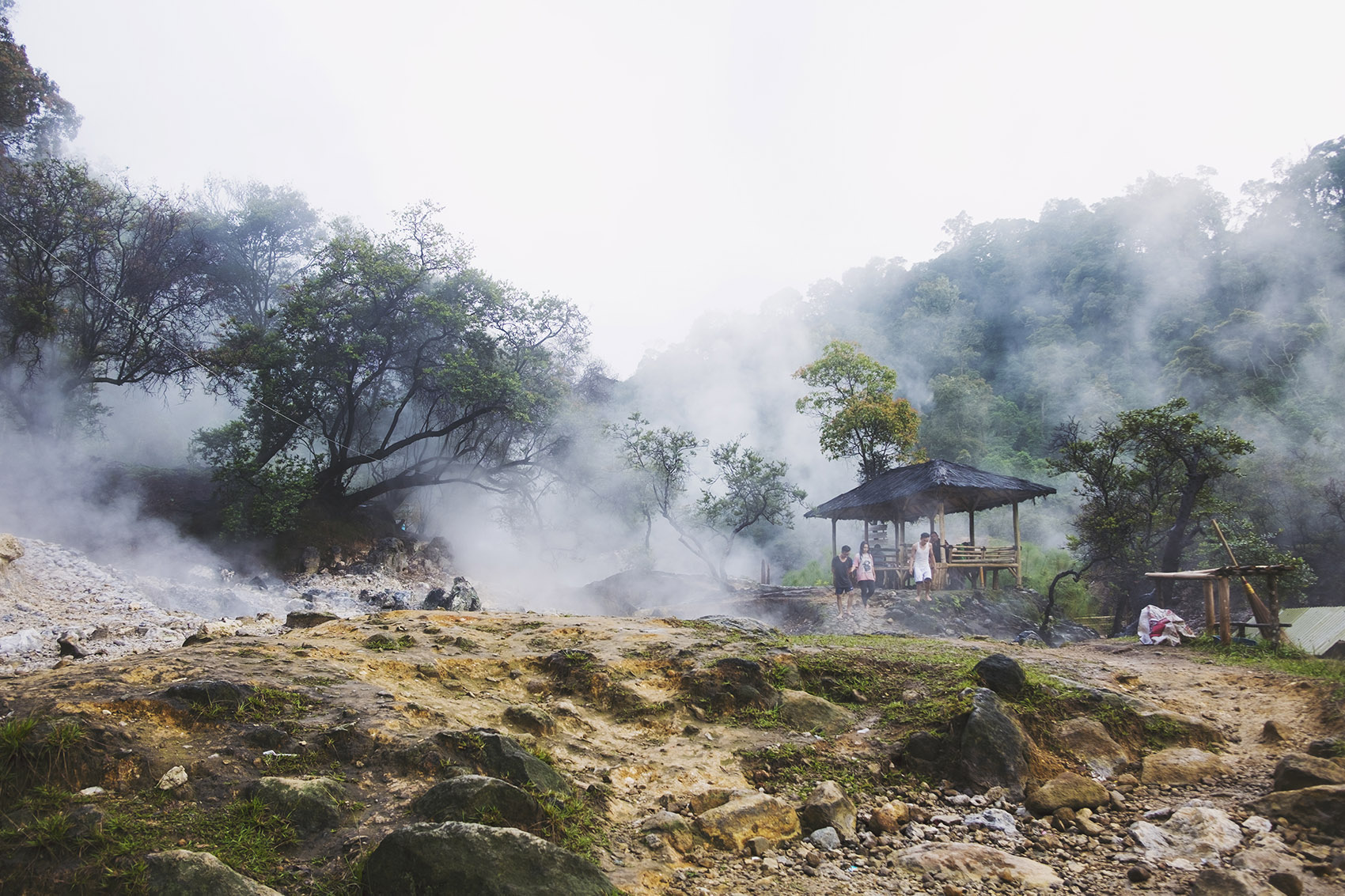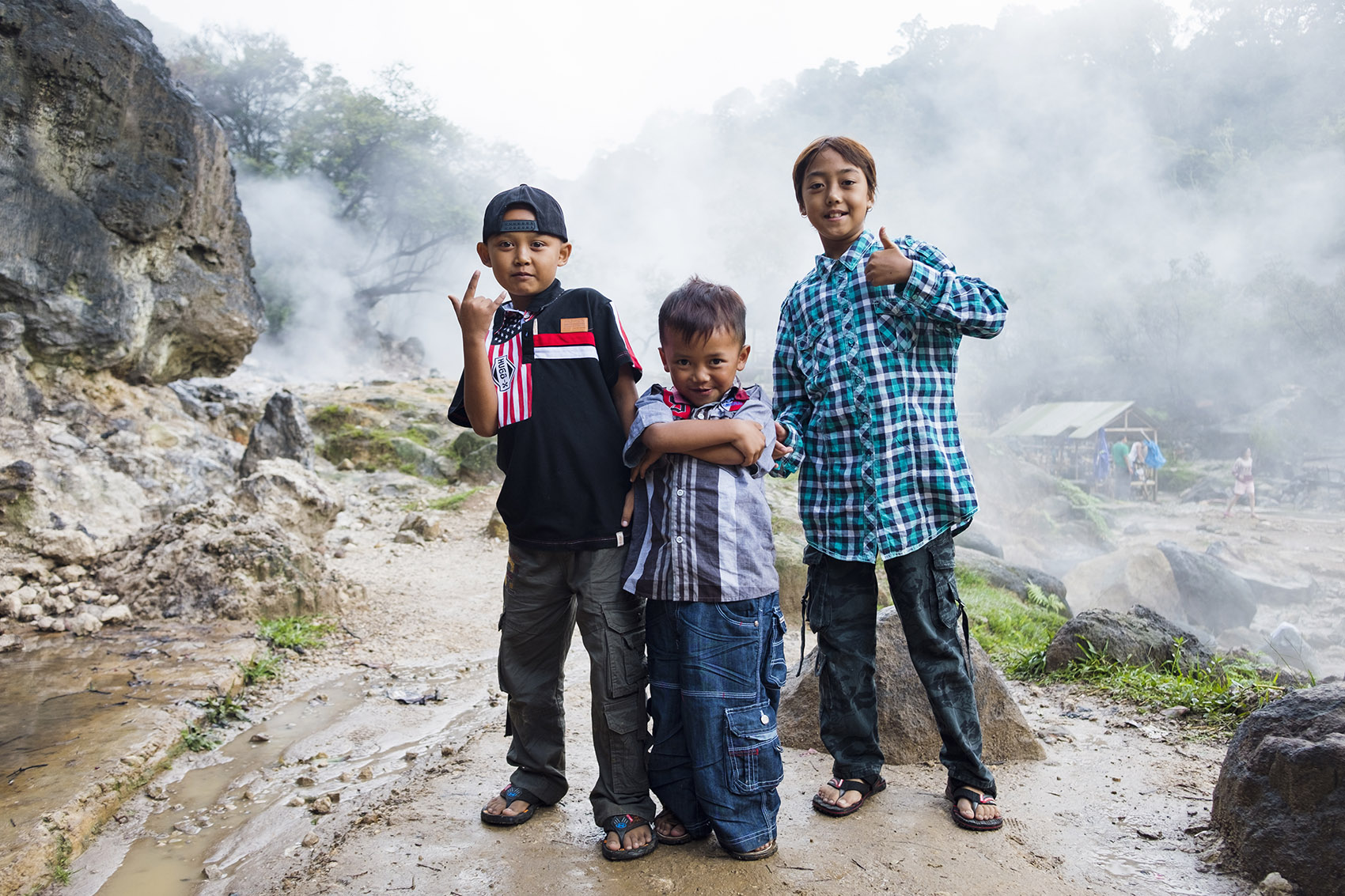 After Bandung I took an early train to Yogyakarta. The train left at 7:00 and I thought finding the train station would be hard but turned out the Indonesian word for it was "statsjun" so it was really easy to ask the locals in Bandung. Yogya is a pretty cool city with more authentic buildings and a bit less traffic than Bandung.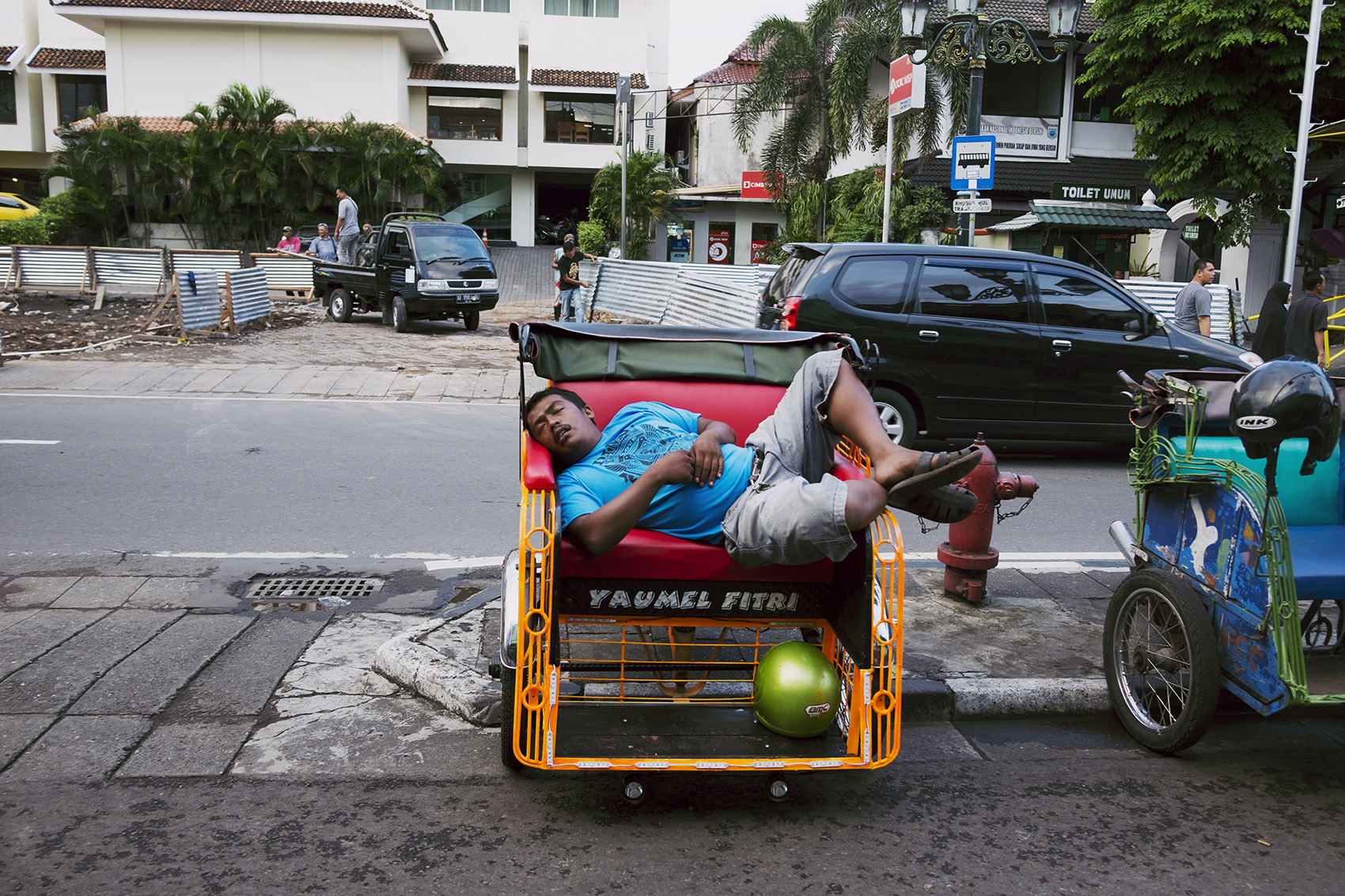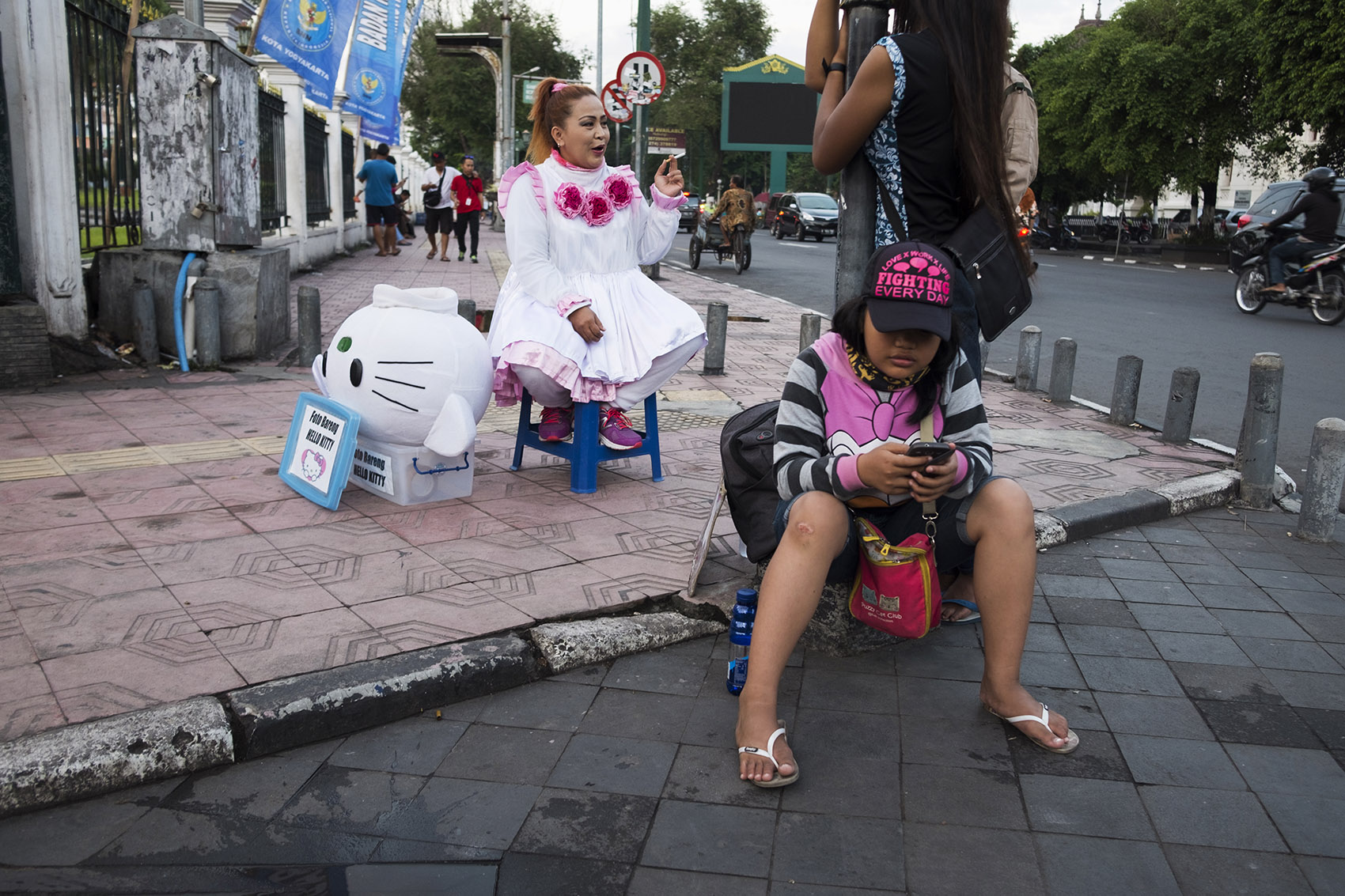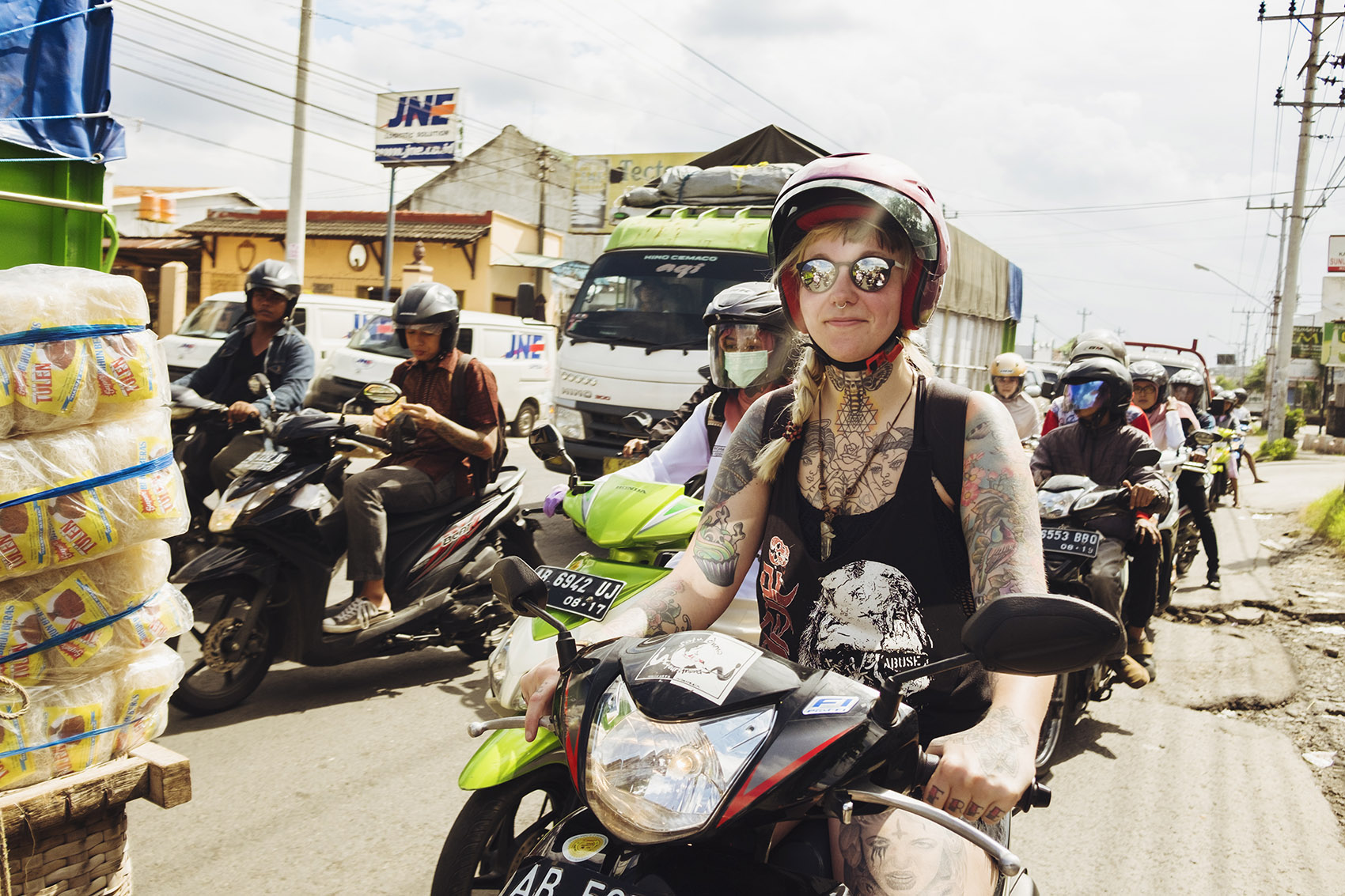 Twan and Chantal were also here so we met for dinner the first night I arrived in Yogya to discuss further plans. They heard about a non-touristic mountain called "Gunung Api Purba" which supposed to be pretty awesome to climb so we decided to rent 3 scooters to check it out. This was my first time on a scooter and it was amazing! The scooters vary between a max speed of 90 – 120 km/h which, compared to back home, is insanely fast. I asked someone about the traffic rules, turns out there are non, you can literally do anything you want. The traffic looks really chaotic but once on a scooter it all kinda speaks for itself and since there are no rules people are much friendlier. They also of course see you're a tourist so they will be a little more cautious approaching you.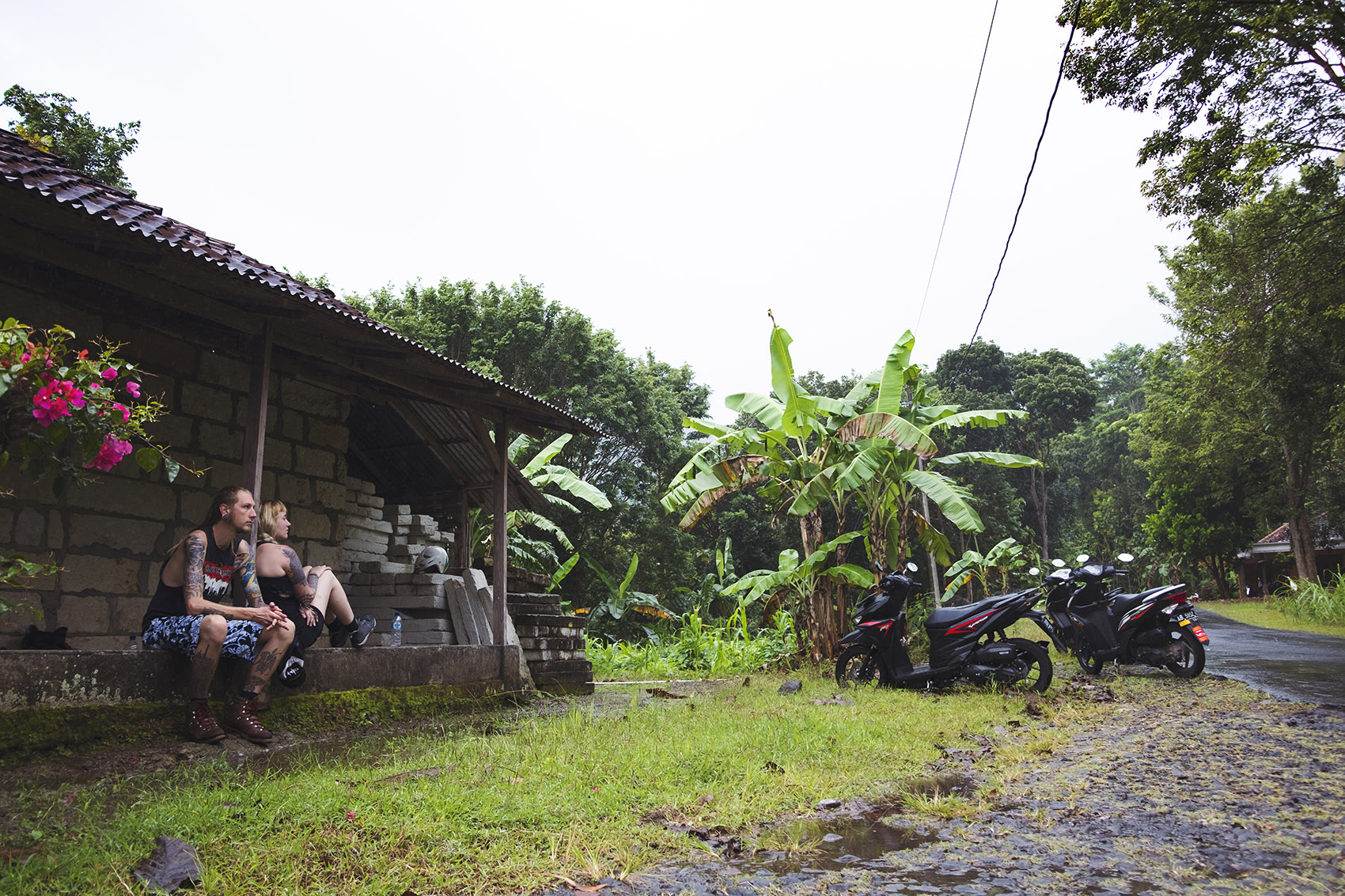 It started raining so we had to hide for a bit cause when it rains in Indonesia you'll be soaking wet within 3 seconds if you don't.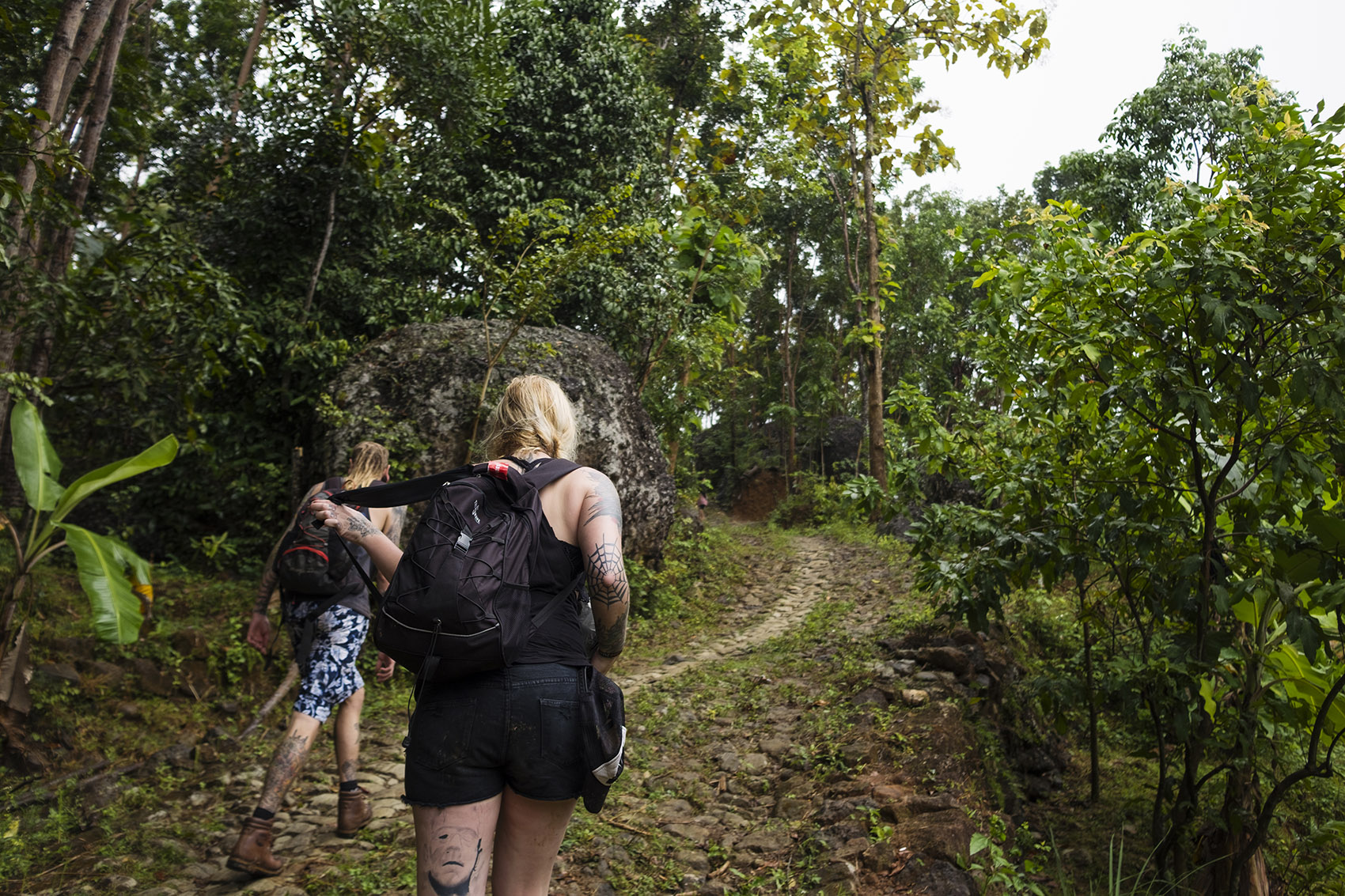 We downloaded the location on Google Maps but it kinda fucked up so we ended up driving on roads like these. Because of the rain the stones were slippery and I even got my scooter stuck on a rock. We decided to leave the scooter and just walk, later we found out there was a more accessible road so we walked back to get our scooters (just because we hated walking and loved driving the scooters).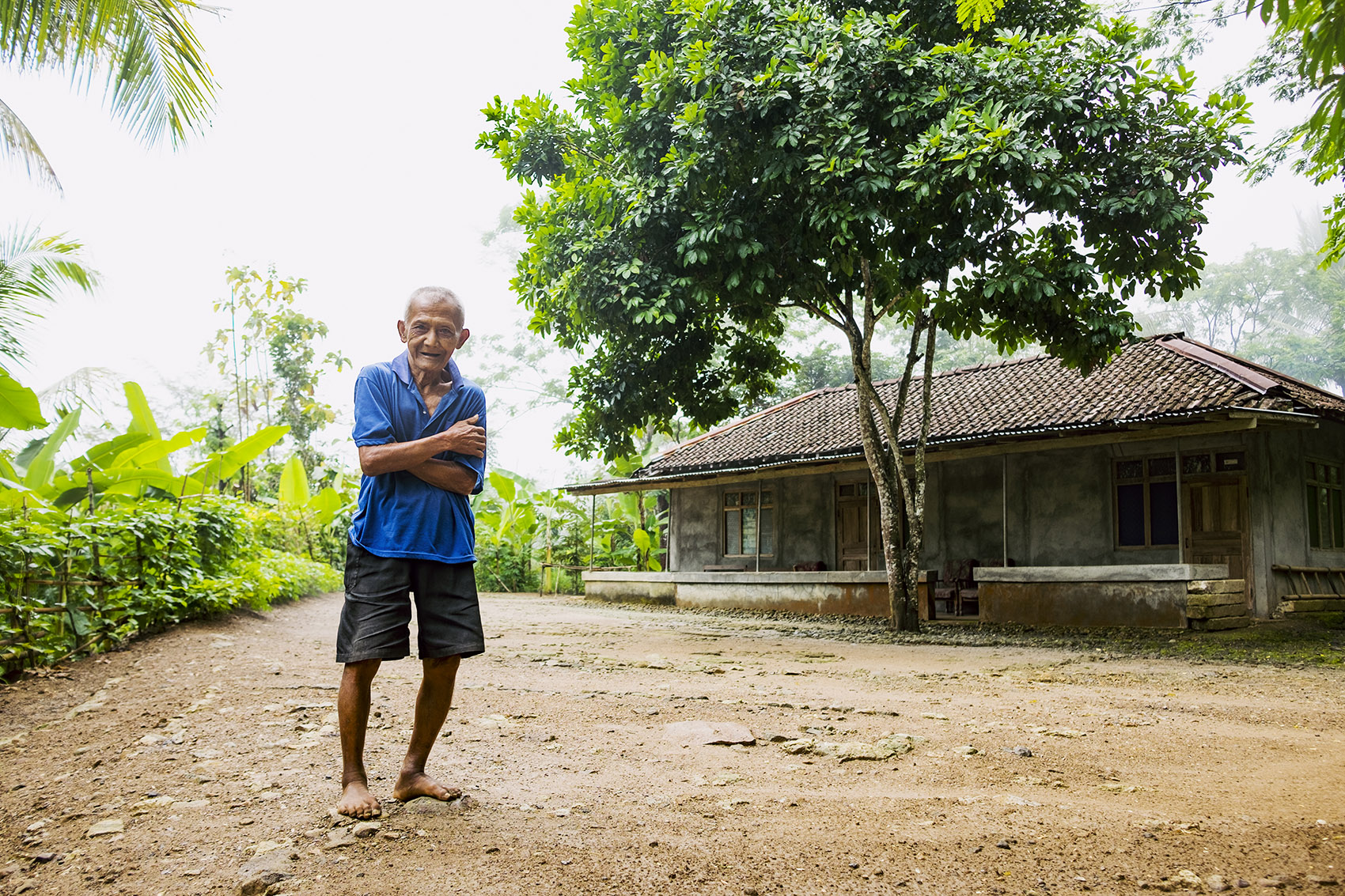 This guy is living in the middle of nowhere on a mountain. He saw us passing his house and came outside to invite us in. He didn't speak a single word in english but was really friendly and welcoming.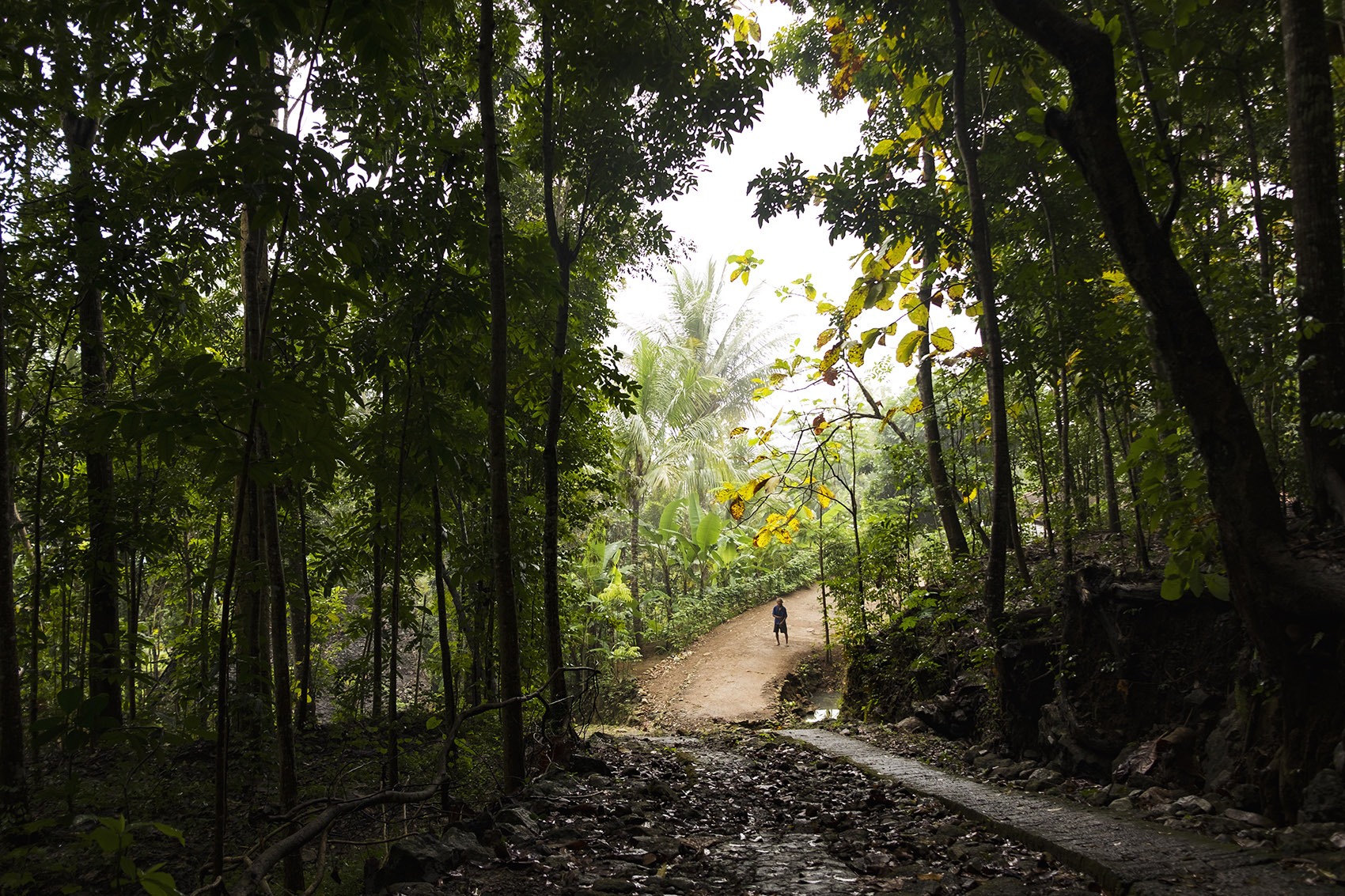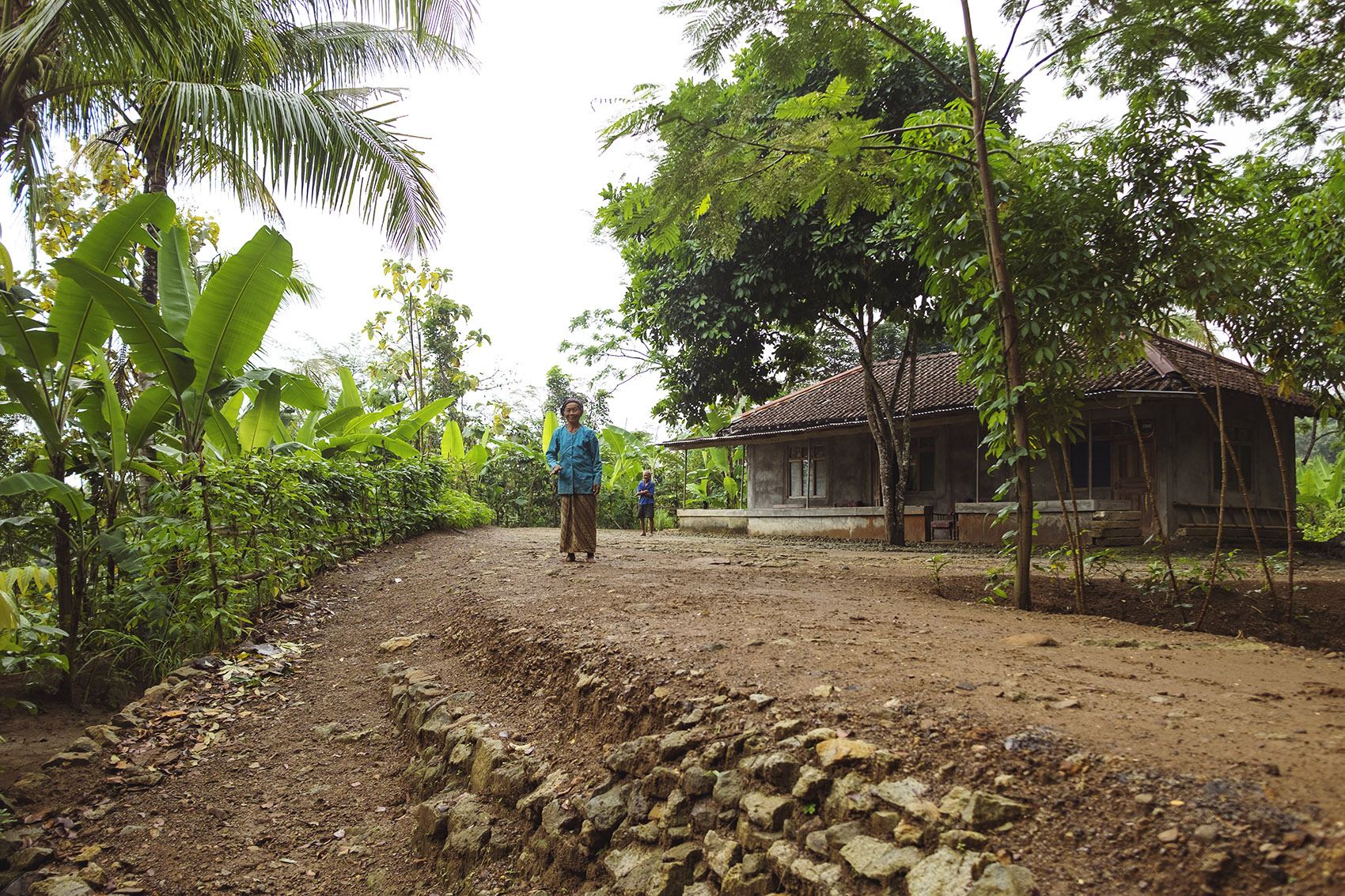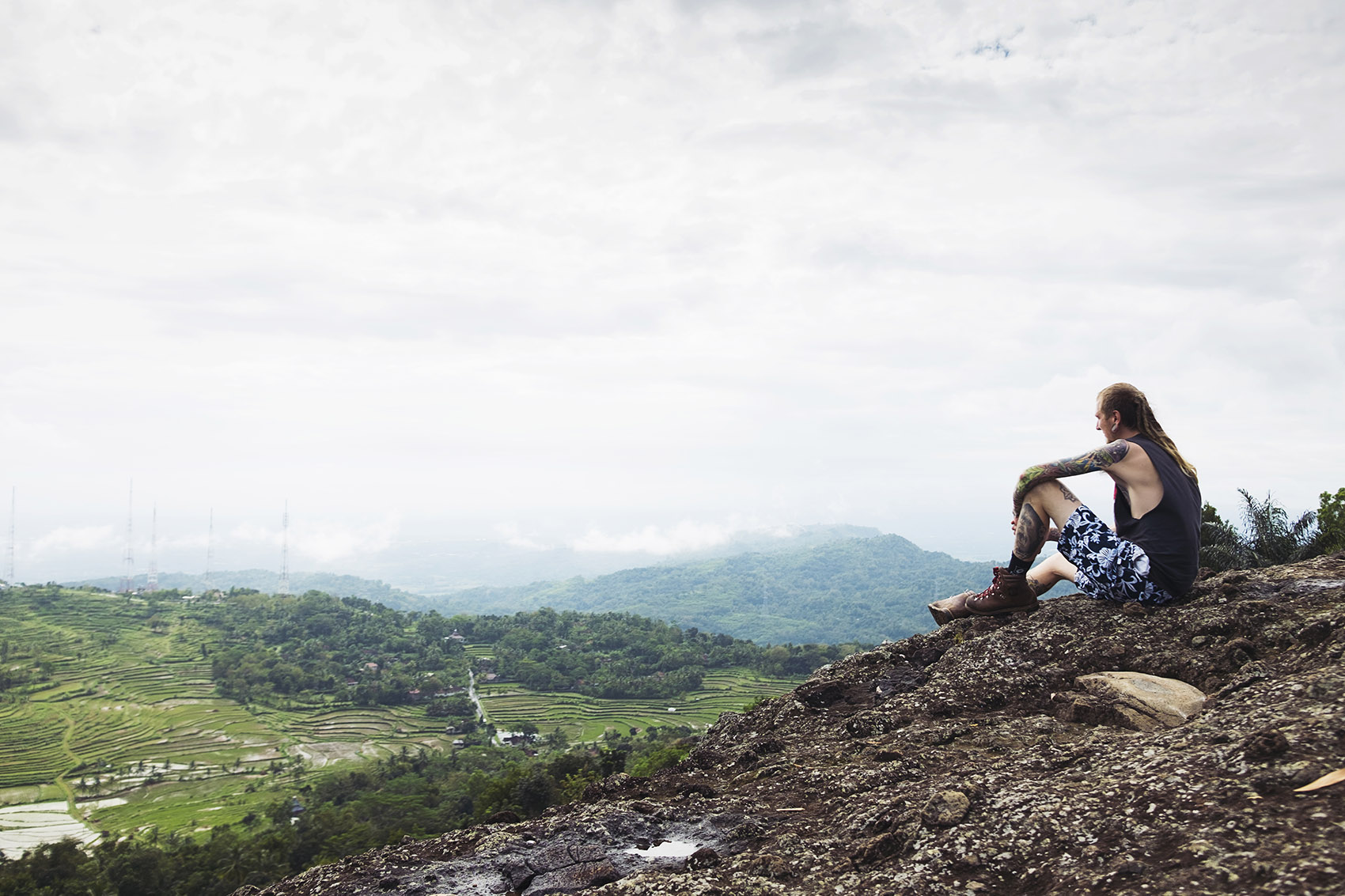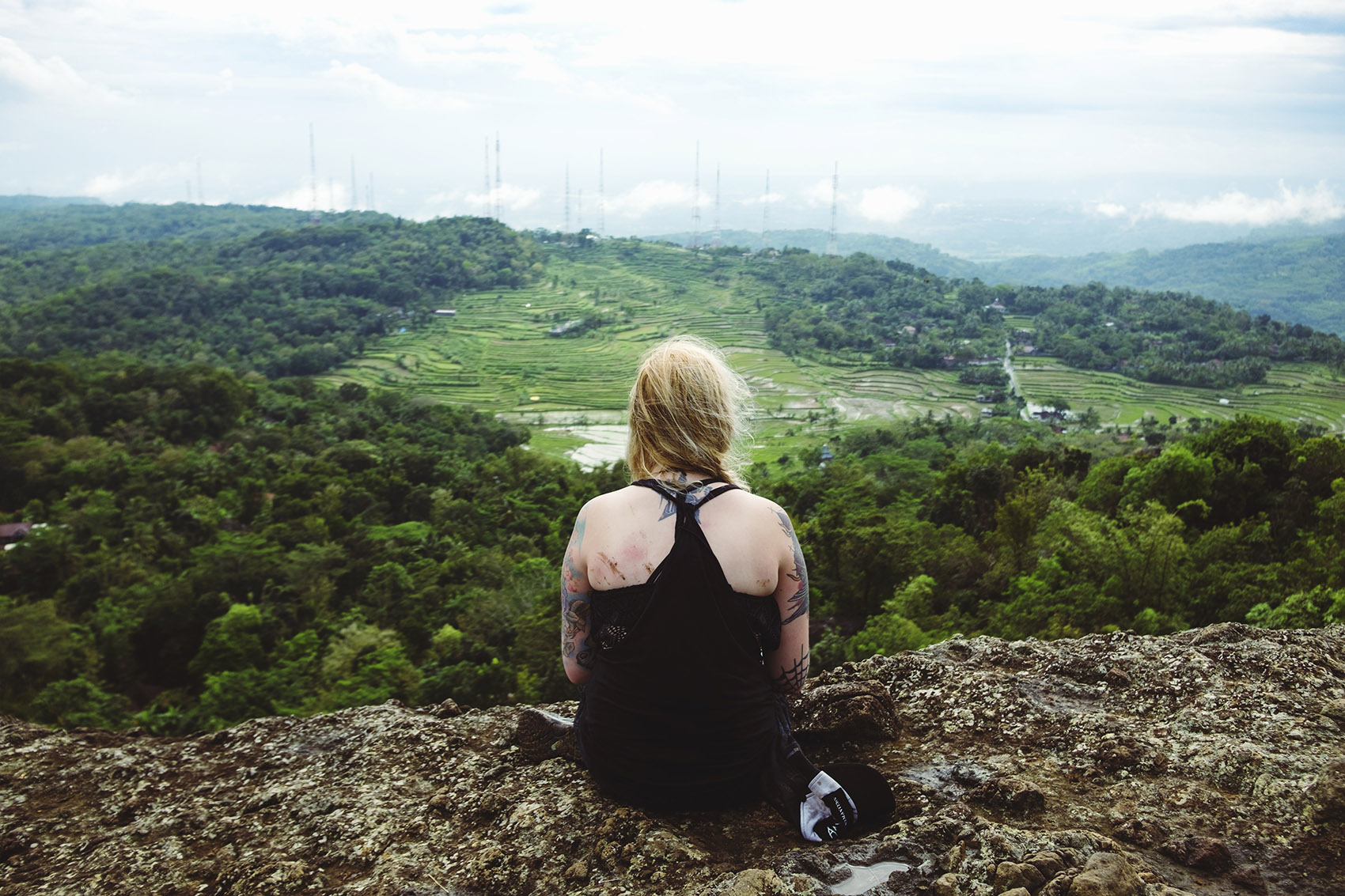 We started climbing the mountain, because of the rain most of the sand turned to mud and all the stones were slippery so it was hard to climb without falling or getting your shoe filled with water. But the first view was already worth it.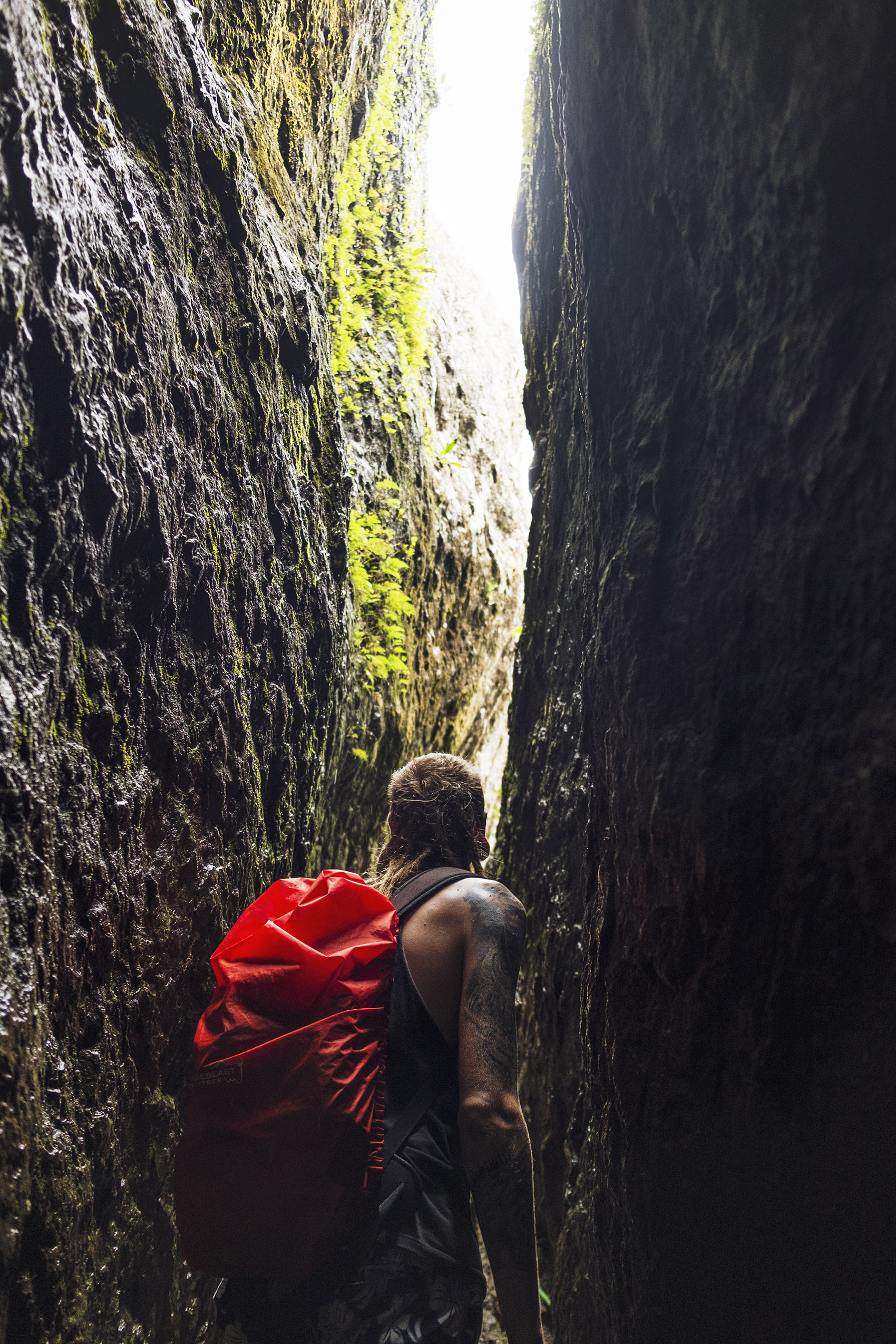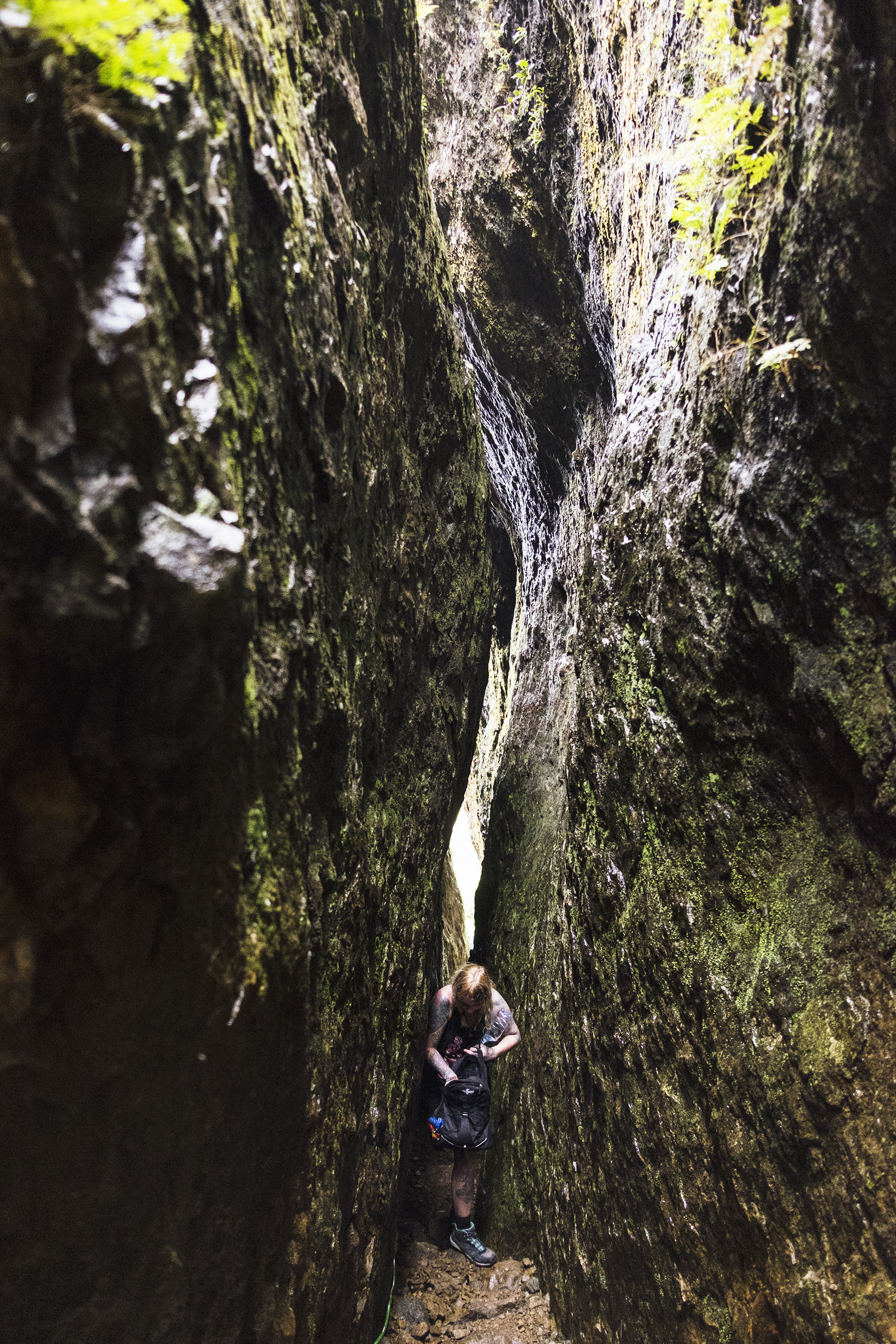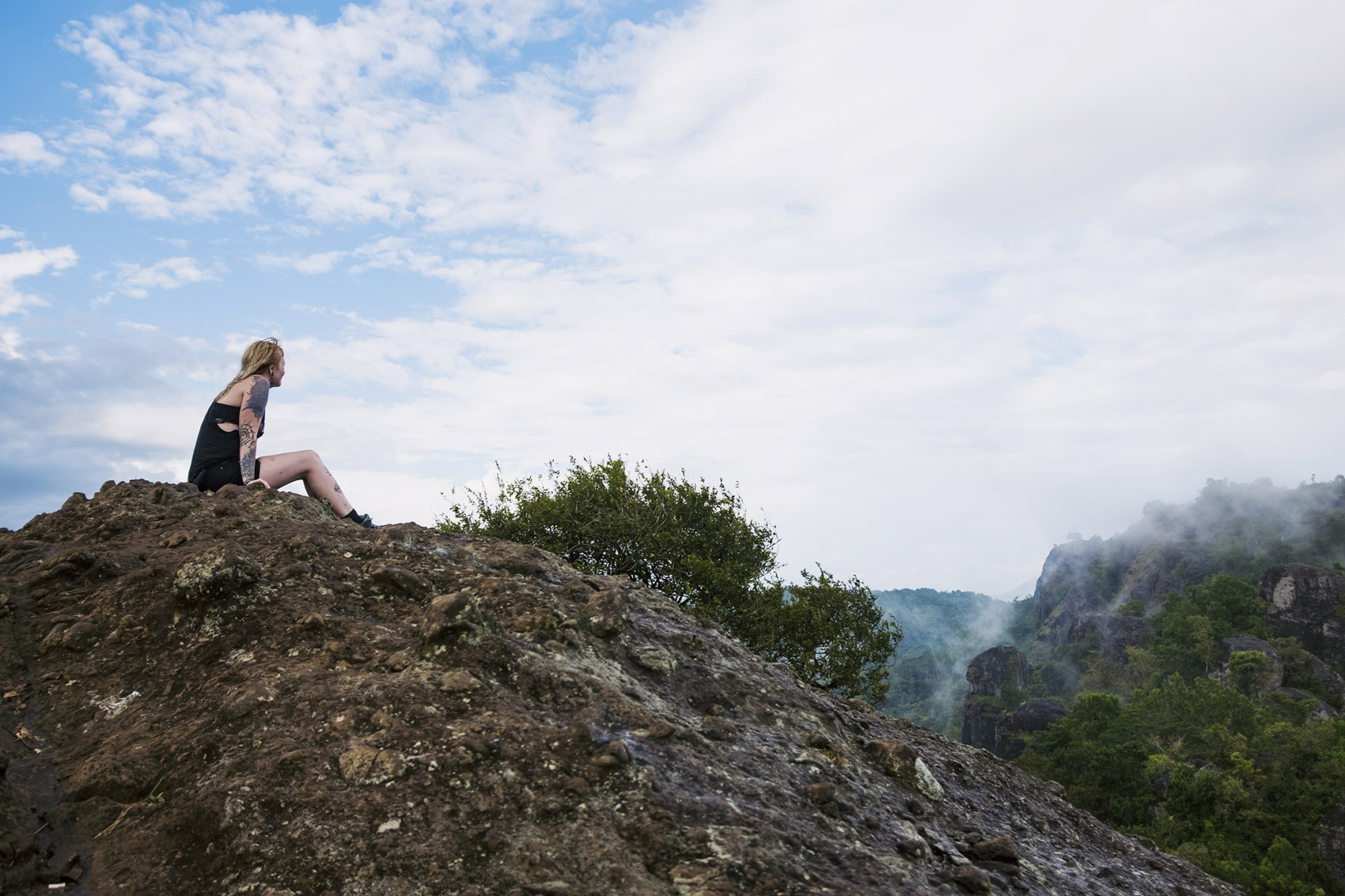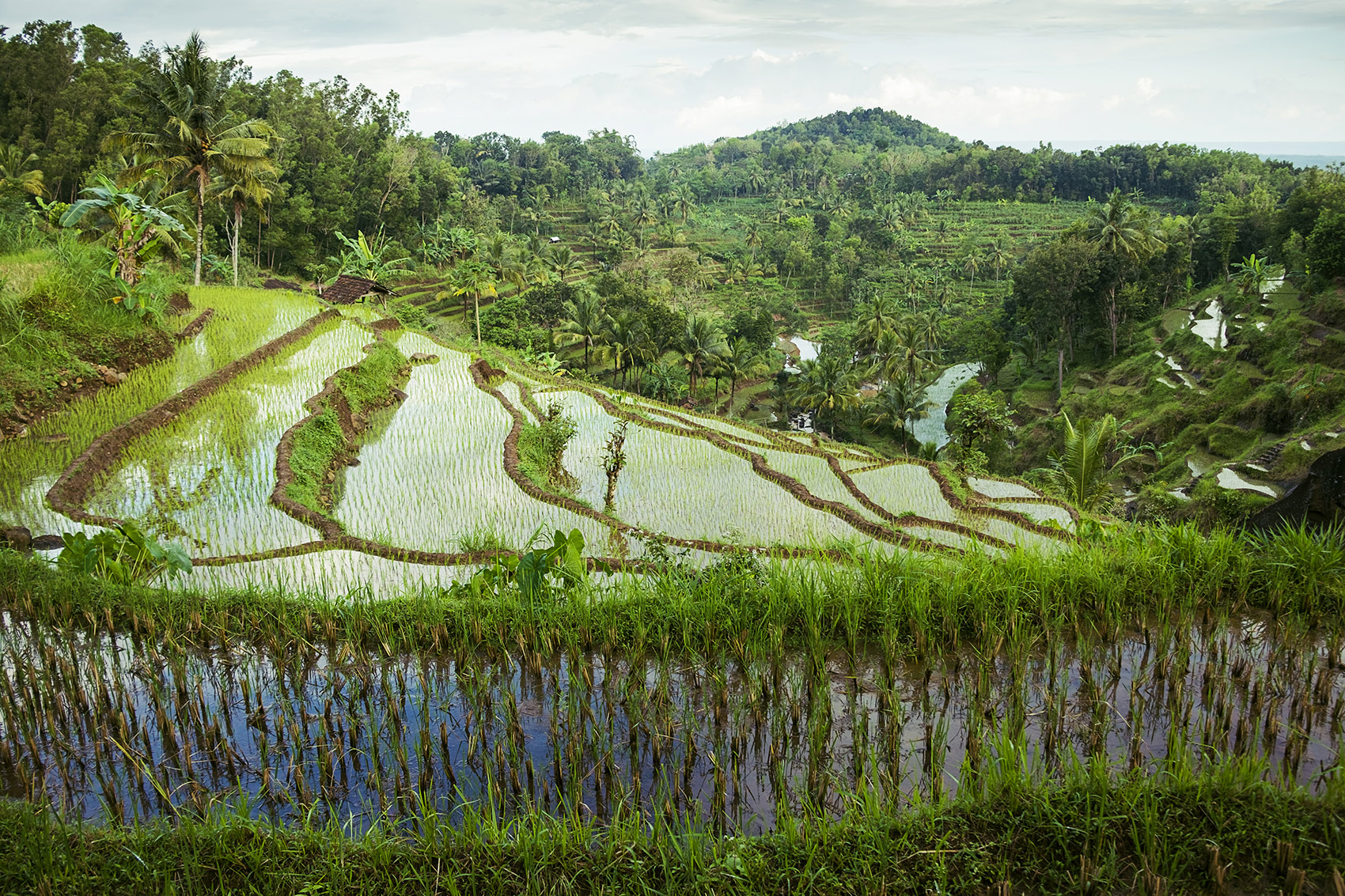 After the mountain we stumbled upon some rice fields, Twan and I decided to go check it out and walk all the way down, turned out the only way up again was to climb up a running waterfall, was really fun wearing flip-flops. Not.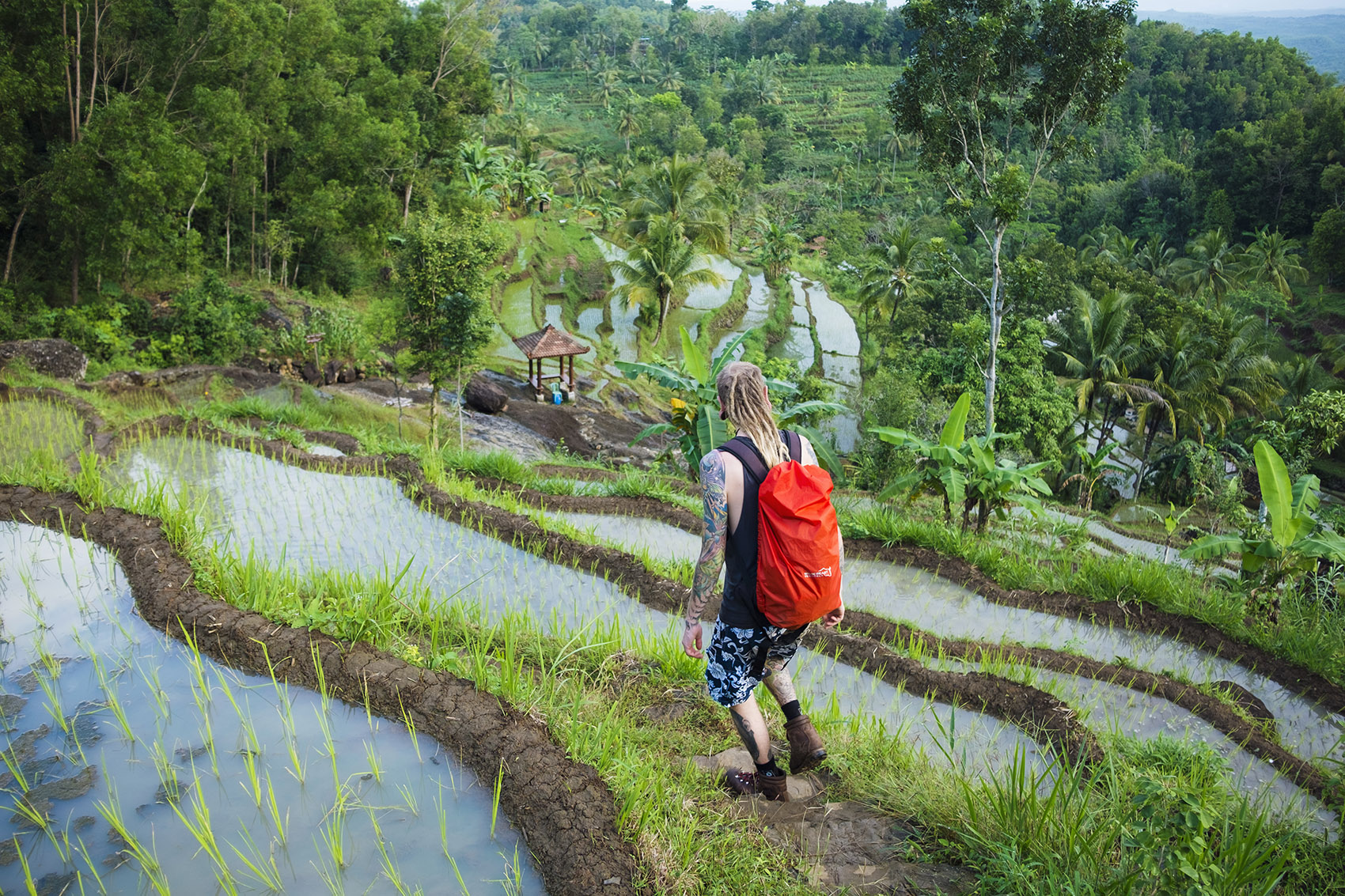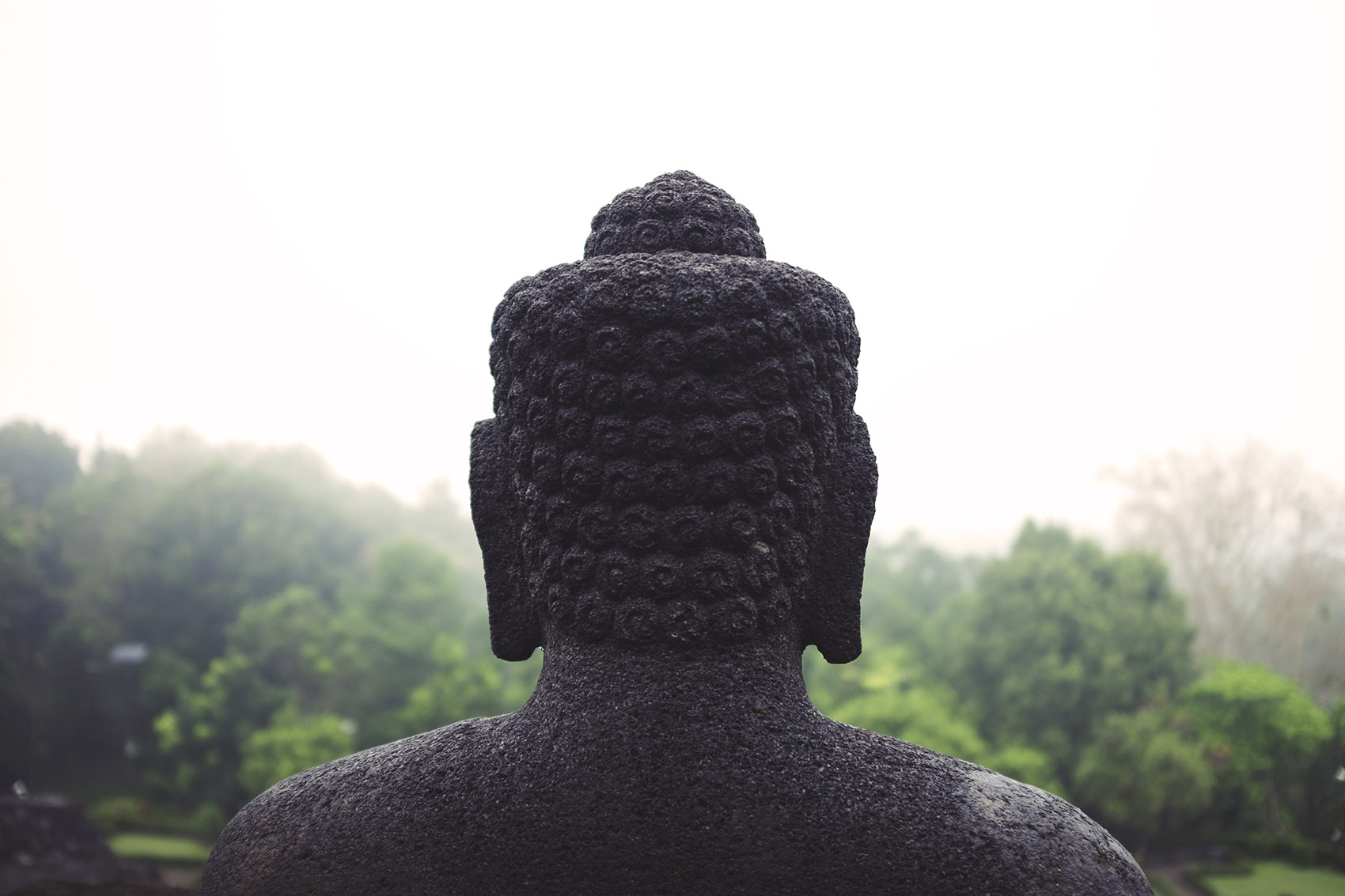 When you google "Indonesia" you'll probably see some photos of Borobudur and Prambanan, both are buddhist temples and are the countries most visited tourist attractions. We decided to do the "sunrise tour" cause it supposed to be the most beautiful. My alarm clock was set to 3 o'clock in the middle of the night because pick up time was 3:30. After a 1,5 hour drive we made it to the temple, got up there only to stare at a blob of clouds.. The area was so foggy you couldn't see a thing; no sunrise, no temples, only a bunch of tourists standing in front of us. Fuck. My. Life.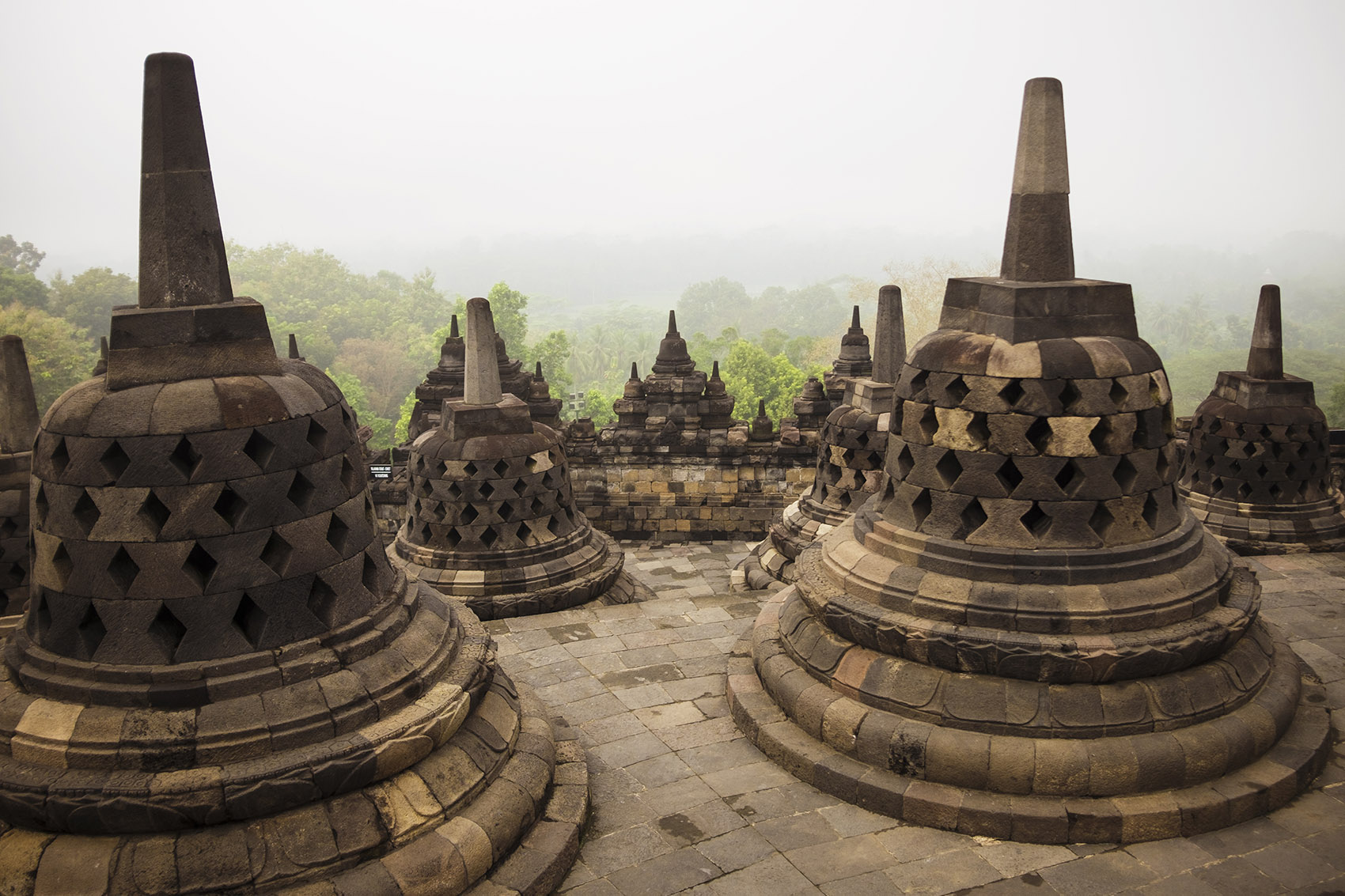 After an hour or so the fog cleared and we could walk around the temple. It was nice and all and I know a lot of people enjoy it but I would not recommend going to any of these. There are so many tourists. It feels more like an attraction park than a buddhist temple. So after this day I decided to not go to any more touristic places during my stay in Indonesia.
Mt. Merapi Volcano.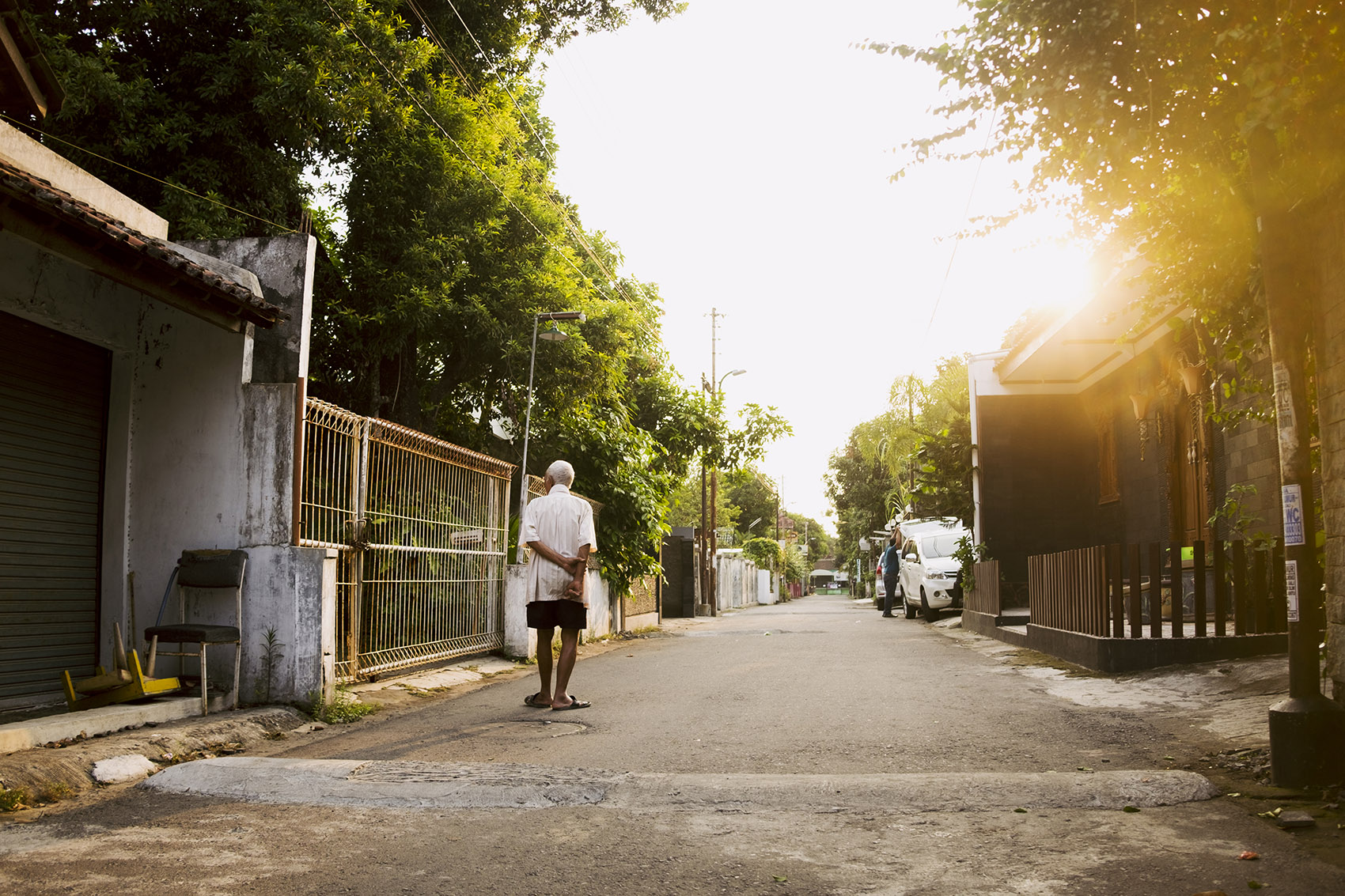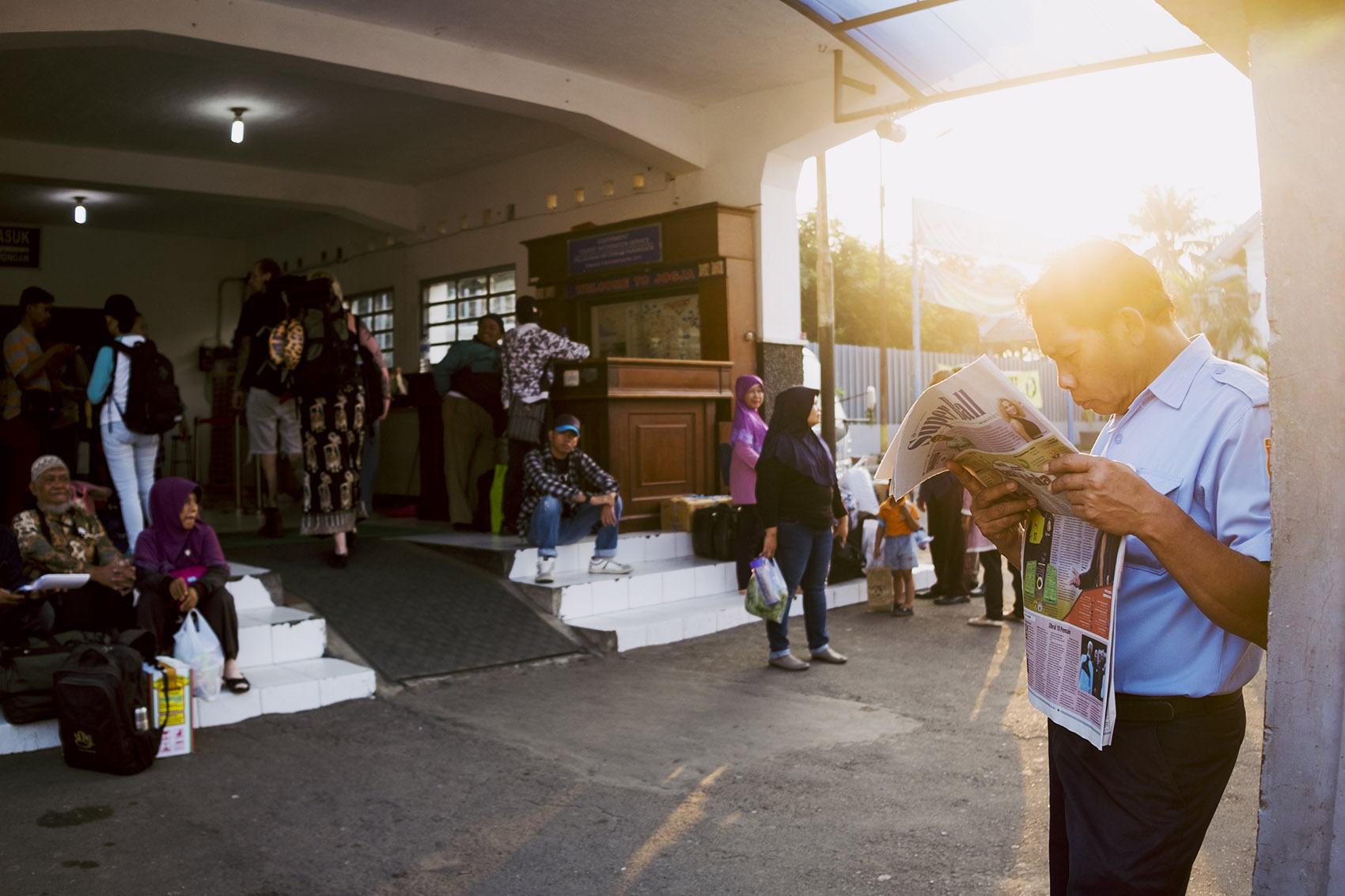 After Yogya we took the train to Malang. The plan was to go to Mt. Bromo volcano, and since all tourist go to Probolingo in the north and take the guided tour in the morning we would do the opposite; start south and go after tourist times so we would have the whole place for ourselves.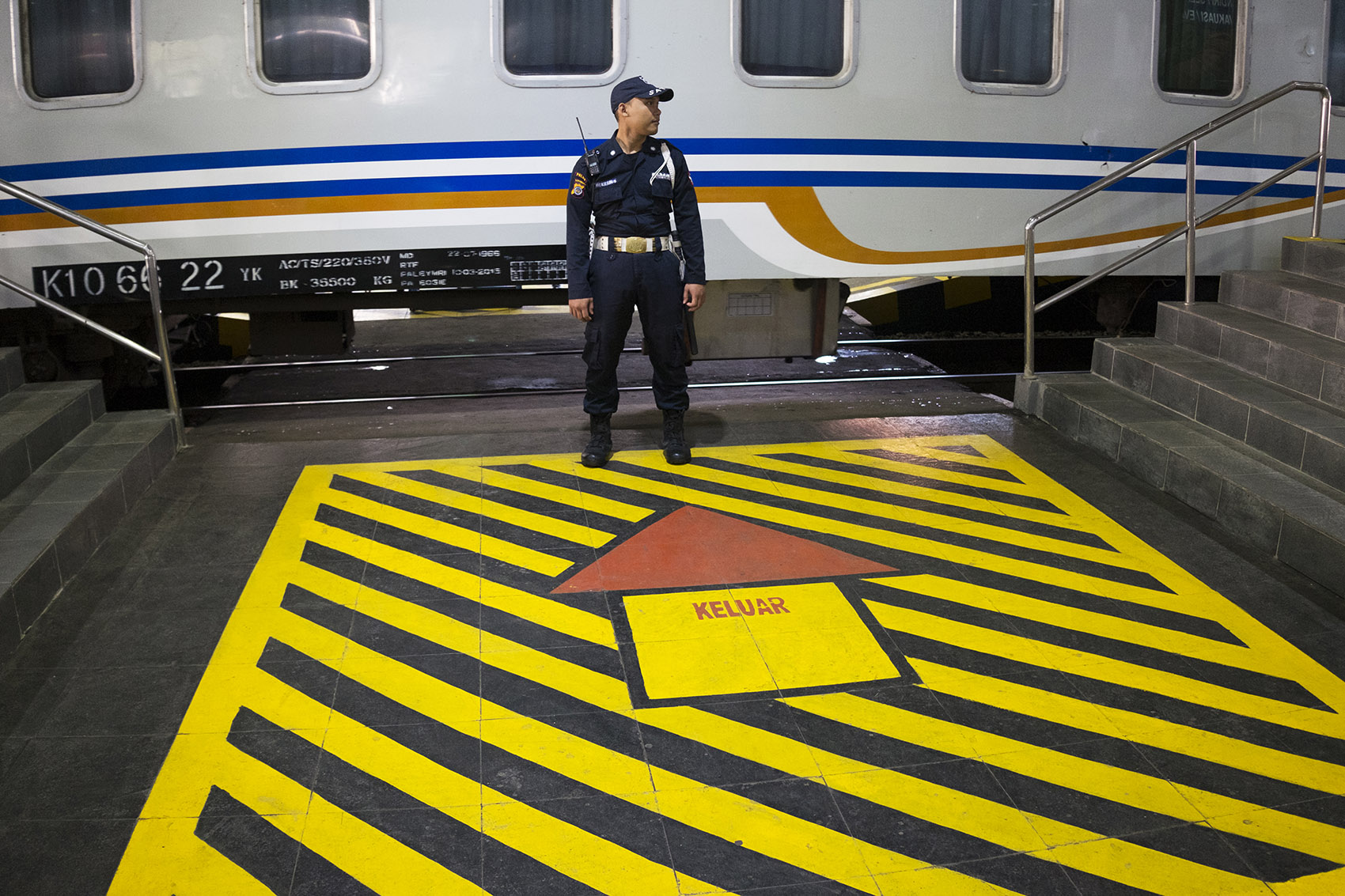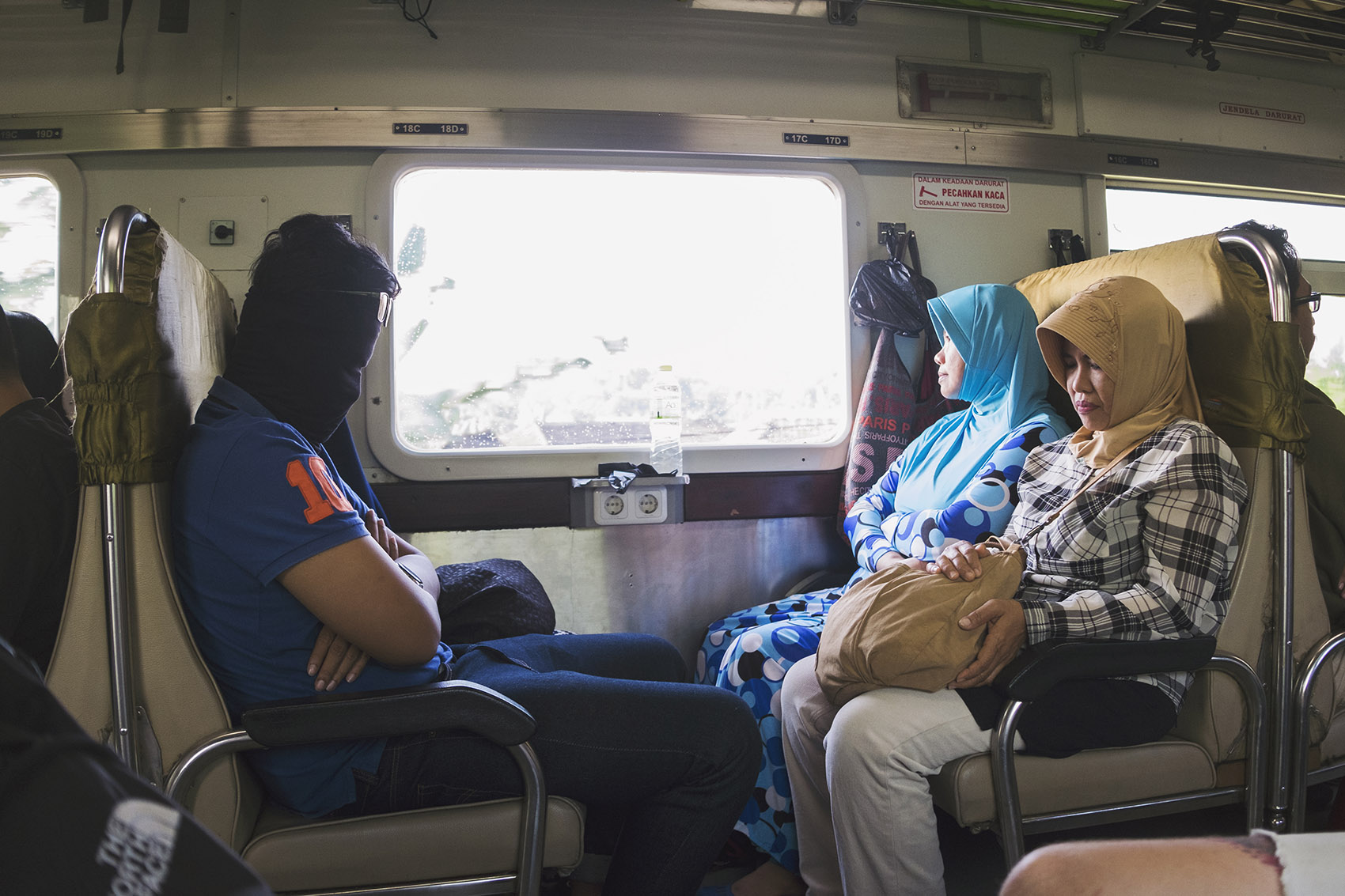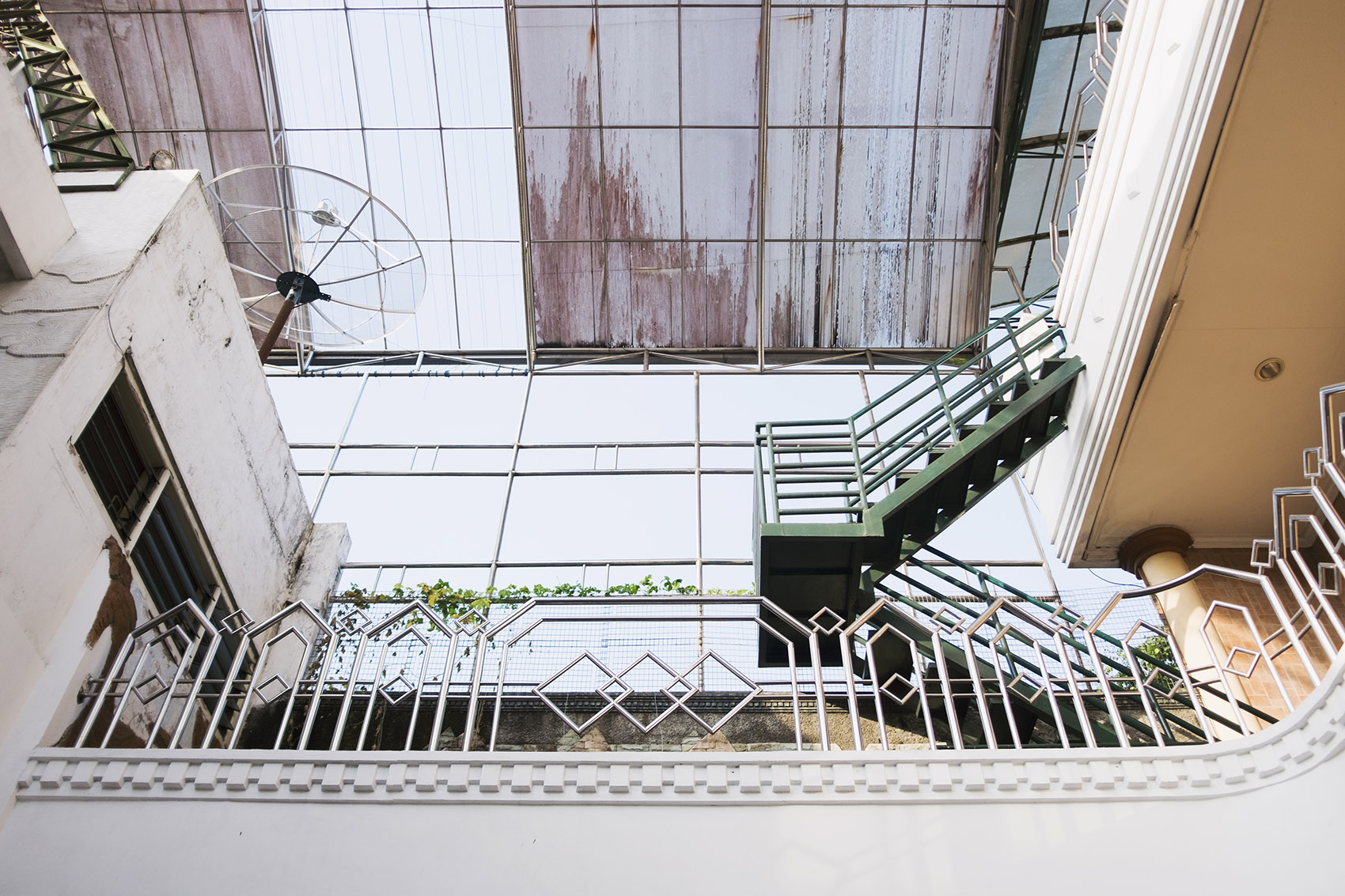 We couldn't find the hostel in Malang so I walked in some random car-repair shop to ask if they knew where the address was. All of the 7 employees instantly dropped their work and came to the counter to check if they knew. They started making phone calls and eventually called the hostel to ask where it was. I thought they would point us in a direction but nope, all of them walked with us to the hostel. It's really awesome how friendly people are in Indonesia, even though you cannot communicate through language they will do anything to help you and make you feel welcome.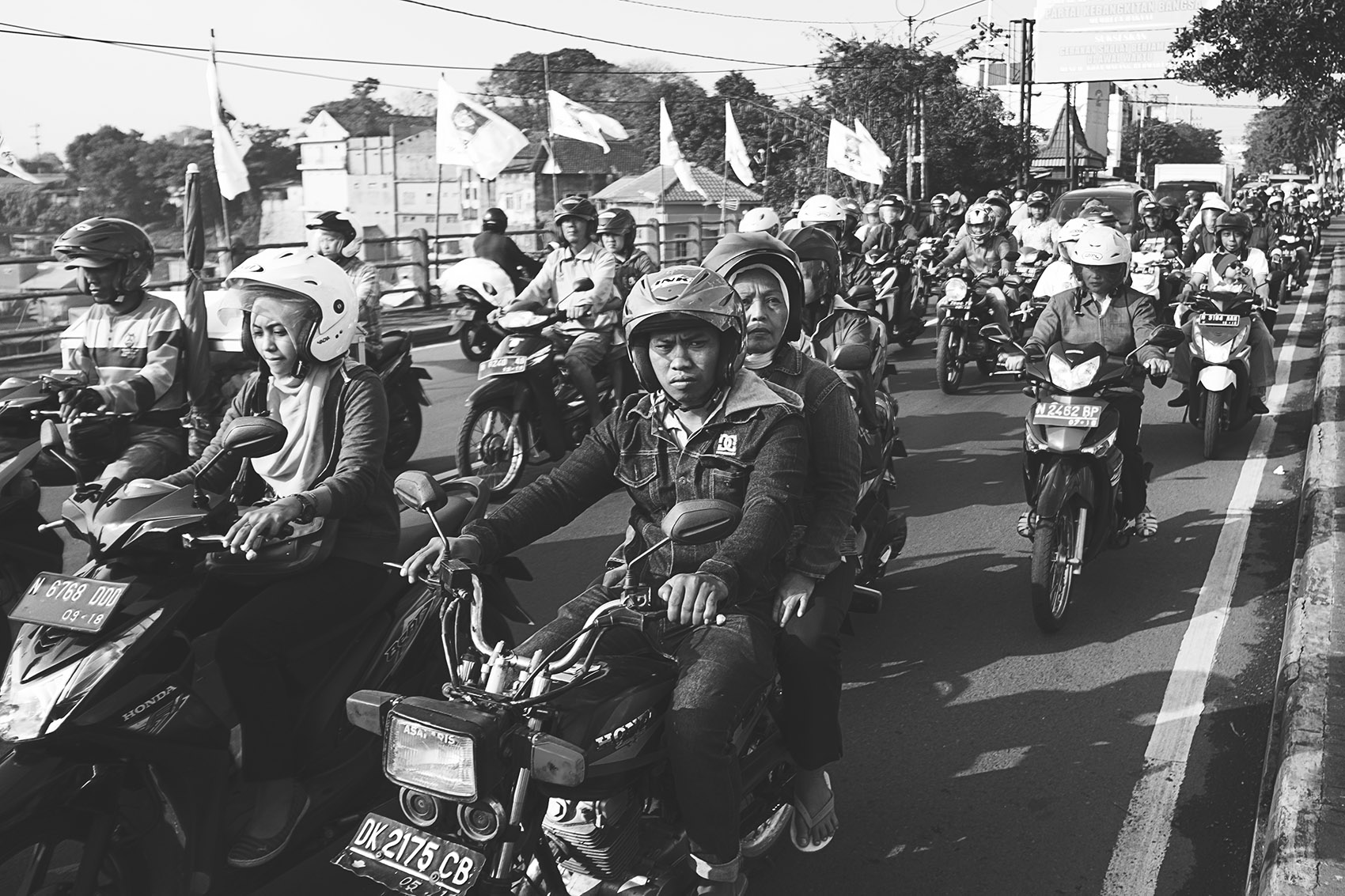 Malang.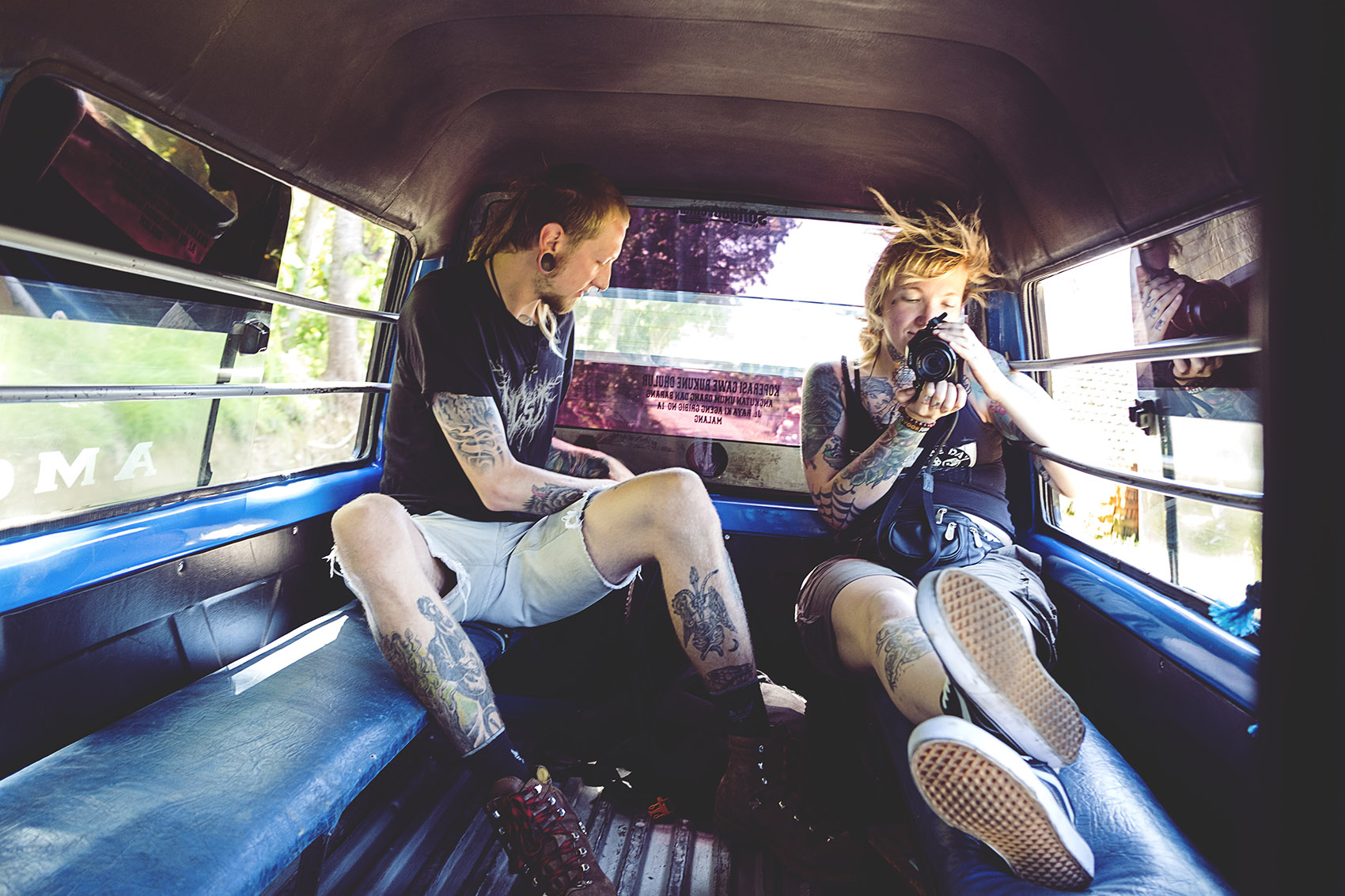 At the hostel we asked if it was doable to go to Bromo by scooter. They said not many people do it and that it's not the safest way but it is doable. So we were really stoked to try it. The plan was to hire 3 scooters so we went out into the city to ask around. No one was willing to rent us a scooter because the roads were to dangerous and it would ruin the scooter. We tried for around 2 hours and then decided we would try again later. We heard about Sempu Island which should have a blue lagoon, we really wanted to try to get there. We hired a taxi van + driver for a day, he drove us all the way to the coast and helped us hire someone with a boat to take us to the island. He even joined us through the jungle (a 2,5 hour walk) all the way to the lagoon.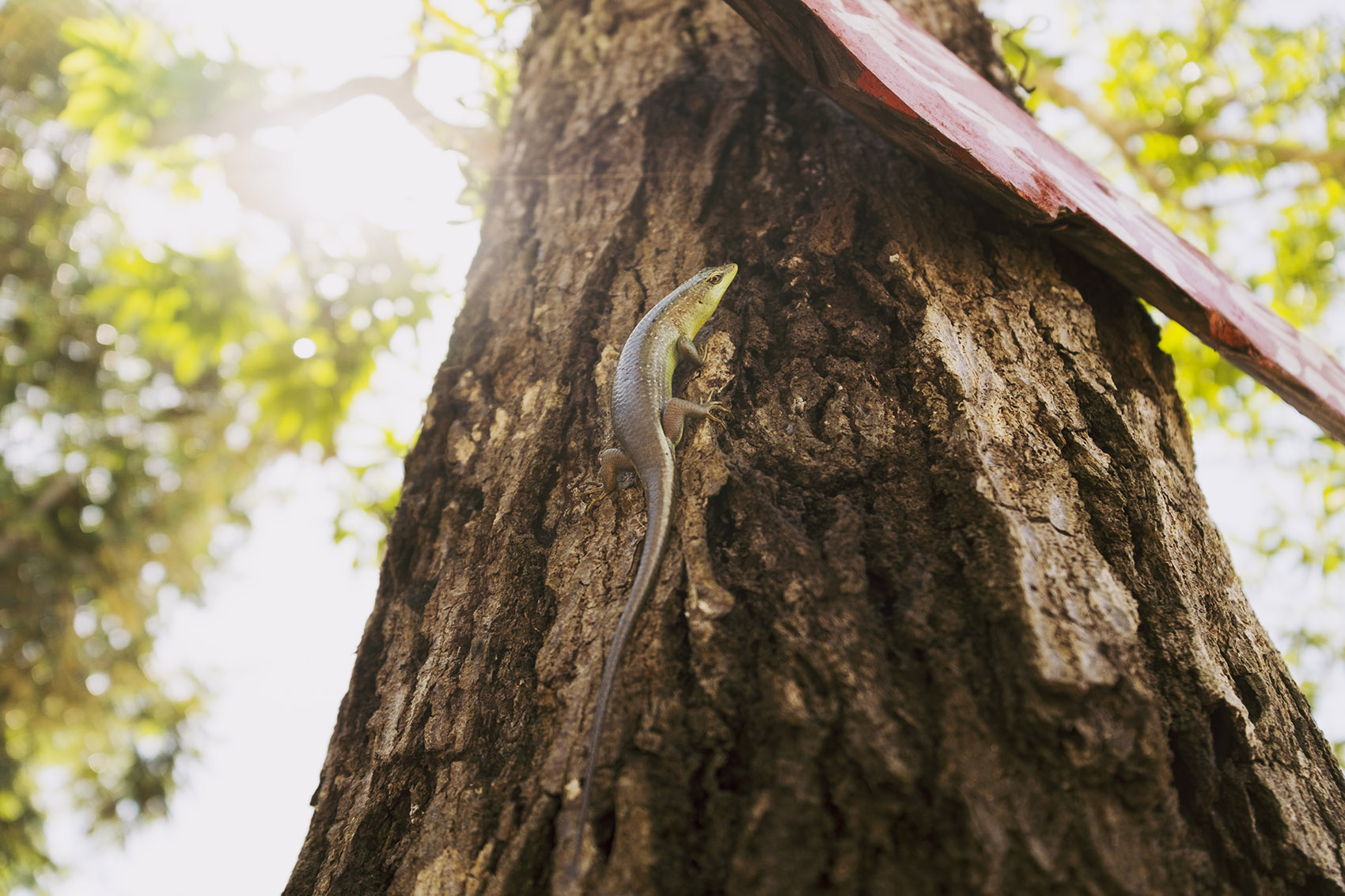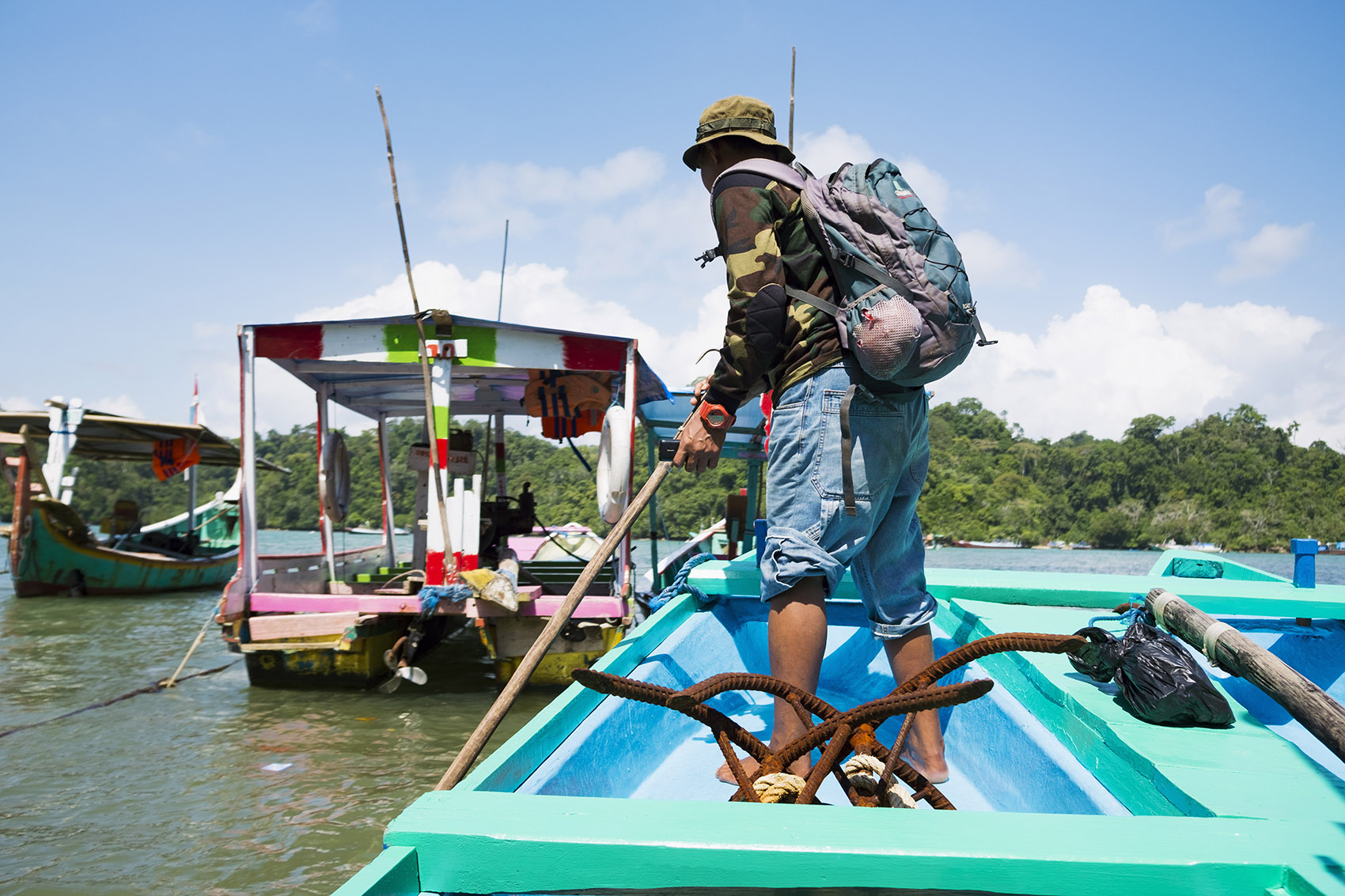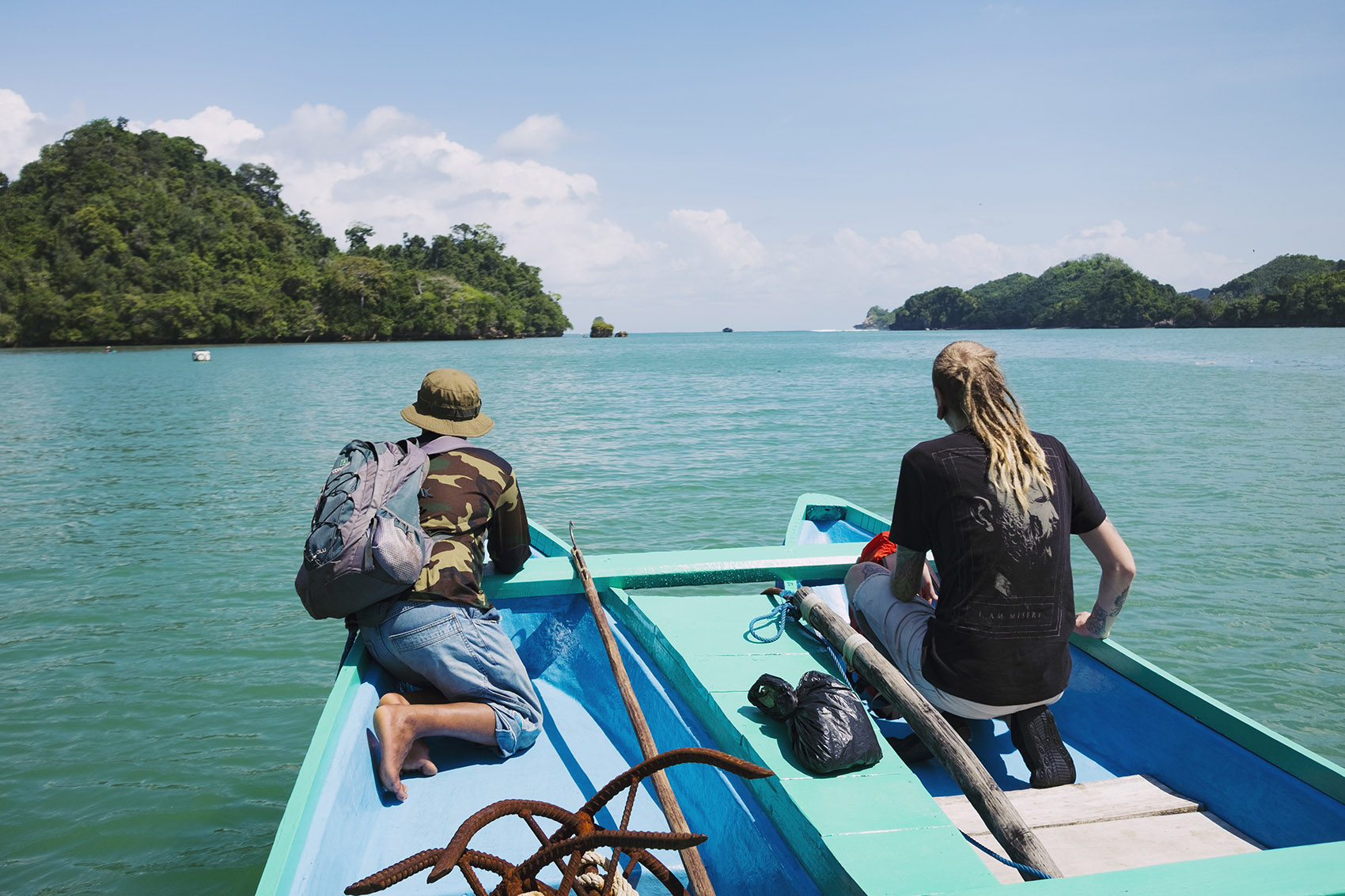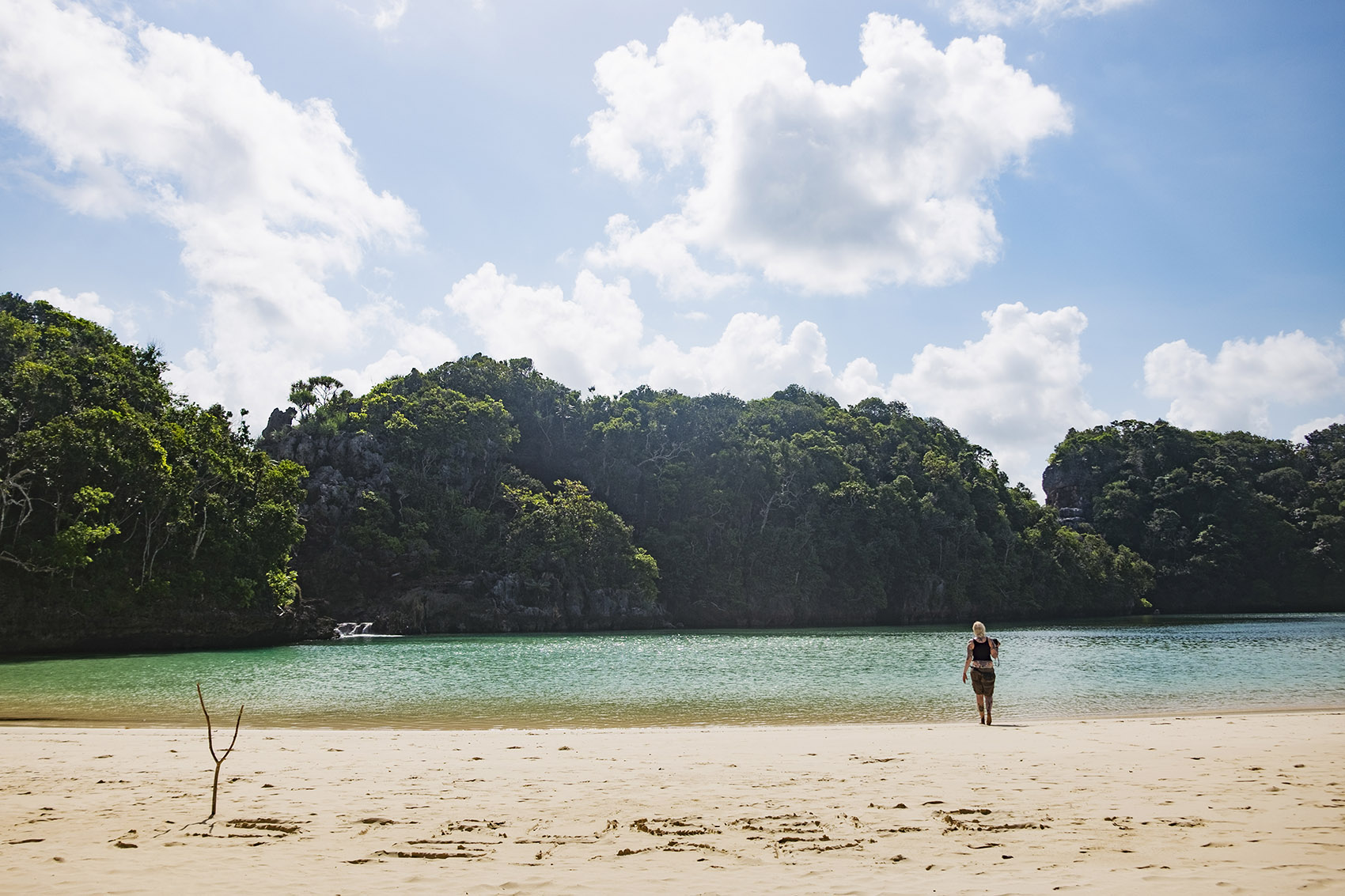 At the blue lagoon, a lake in the middle of the island. Since it's a 2,5 climb through the jungle there was almost no one around, only some locals who brought a tent to stay the night. Must be awesome to sleep here!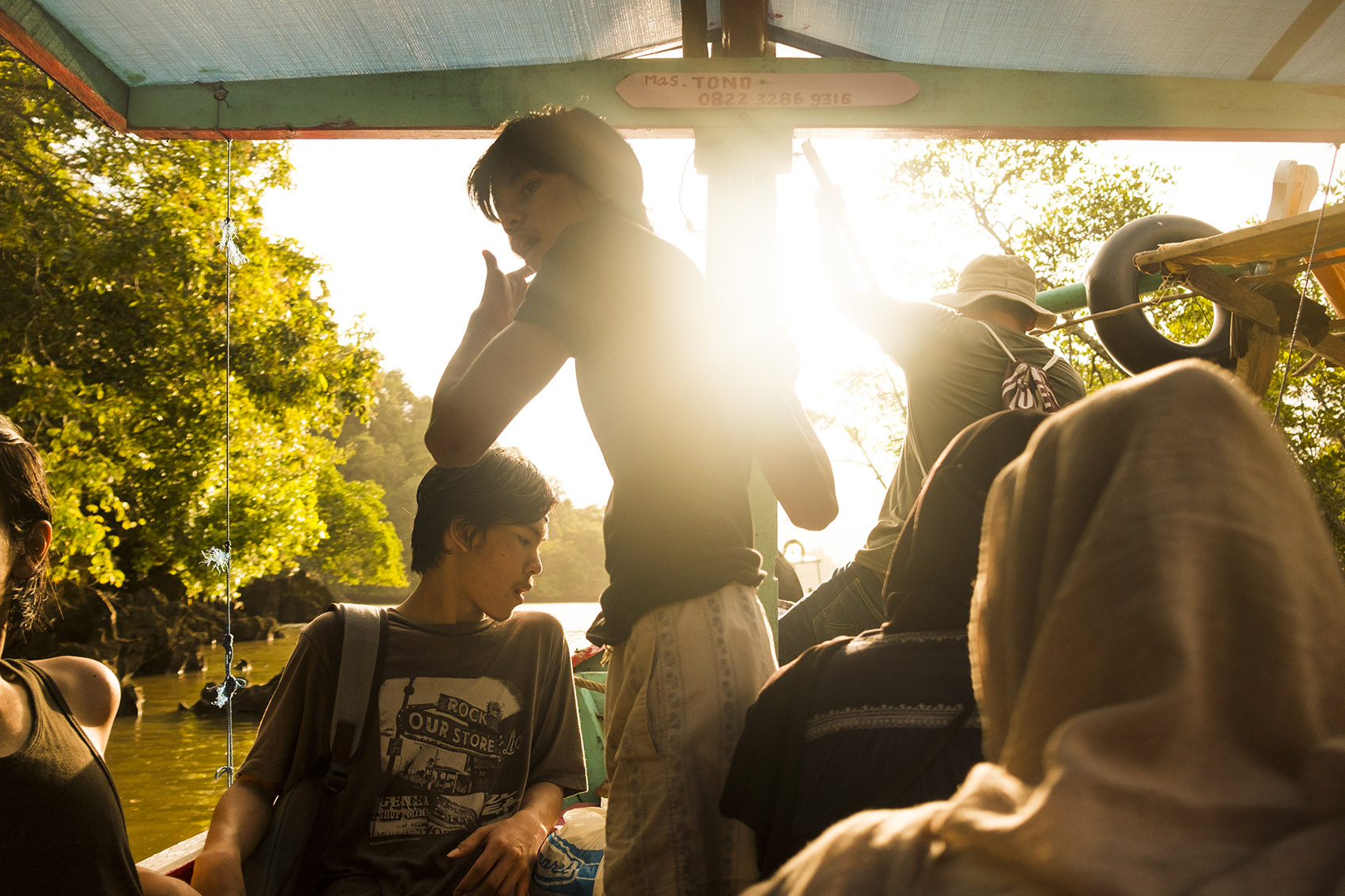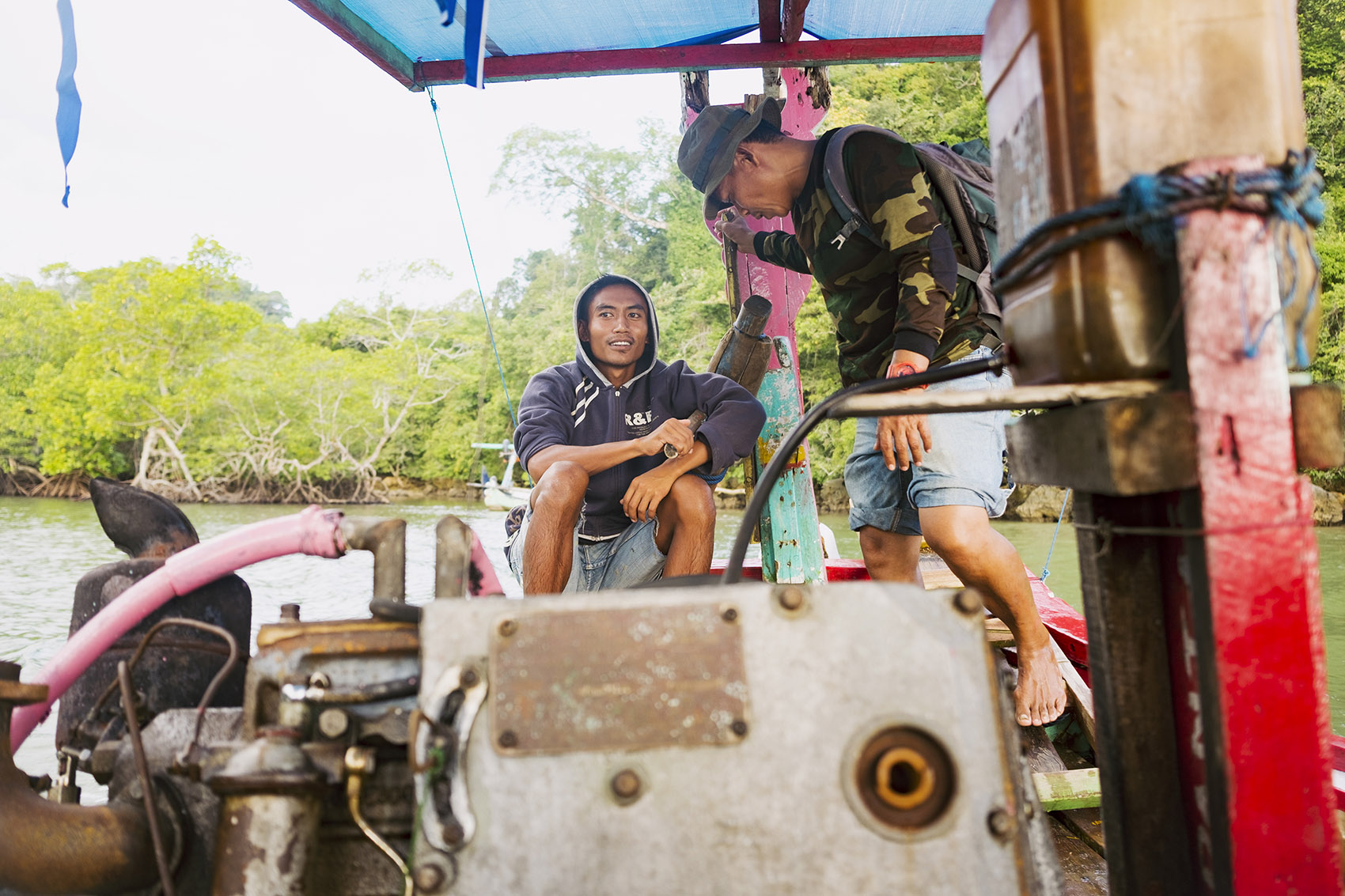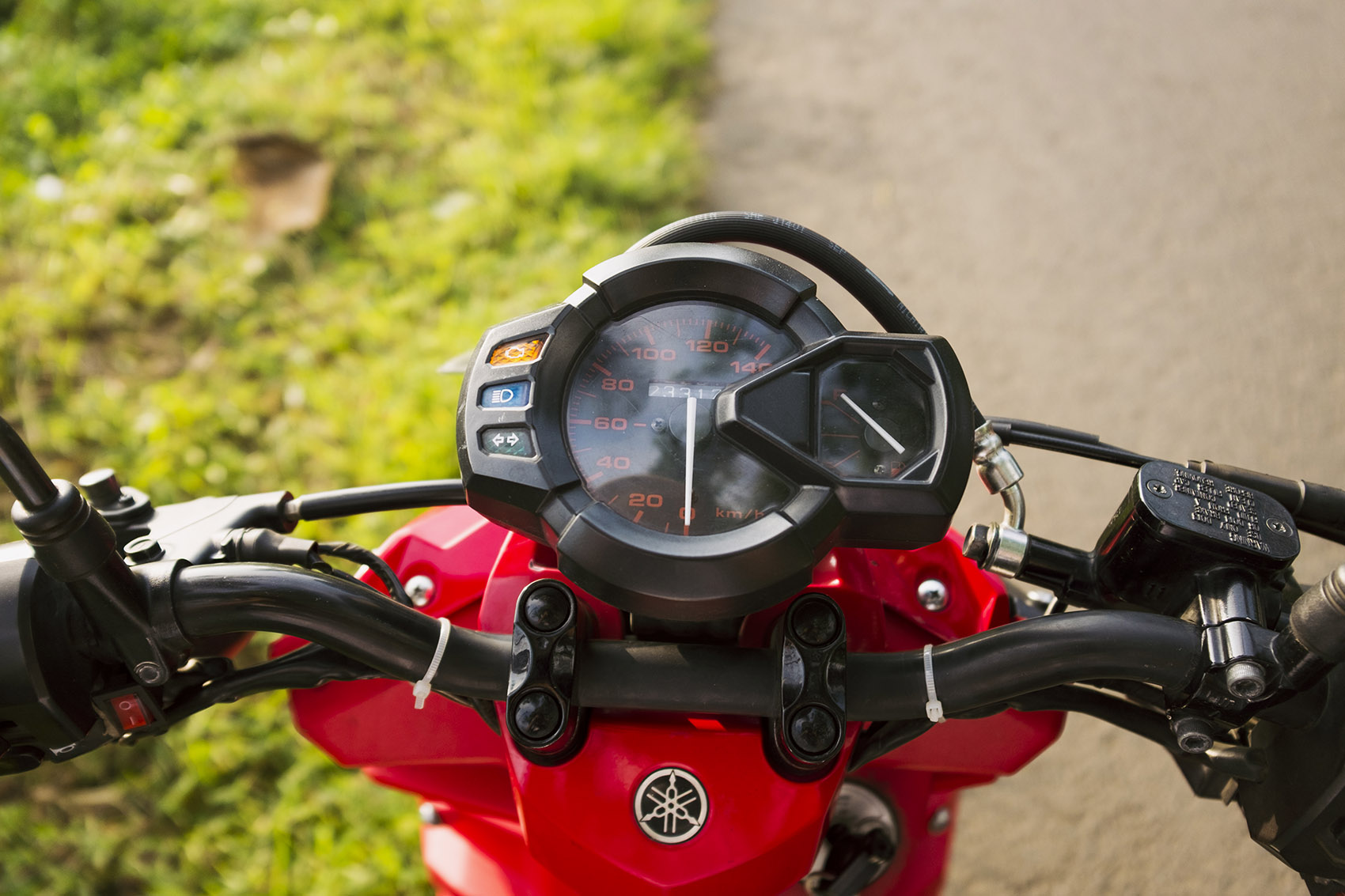 We have spent 2 days trying to find a scooter in Malang but no one wanted to rent it to us to go to Bromo. Twan and Chantal decided they would continue their trip and took off to Bali but I really wanted to go to the volcano. So I decided to stay and try one more day, maybe it was easier alone. I tried during the day but once again got nothing. The staff of the hostel we stayed (Malang Dorm by the way, awesome place!) knew of my plan and they were trying to help me as well. So at night when I came back to the hostel they had a surprise for me; the owner of the hostel contacted a friend of hers who thought it was a cool idea and wanted to lend me his own scooter. Awesomeeee! I was so happy to finally get a scooter. The next morning I took of at 6:30 to start my trip to the volcano, it would take me around 4,5 hours to drive through the mountains, into the grass fields ending in the desert and eventually the volcano.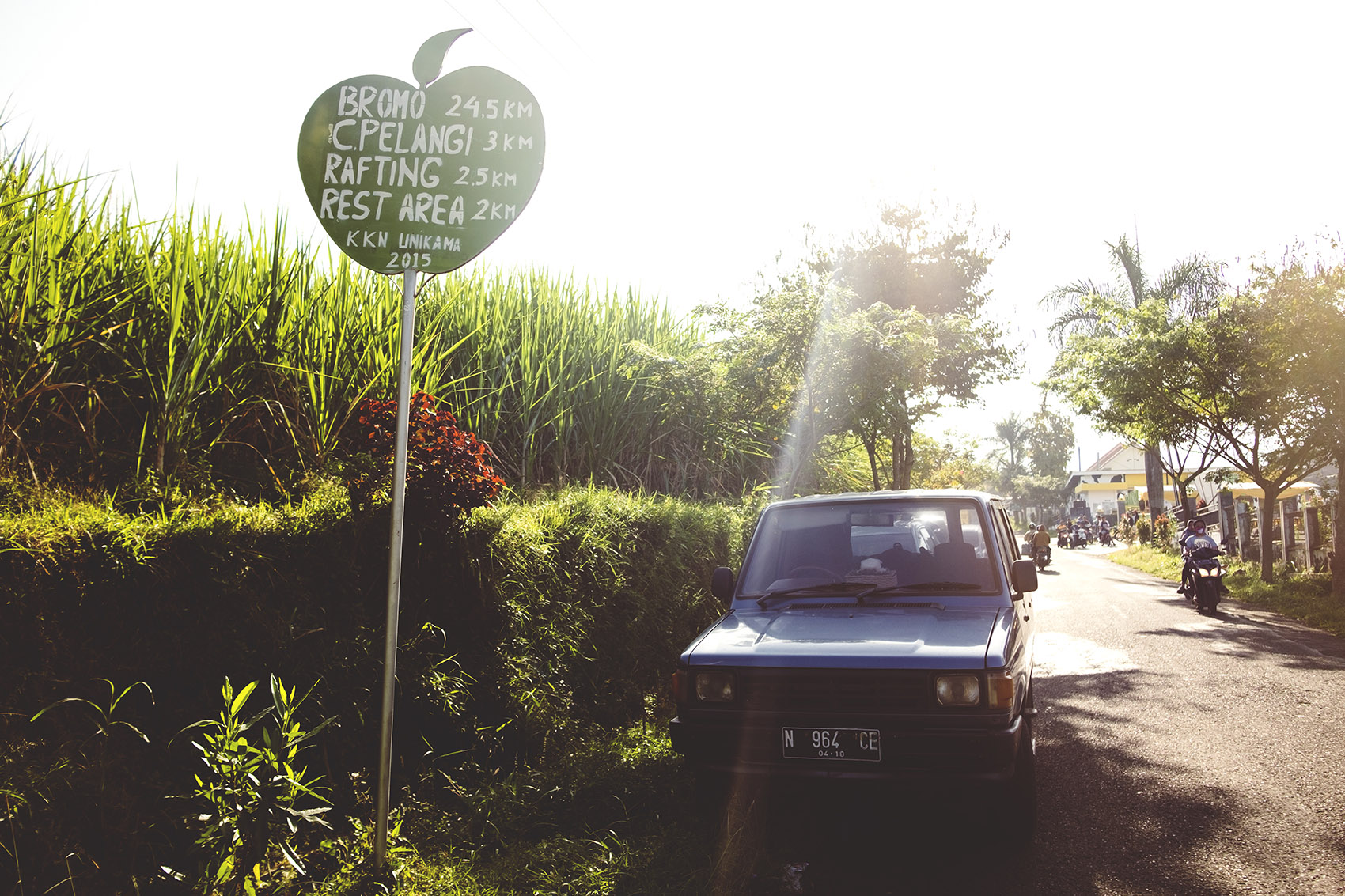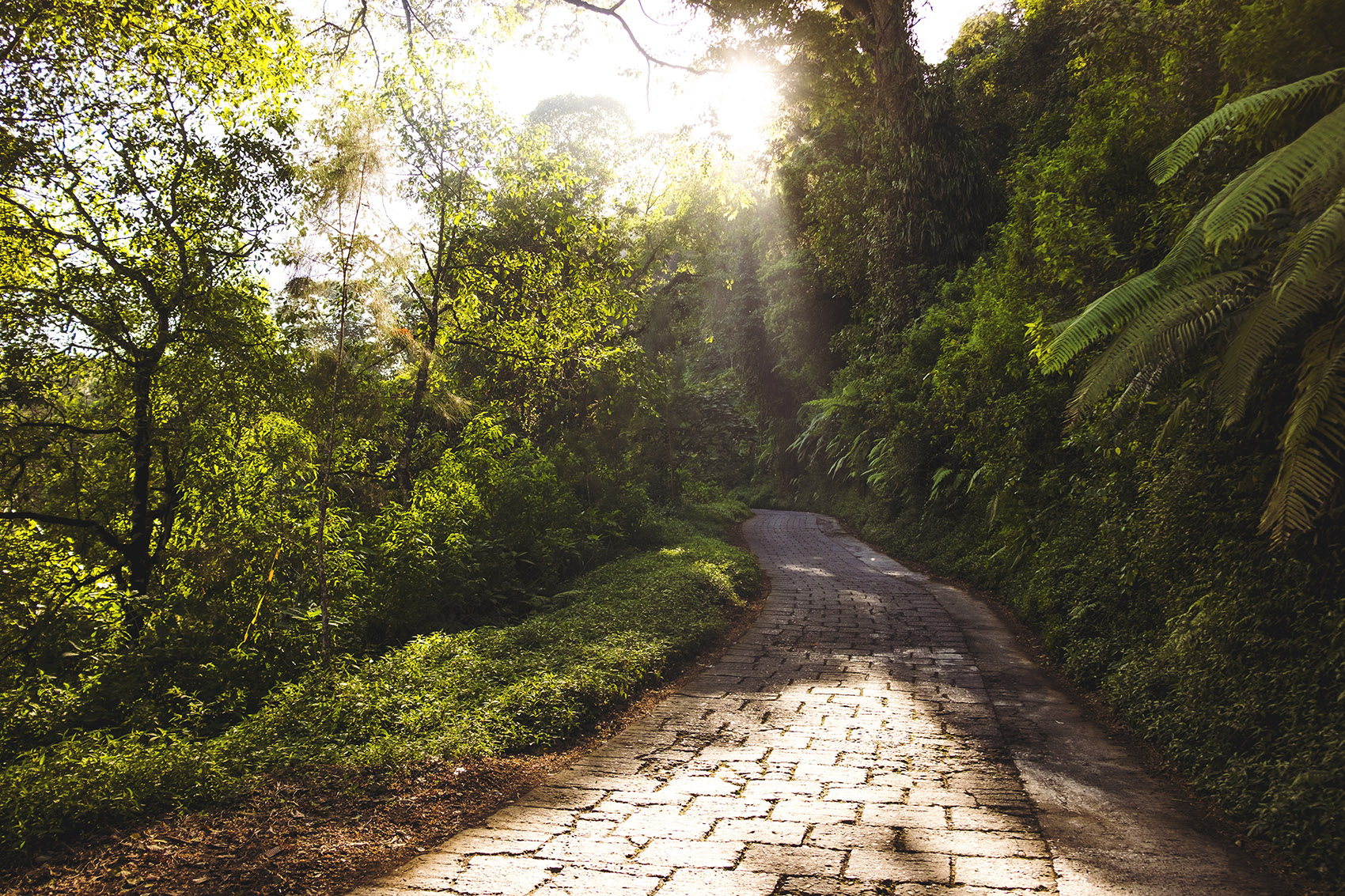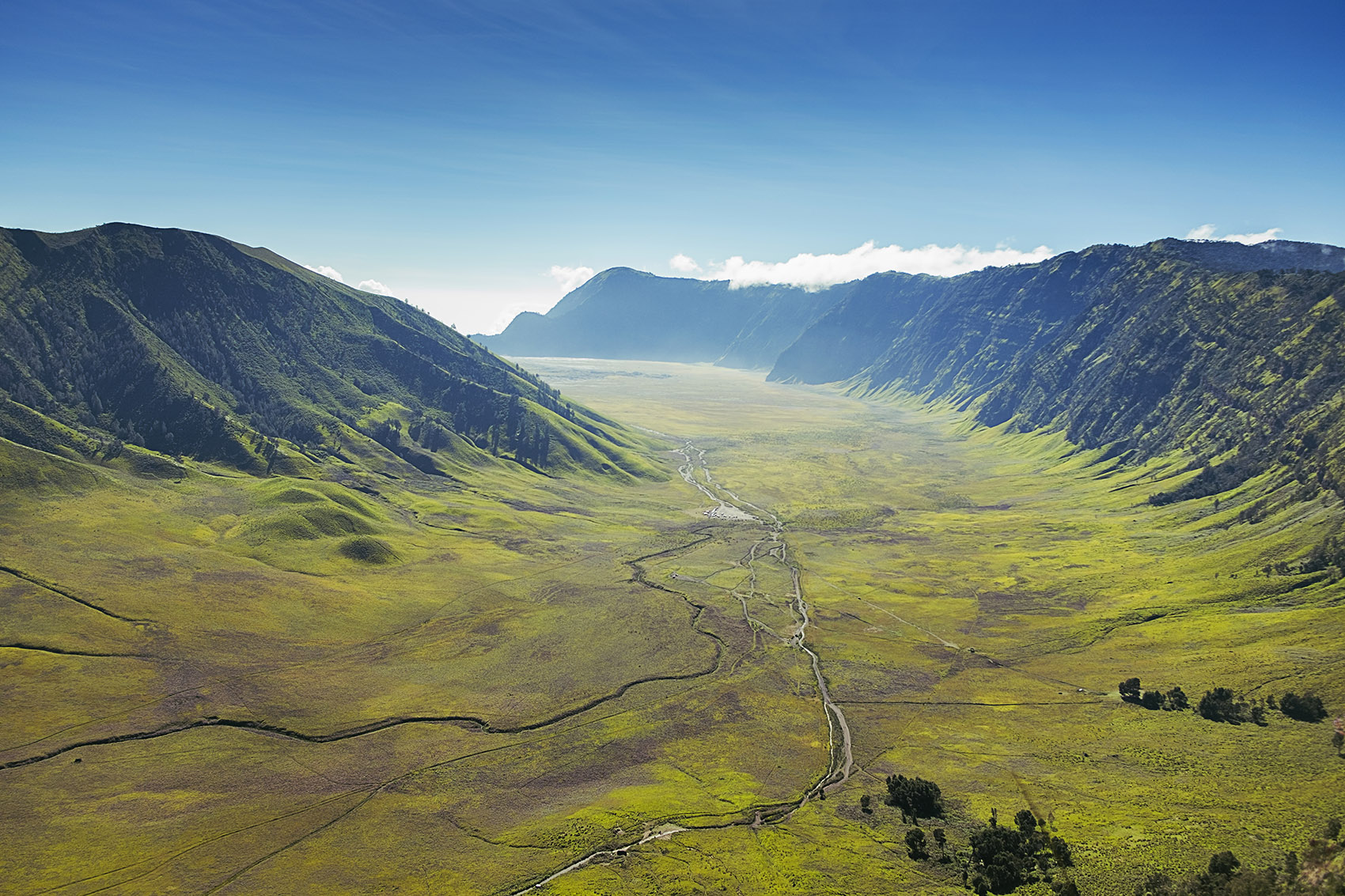 I was taking this photo of the view not realising I actually had to go down here and drive through the middle.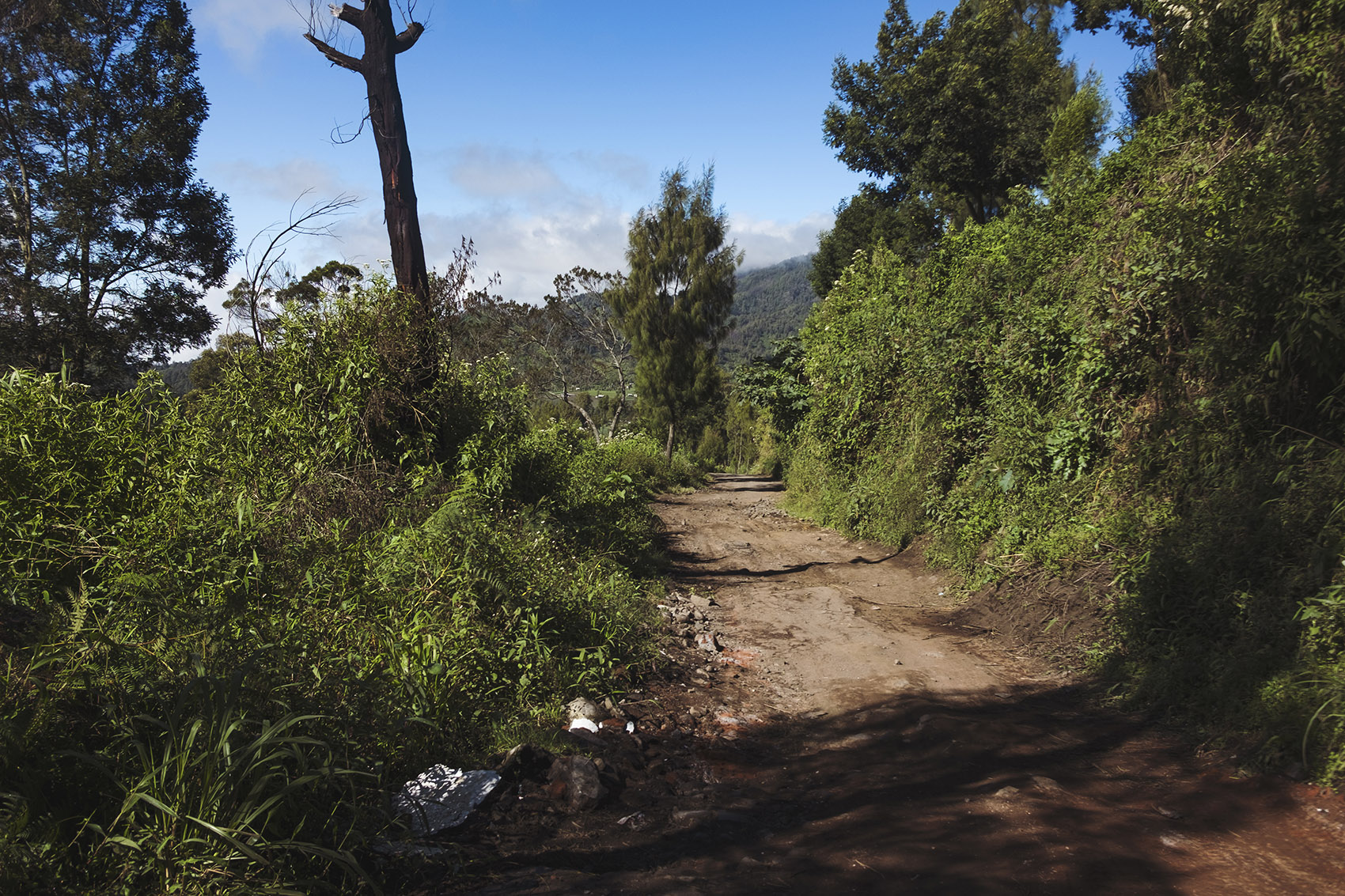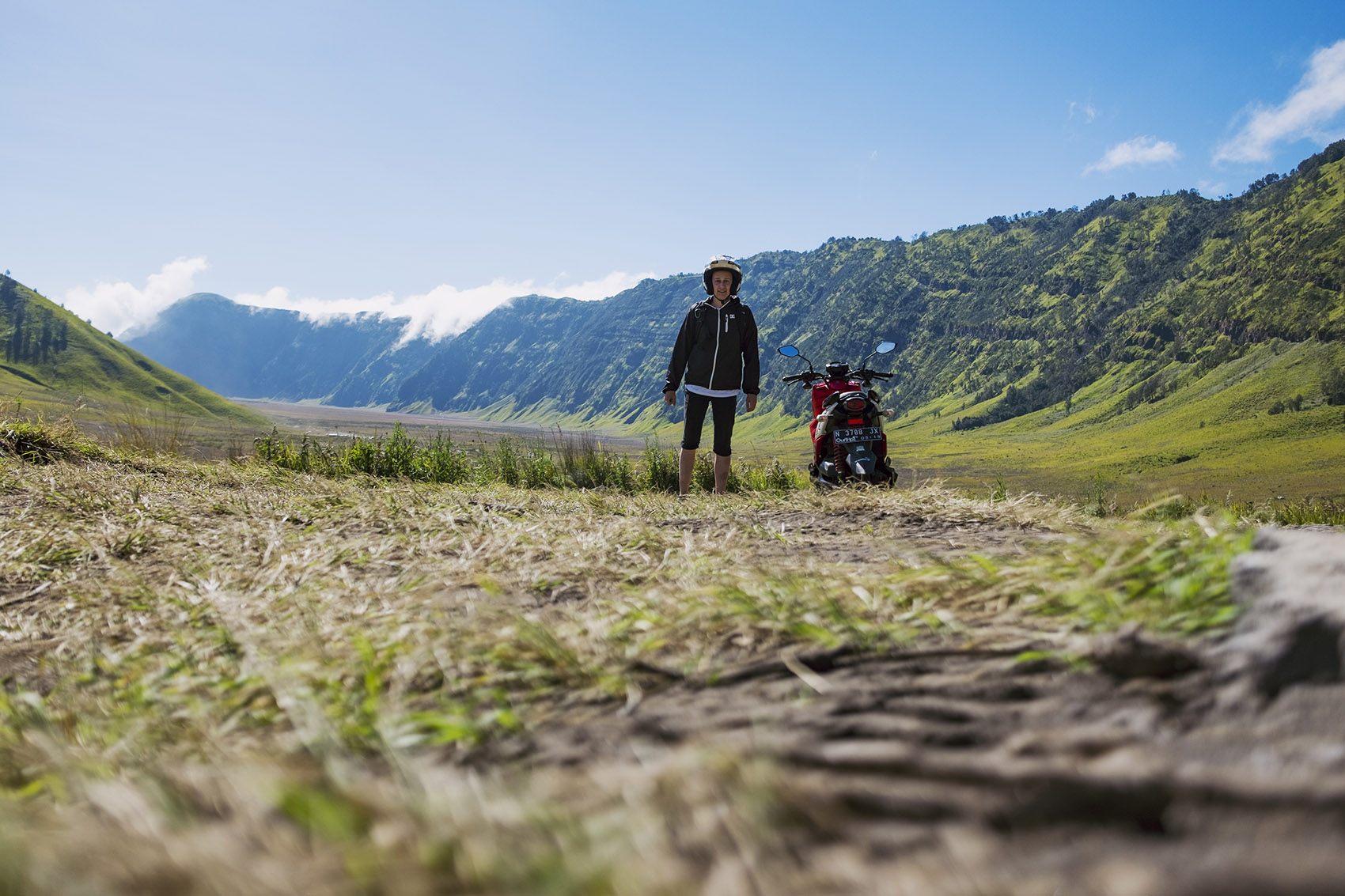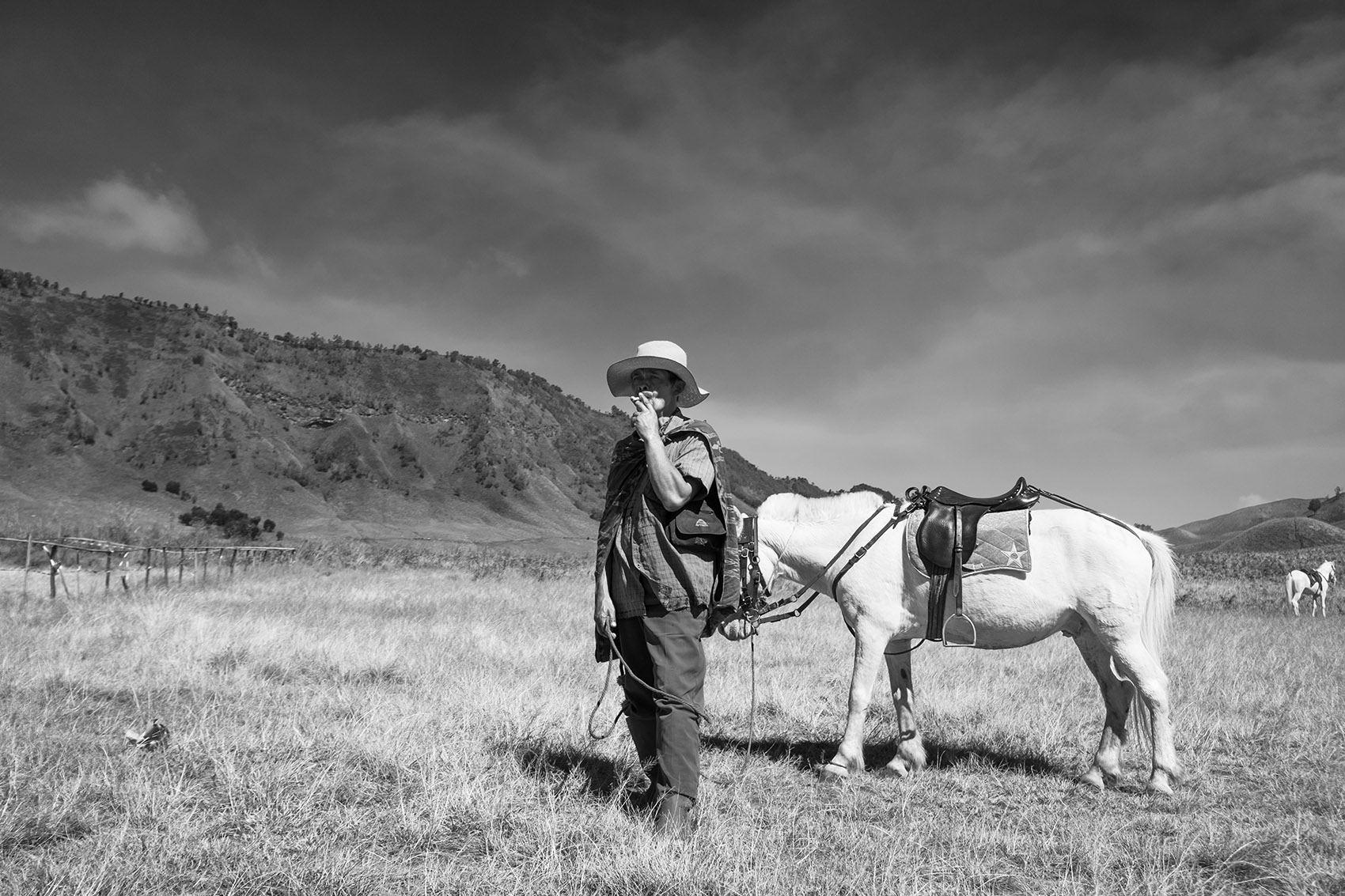 There was almost no one around, I timed it so that there would absolutely be no tourists. Only some local people living near the volcano.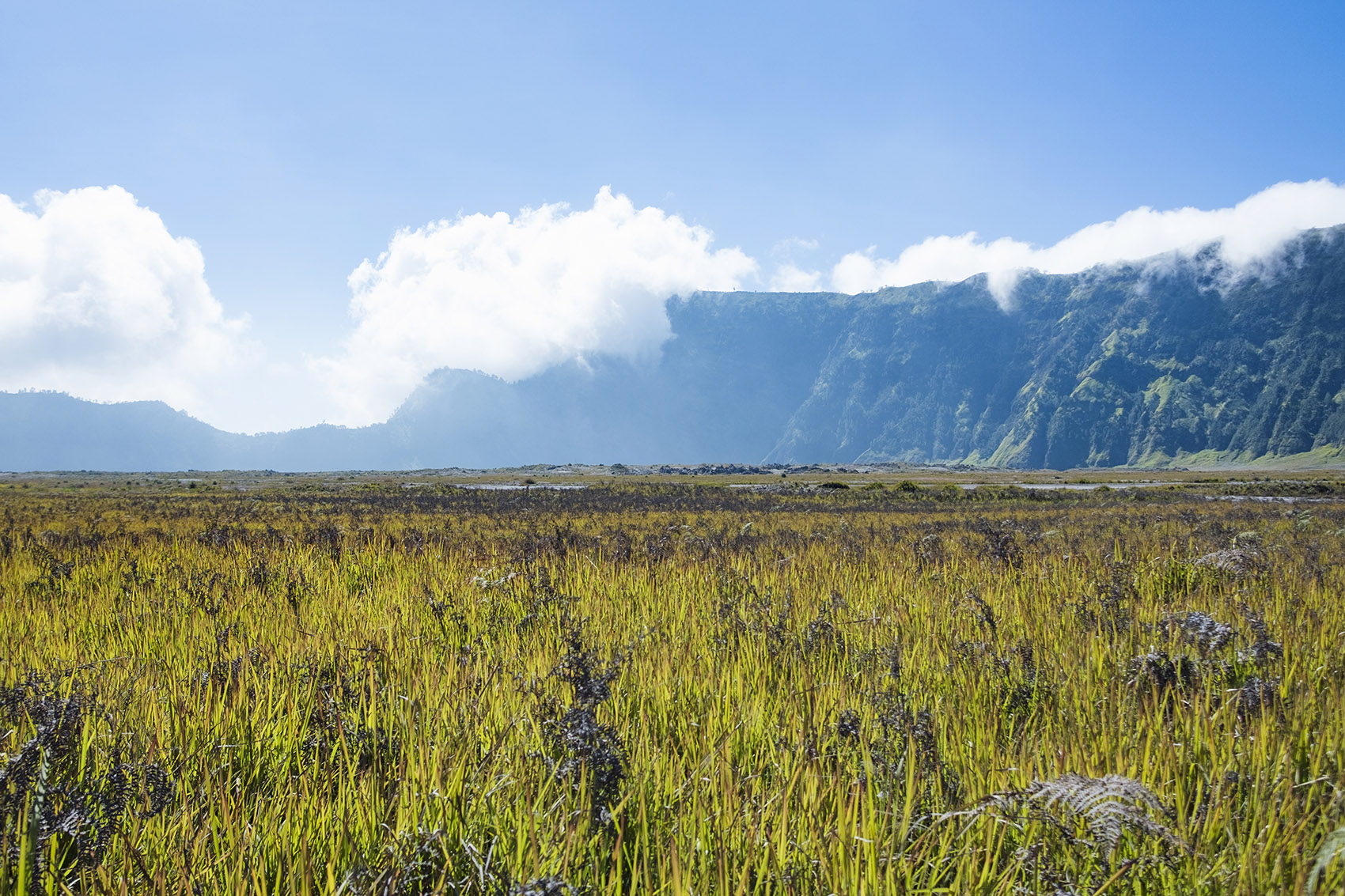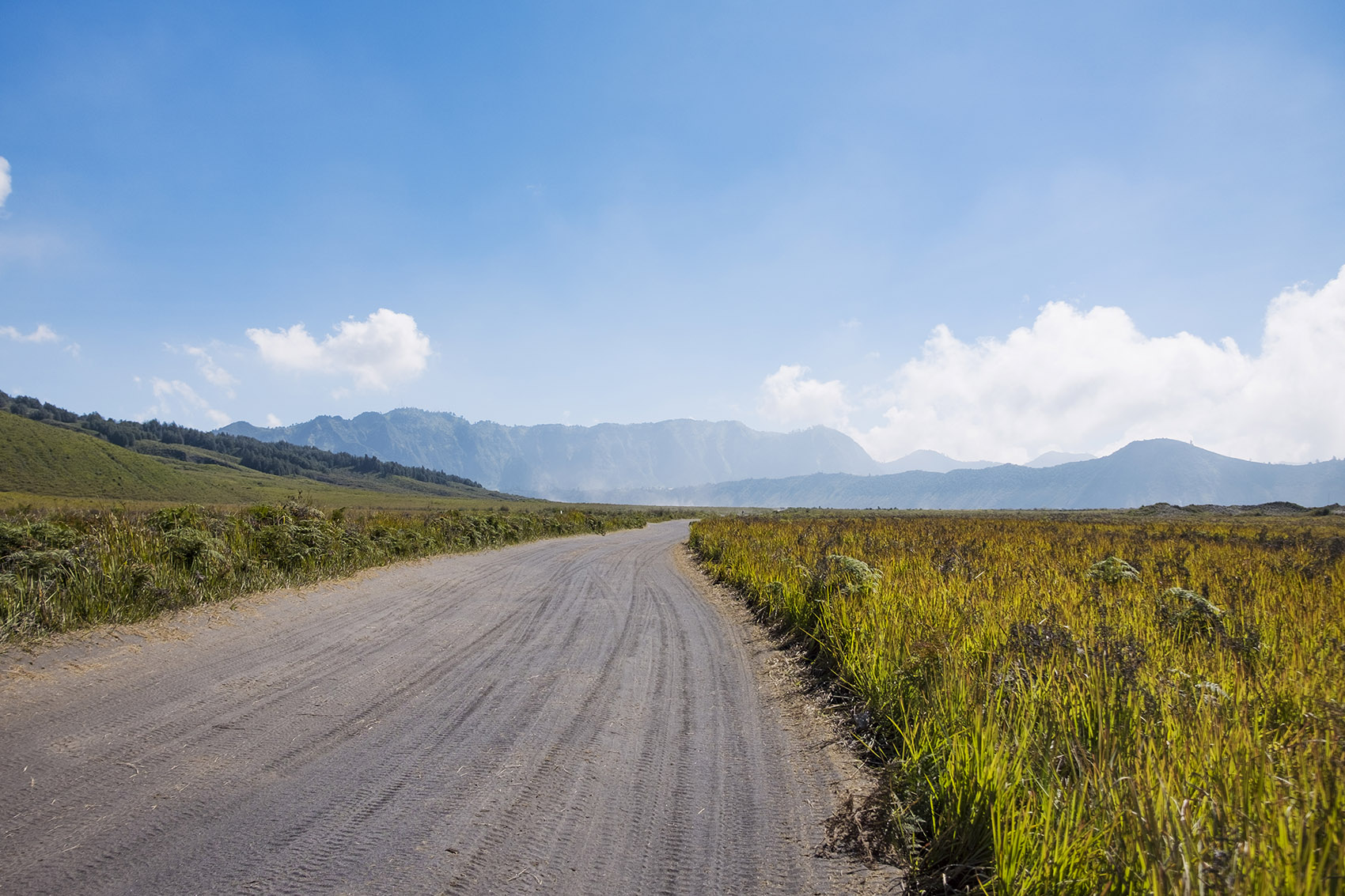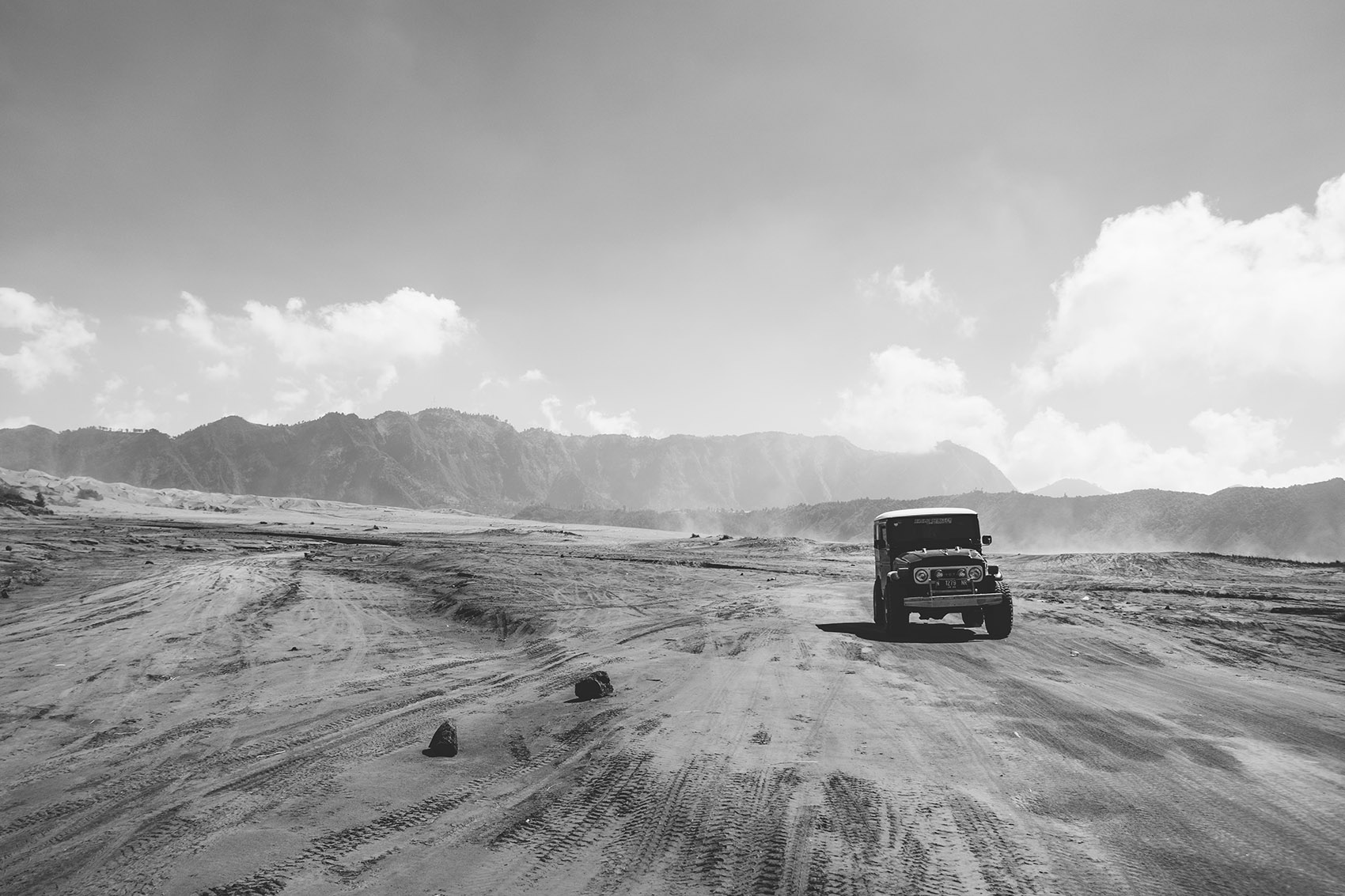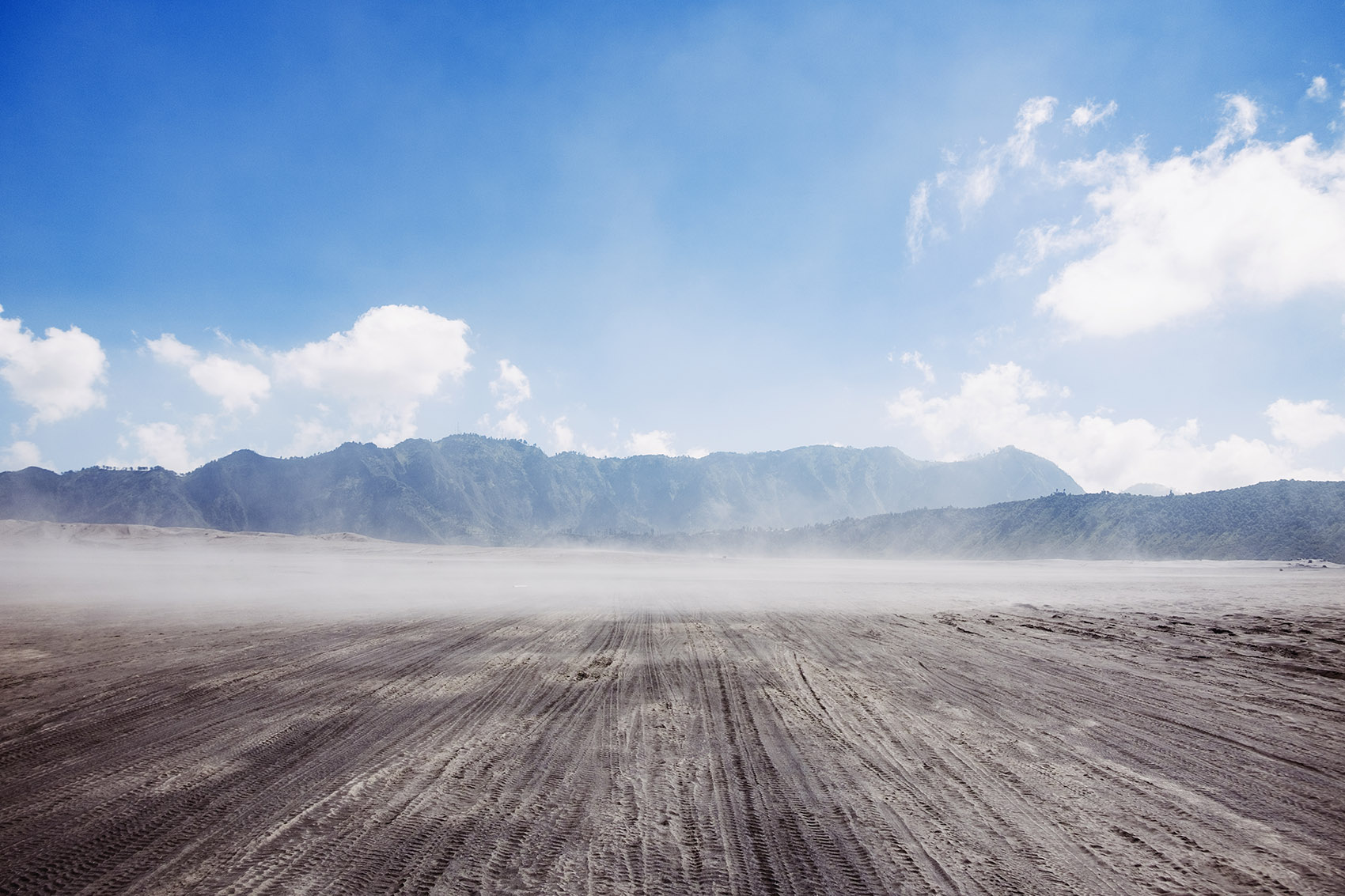 The area eventually turns into an ash/sand desert including sand storms and mini tornadoes. Also the soft sand makes driving a pain in the ass but so much fun.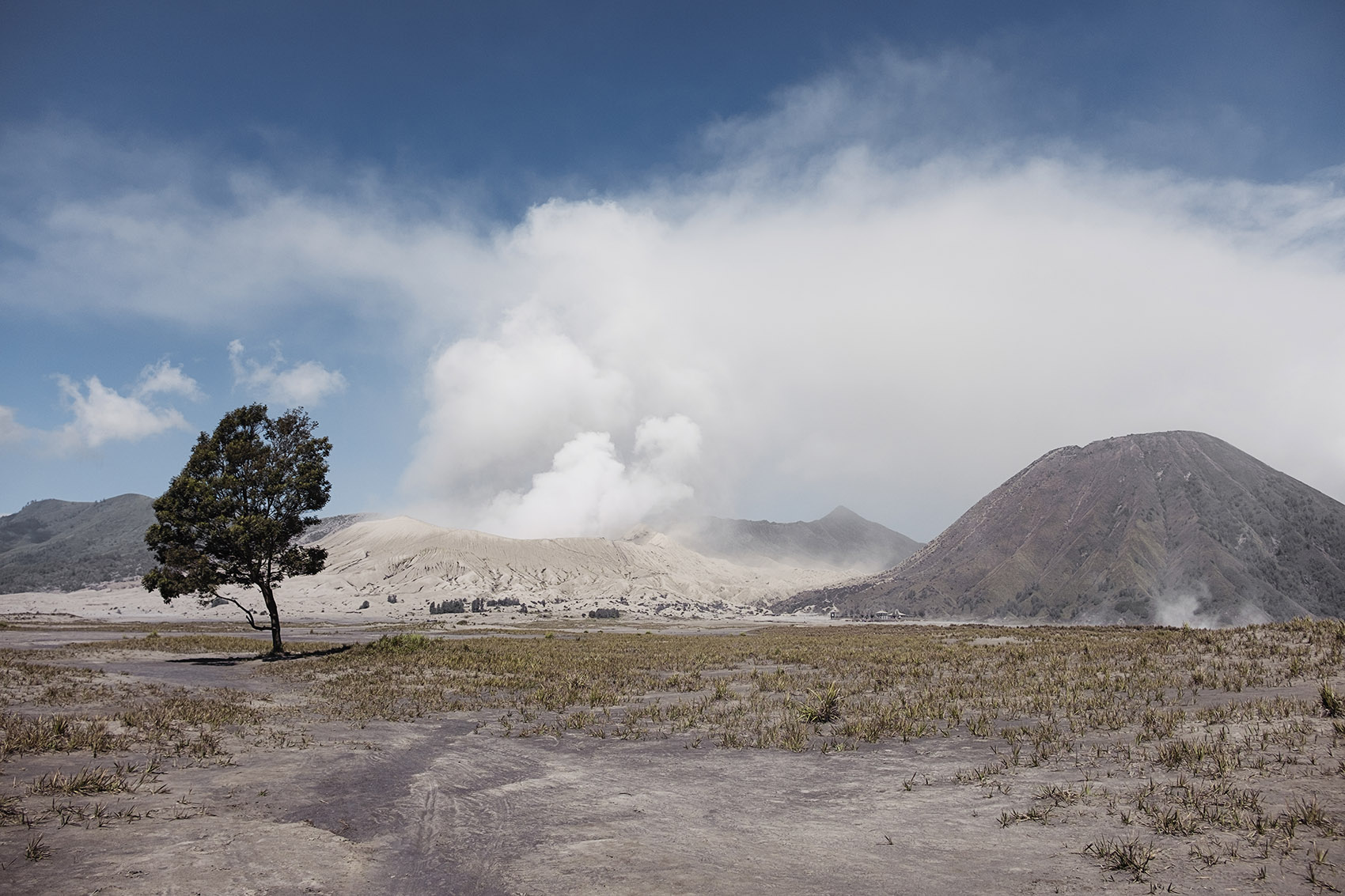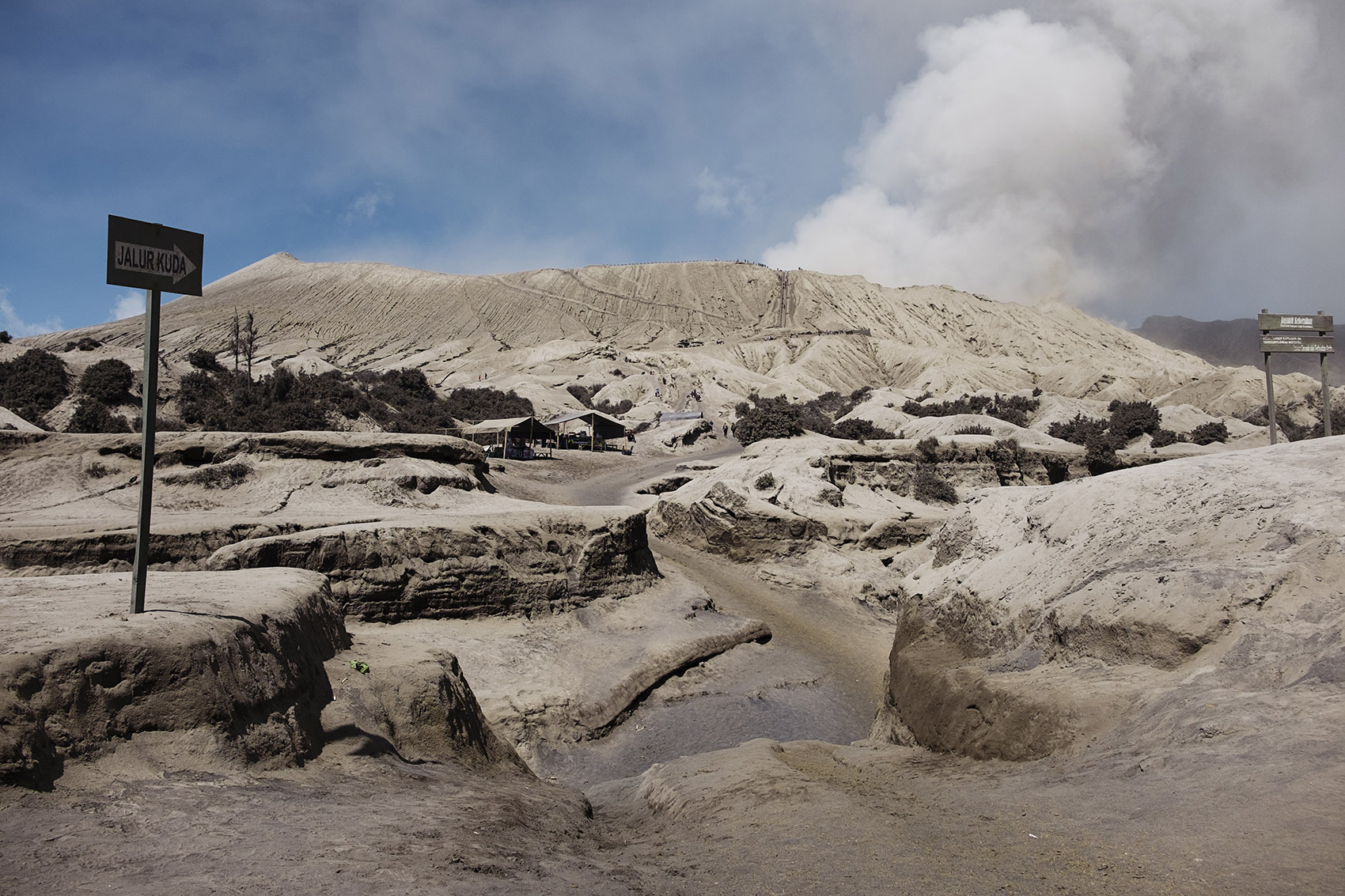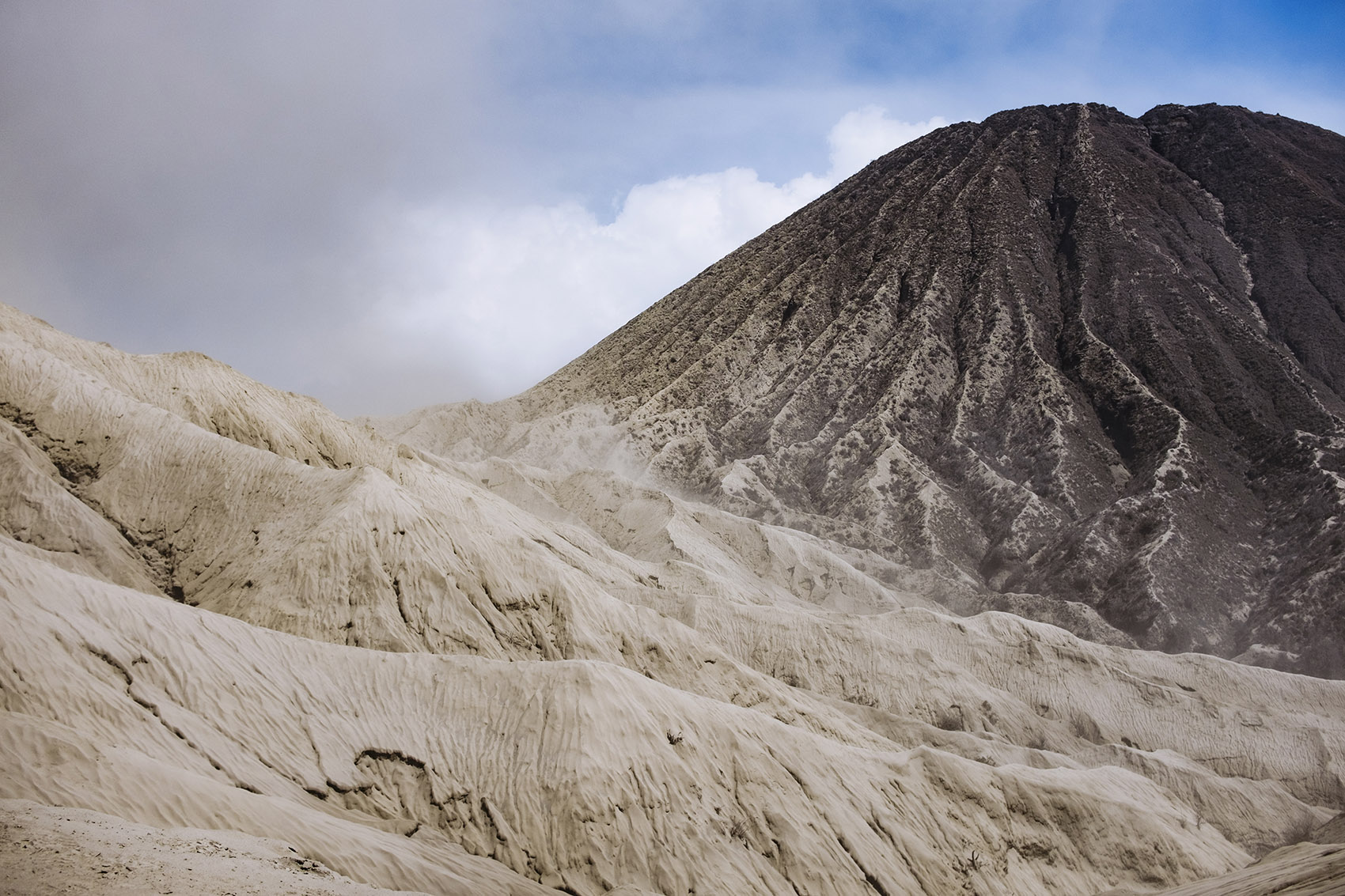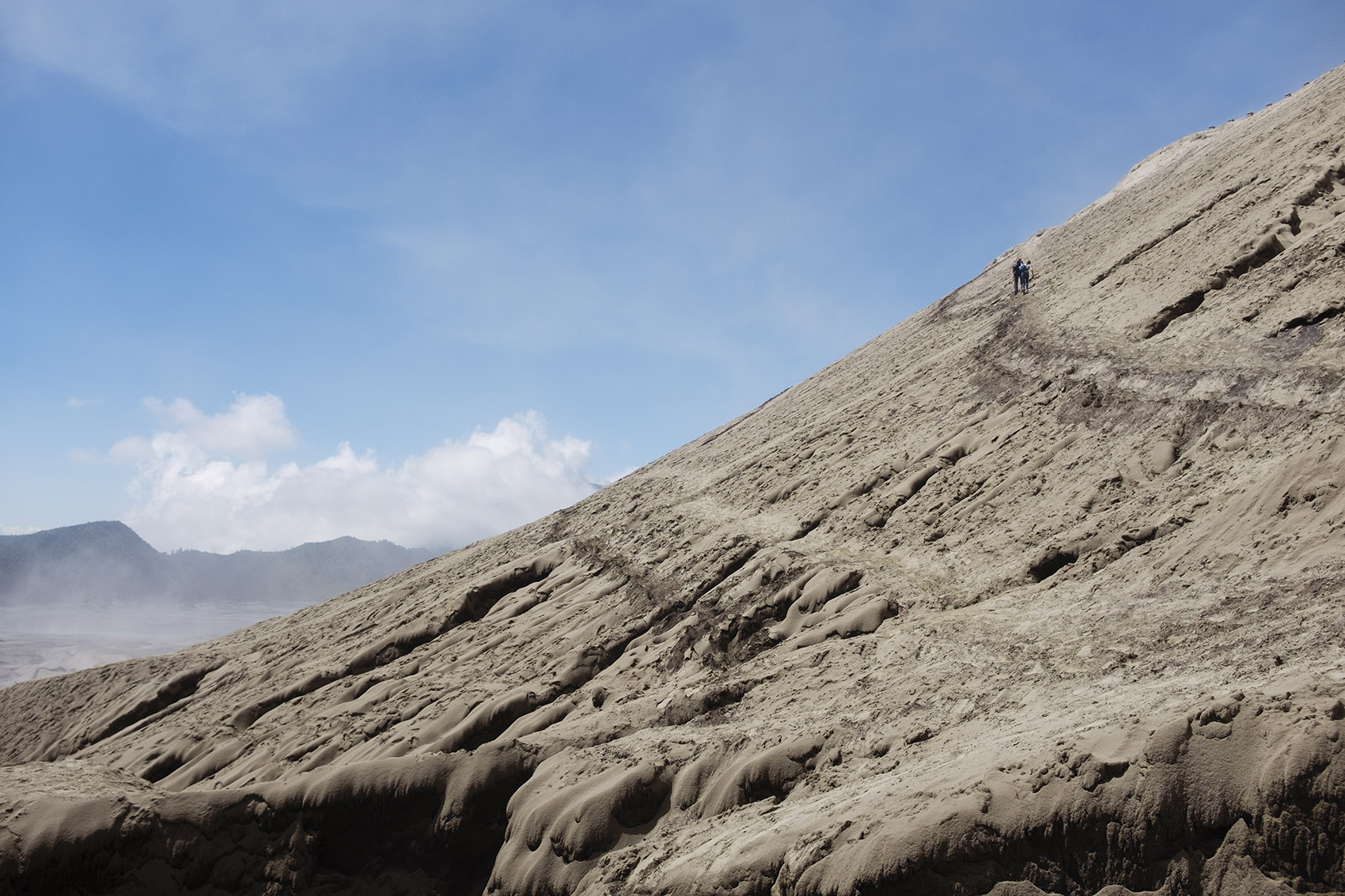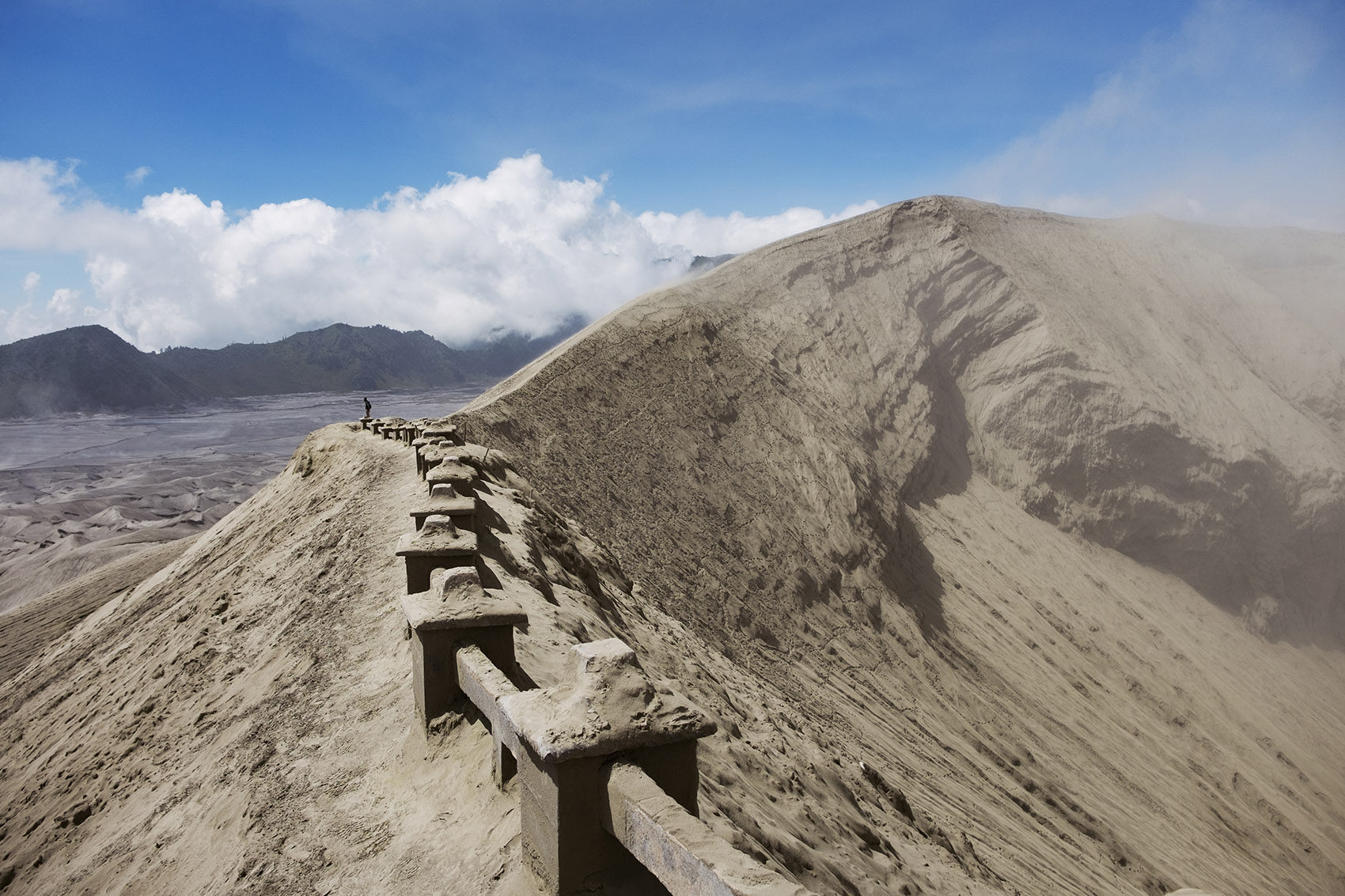 I climbed my way up to the crater, the sound of the volcano was so loud, standing there was really an awesome experience. (When I came back to the hostel and showed the staff this video they were surprised I was at the edge, turns out you should stay 2KM away from the volcano because it was becoming more active. Yay!).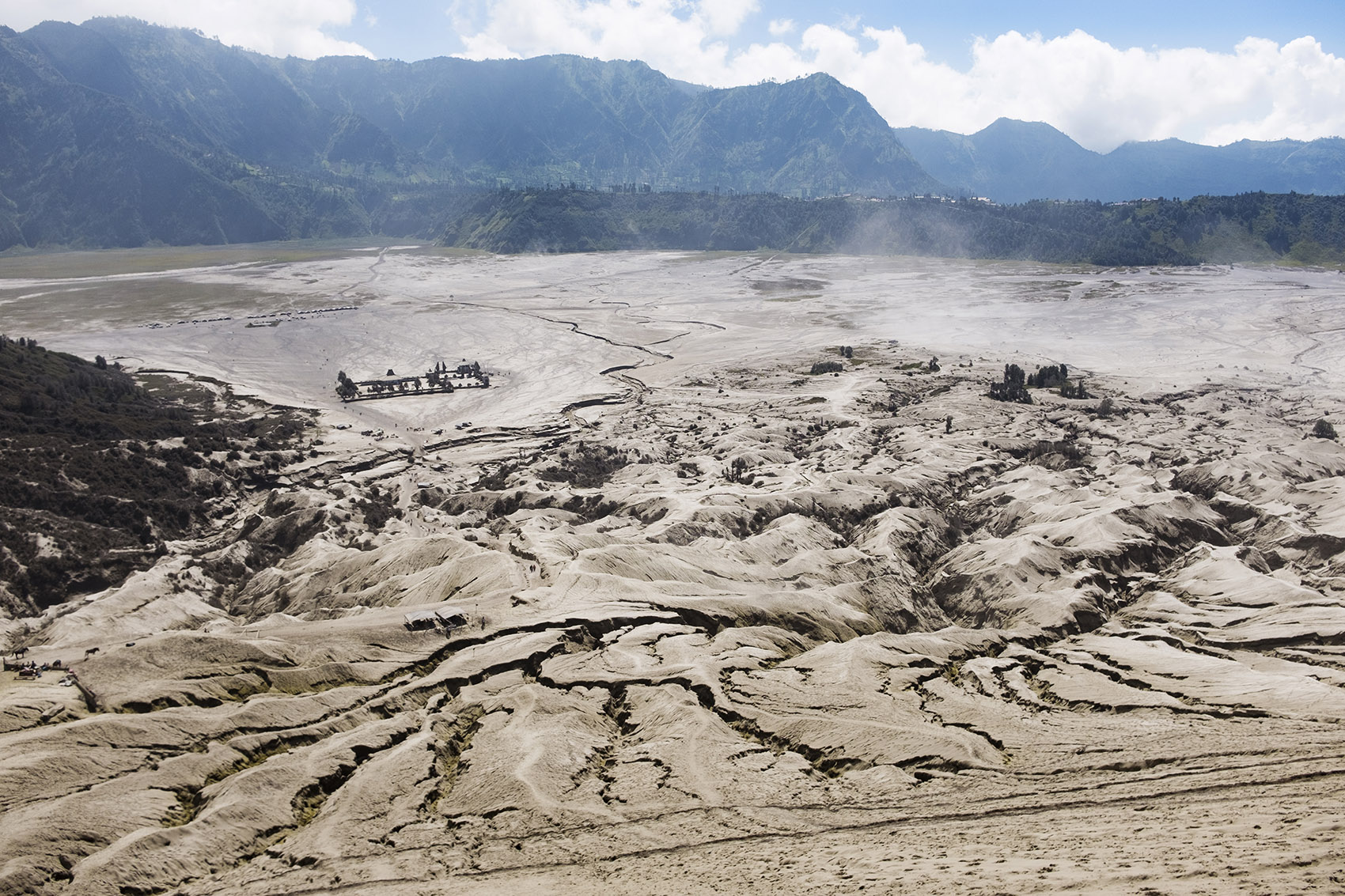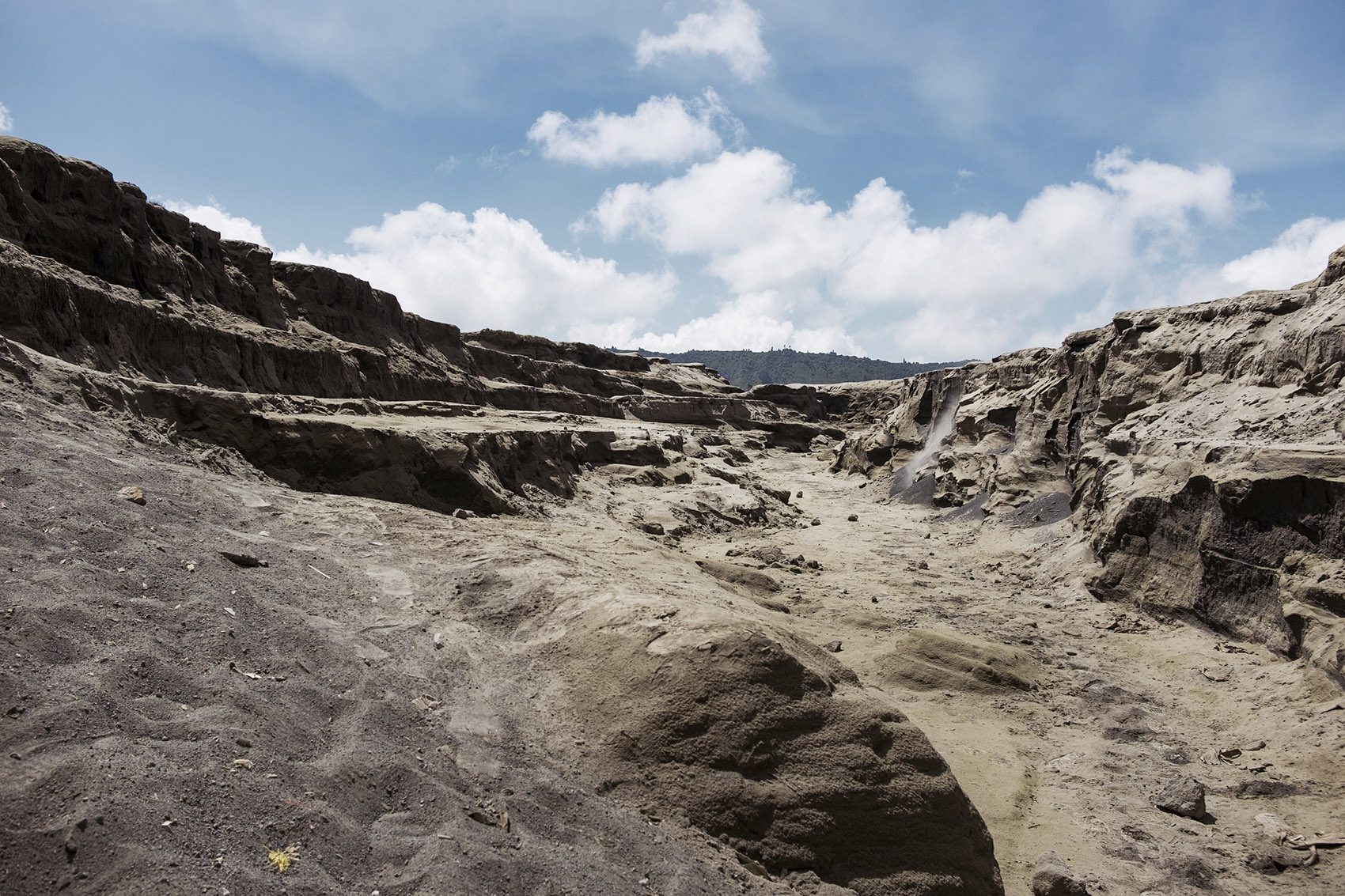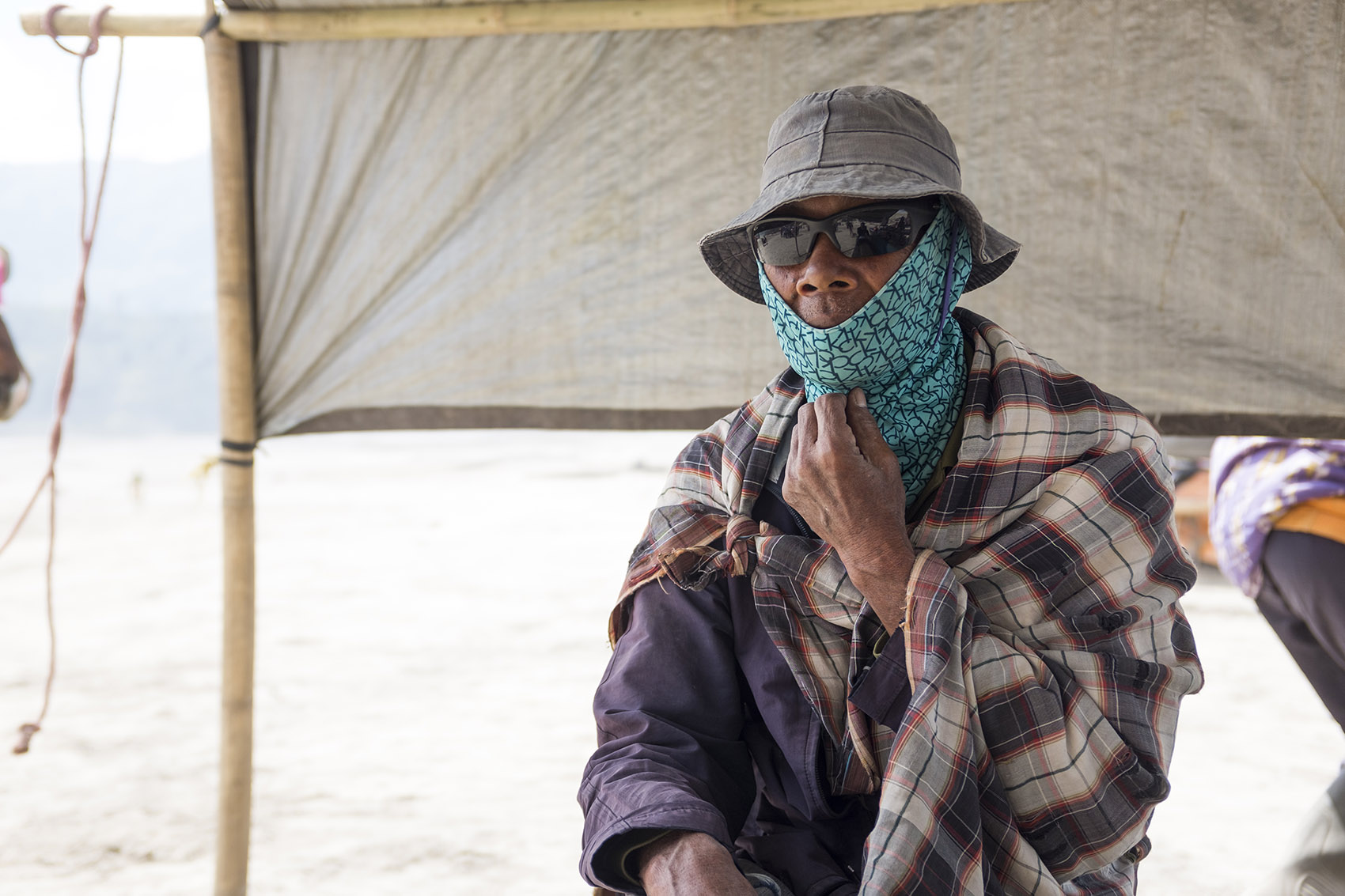 After climbing the volcano I've spend some time with the locals asking if I could take photos of them, they actually liked it and wanted to show their horses.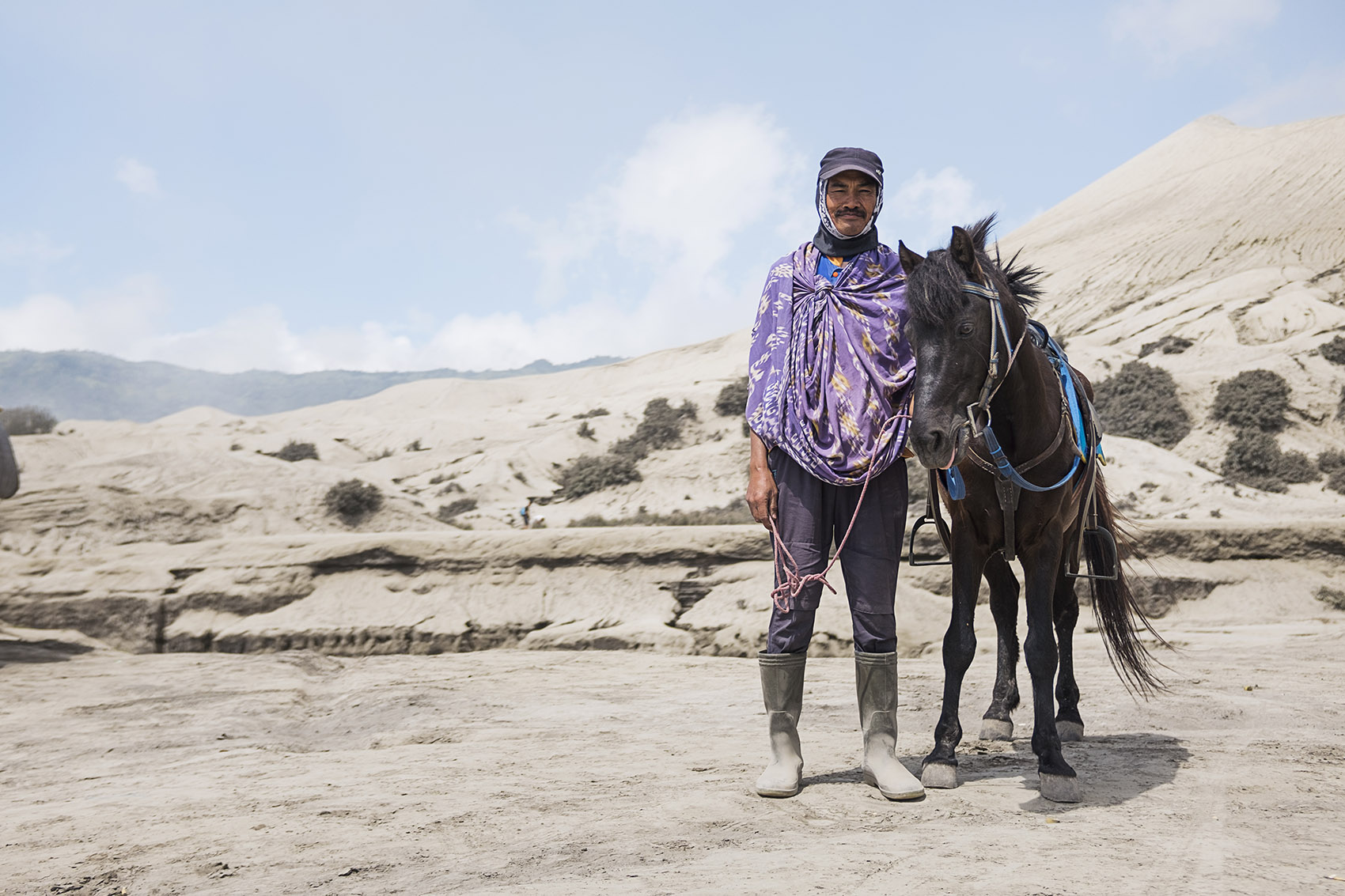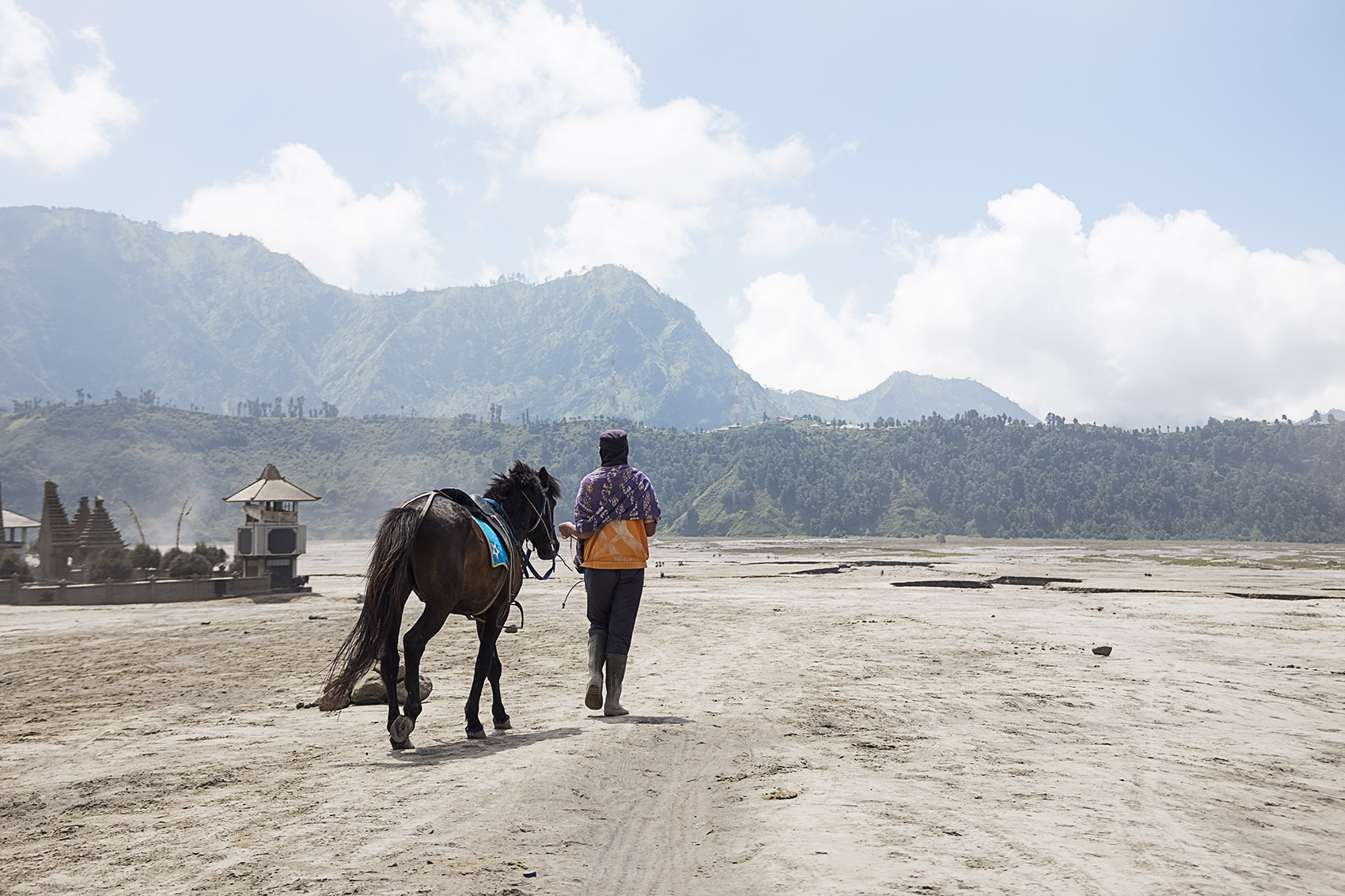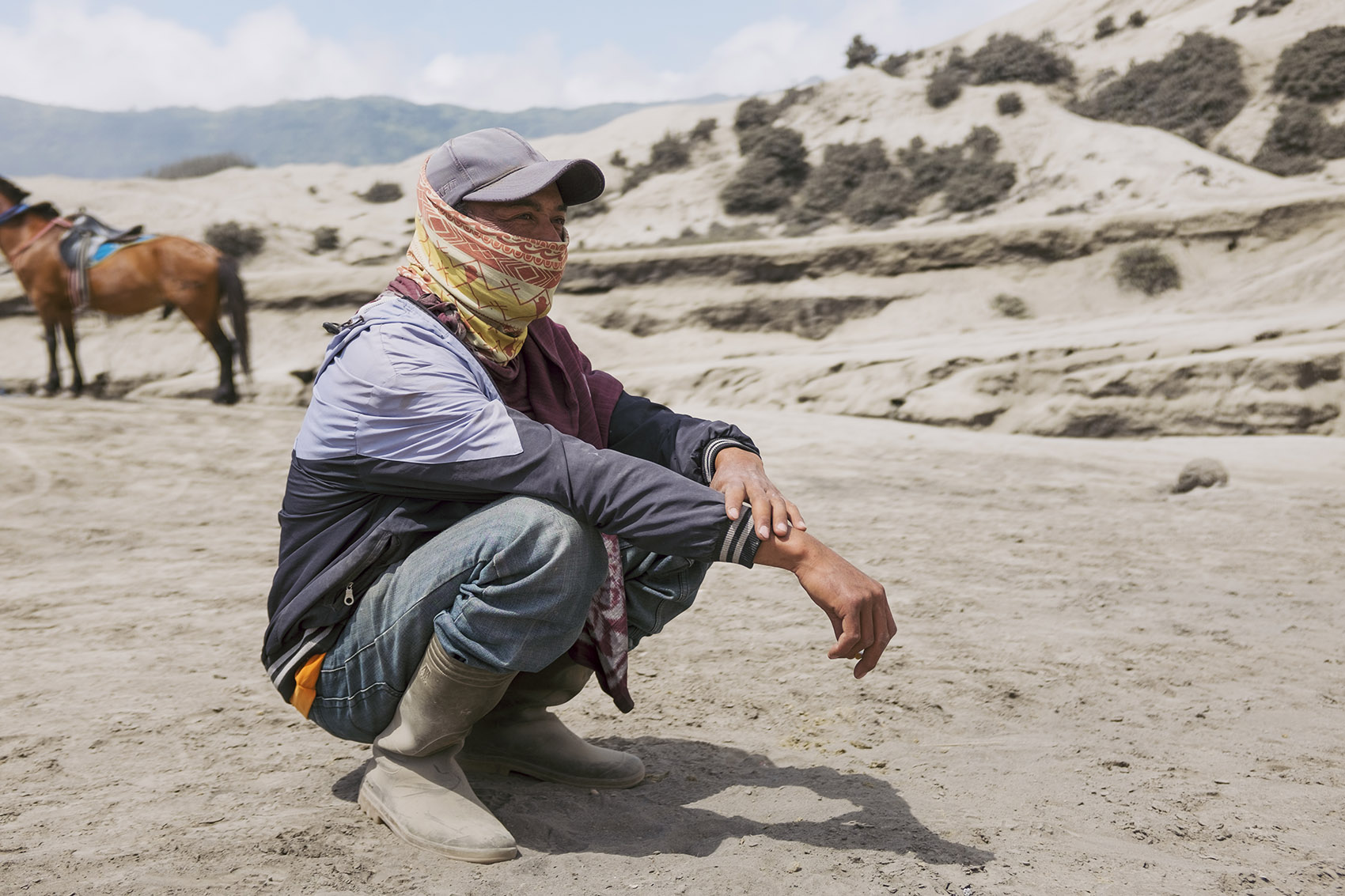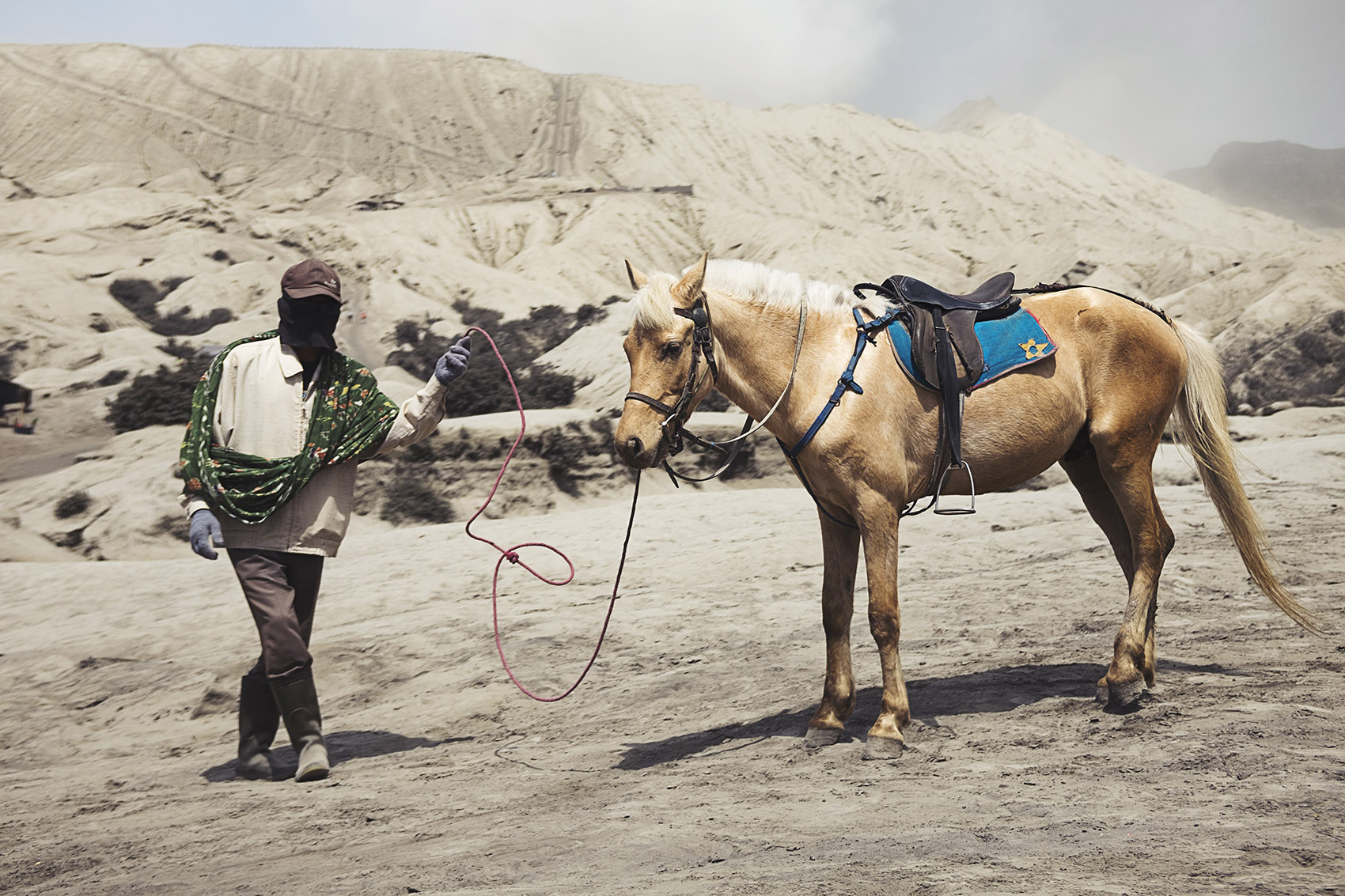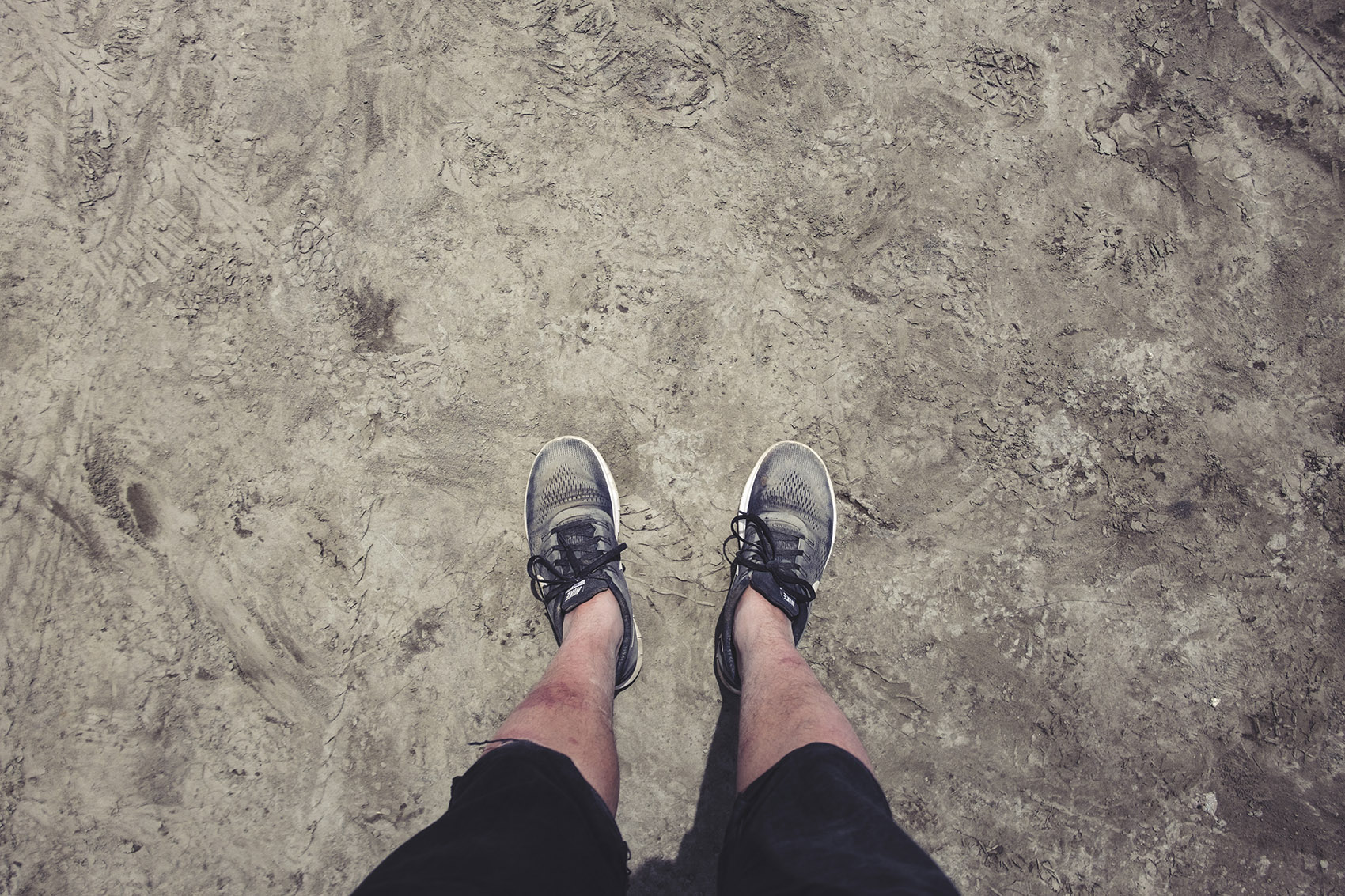 Bye new Nikes.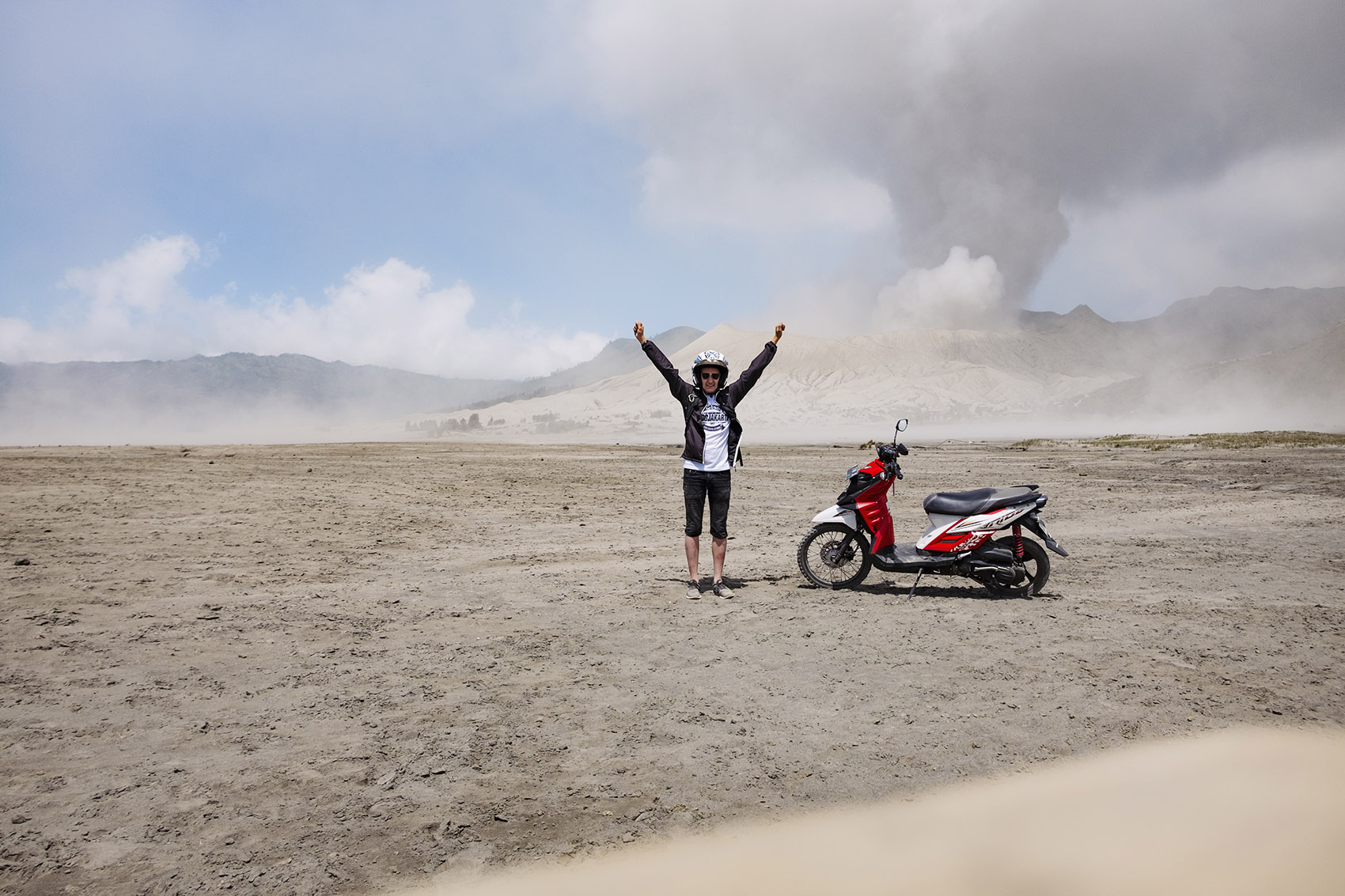 The only requirement the guy gave me that lend me his scooter was "take a picture of yourself with the scooter in front of the volcano so I have proof it can actually make it through the mountains".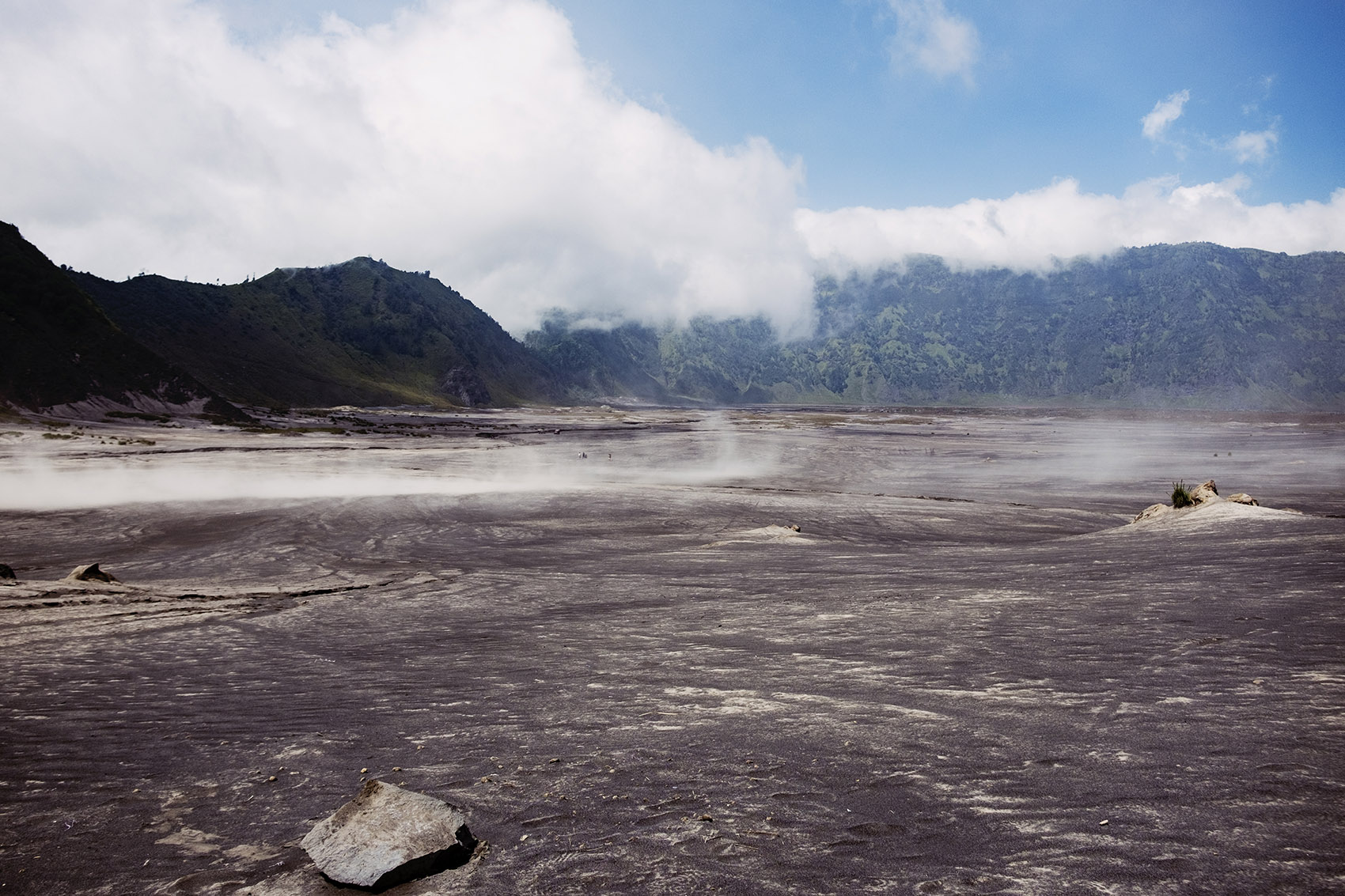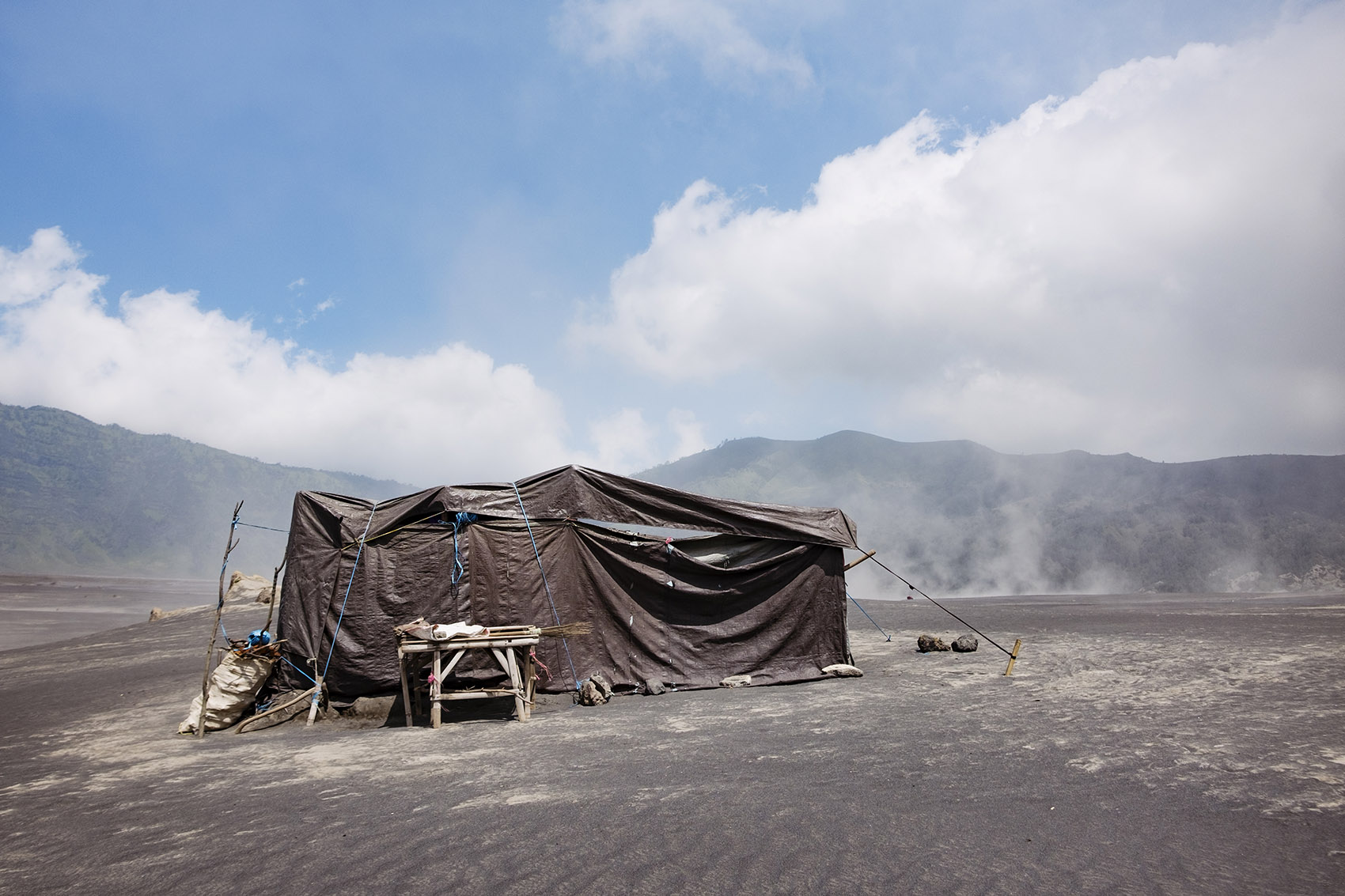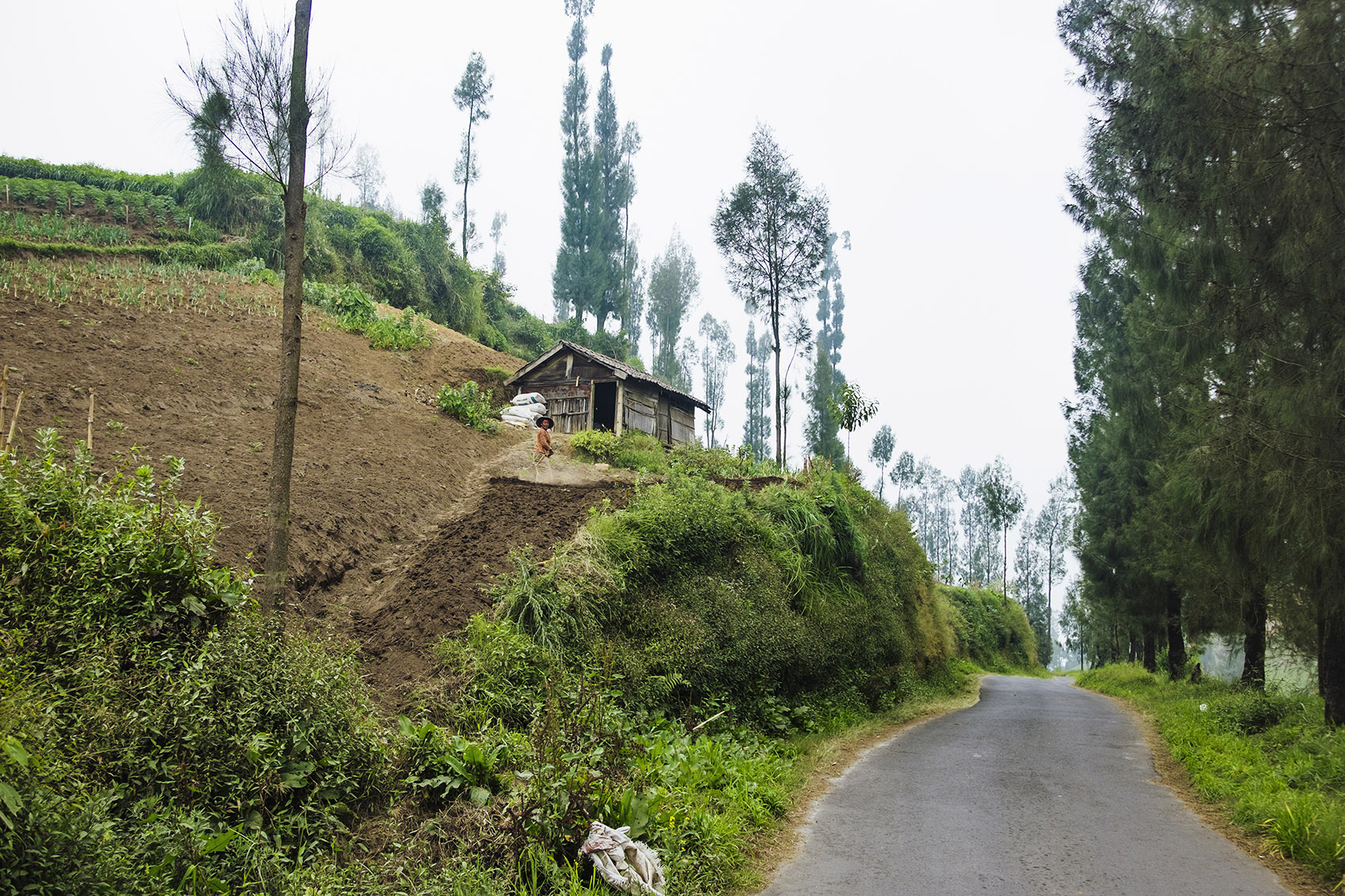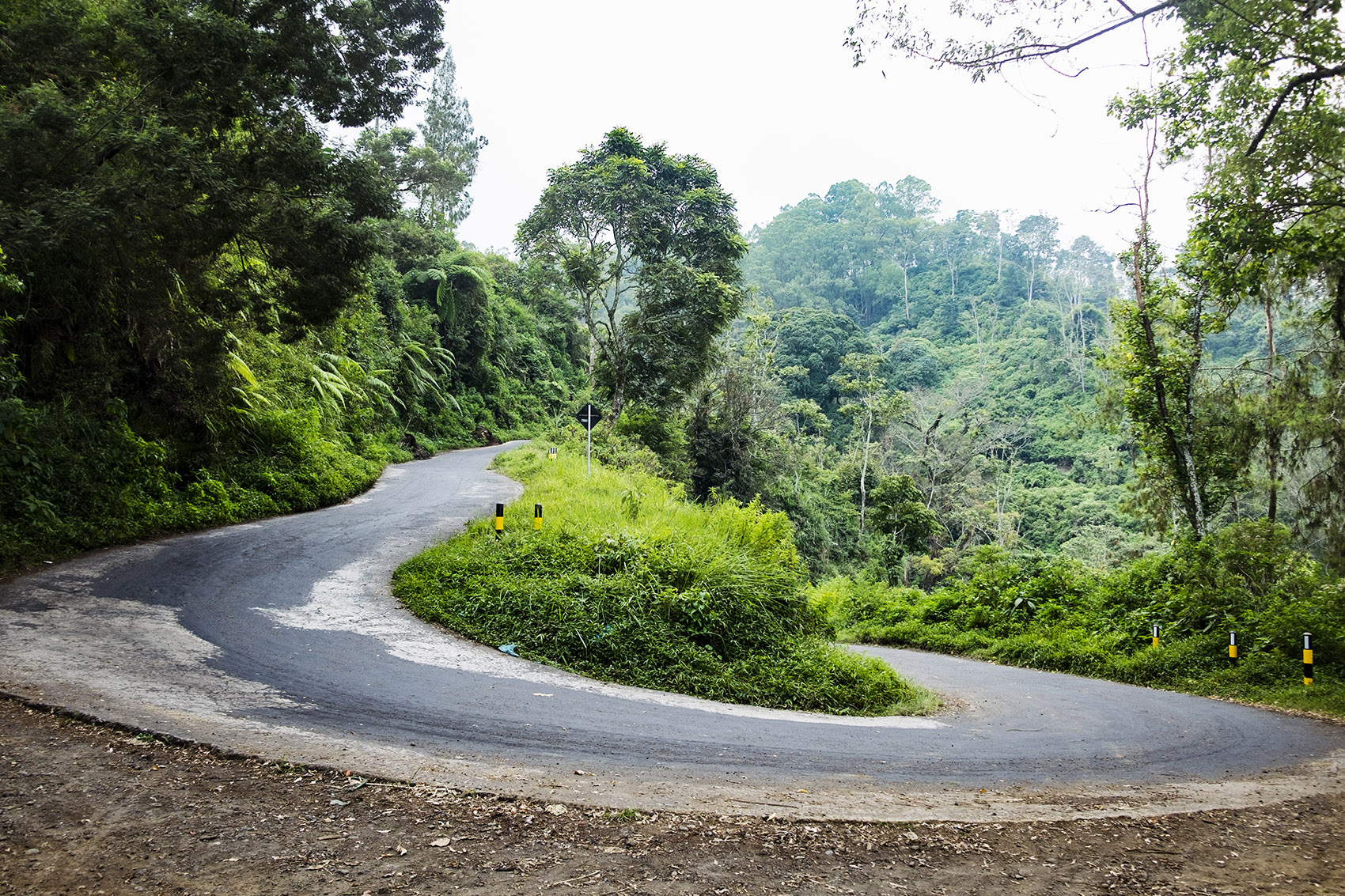 Going to Bromo all by myself has been the best experience I ever had. I've been driving for around 8 hours with a huge smile on my face. The road was a bit challenging but not too bad and the scenery was amazingly beautiful.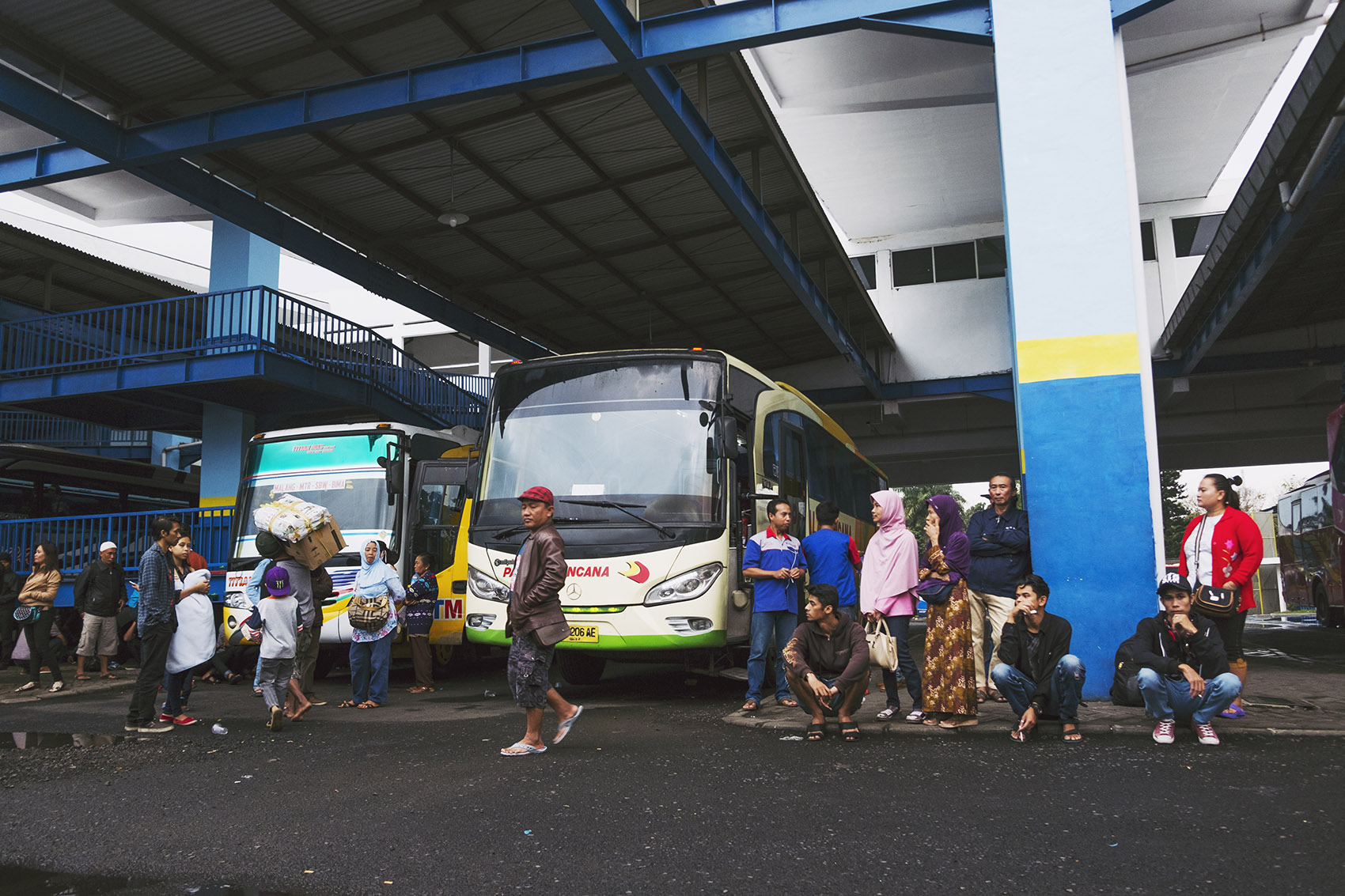 After I came back from Bromo I dropped of the scooter, got my bags, thanked the staff of the hostel for the awesome stay and made my way to the busstation to get on a 12 hour drive to Bali. I finally managed to get some sleep in a vehicle, 1st time ever. Unfortunately I fell asleep right before dinner and woke up when they walked out of the restaurant. Great!..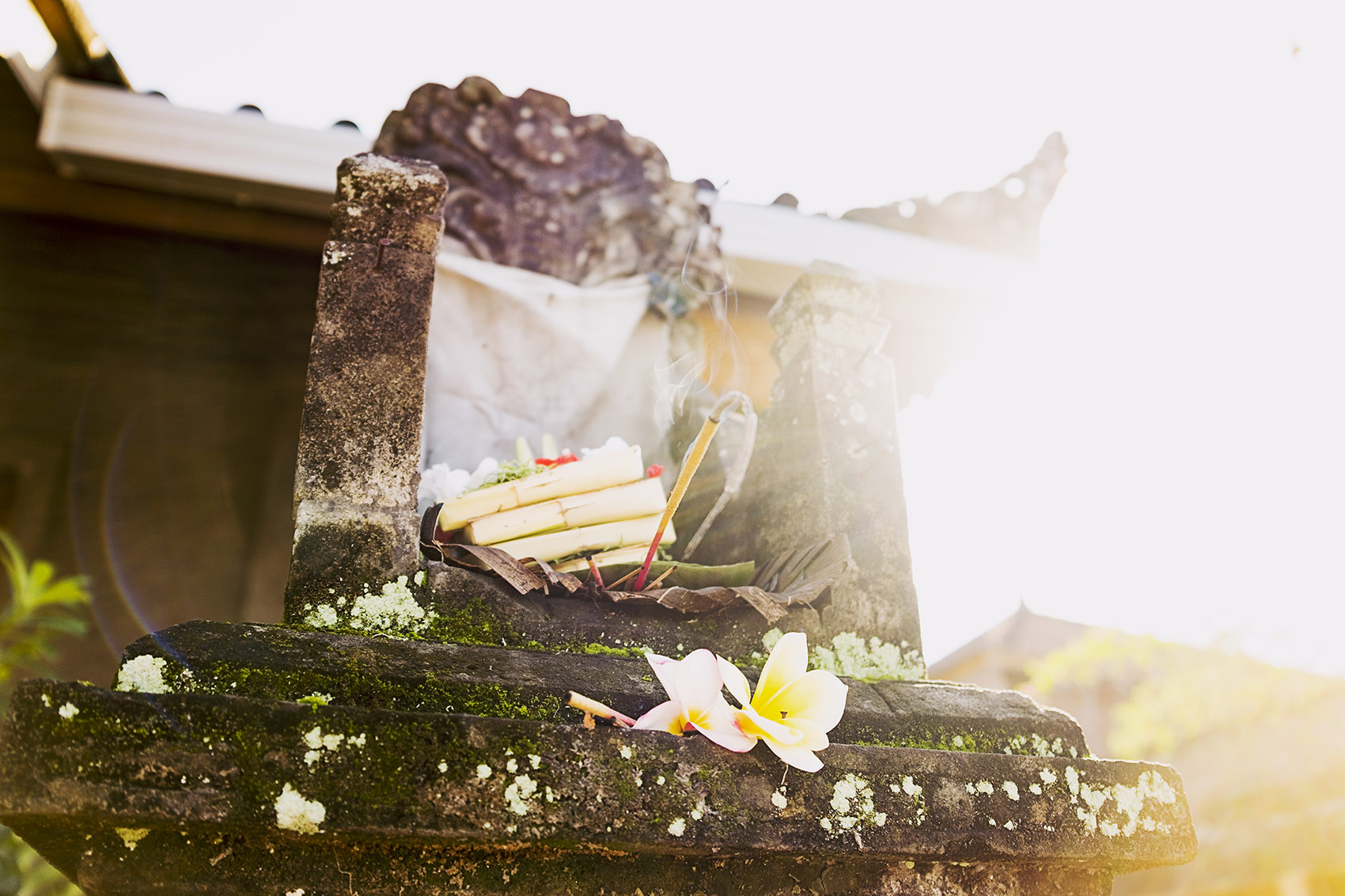 Bali.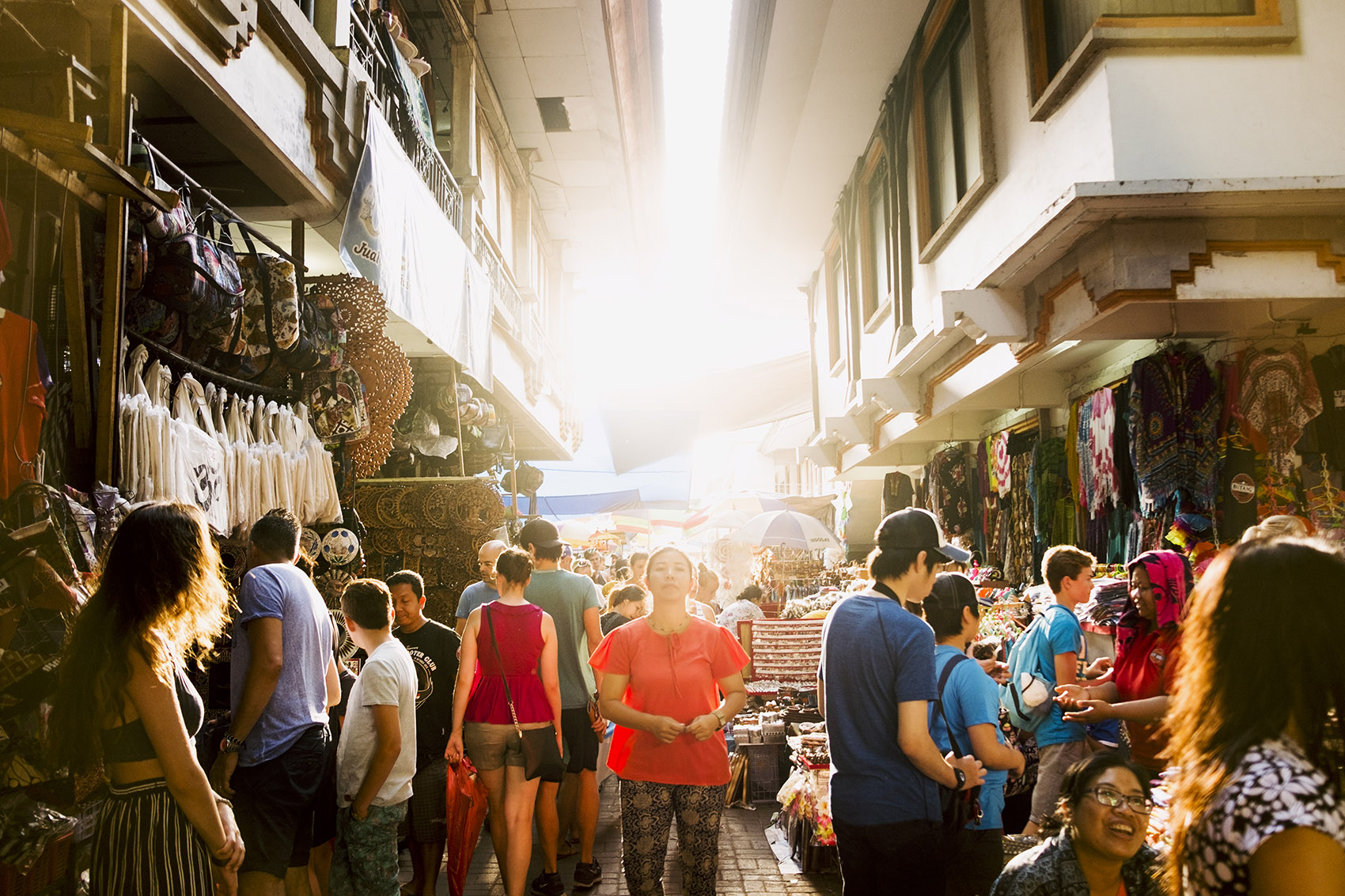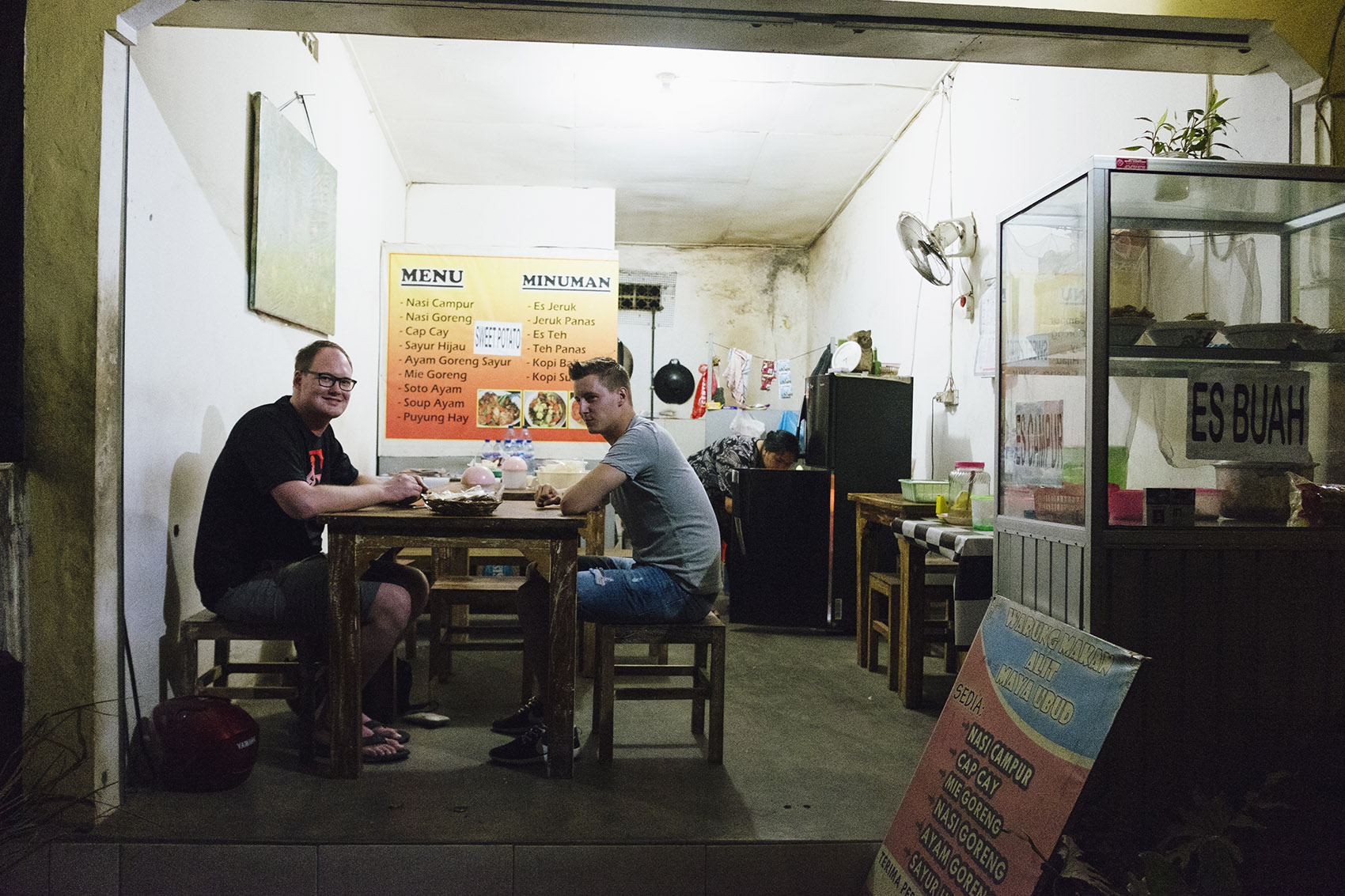 I met 2 german guys, Daniel and Andy, and spent my first day in Bali with them. We ended up in this restaurant and I think this is the most dirty place I've ever went for food. There were ants walking everywhere and the far right corner is the kitchen. Hooray.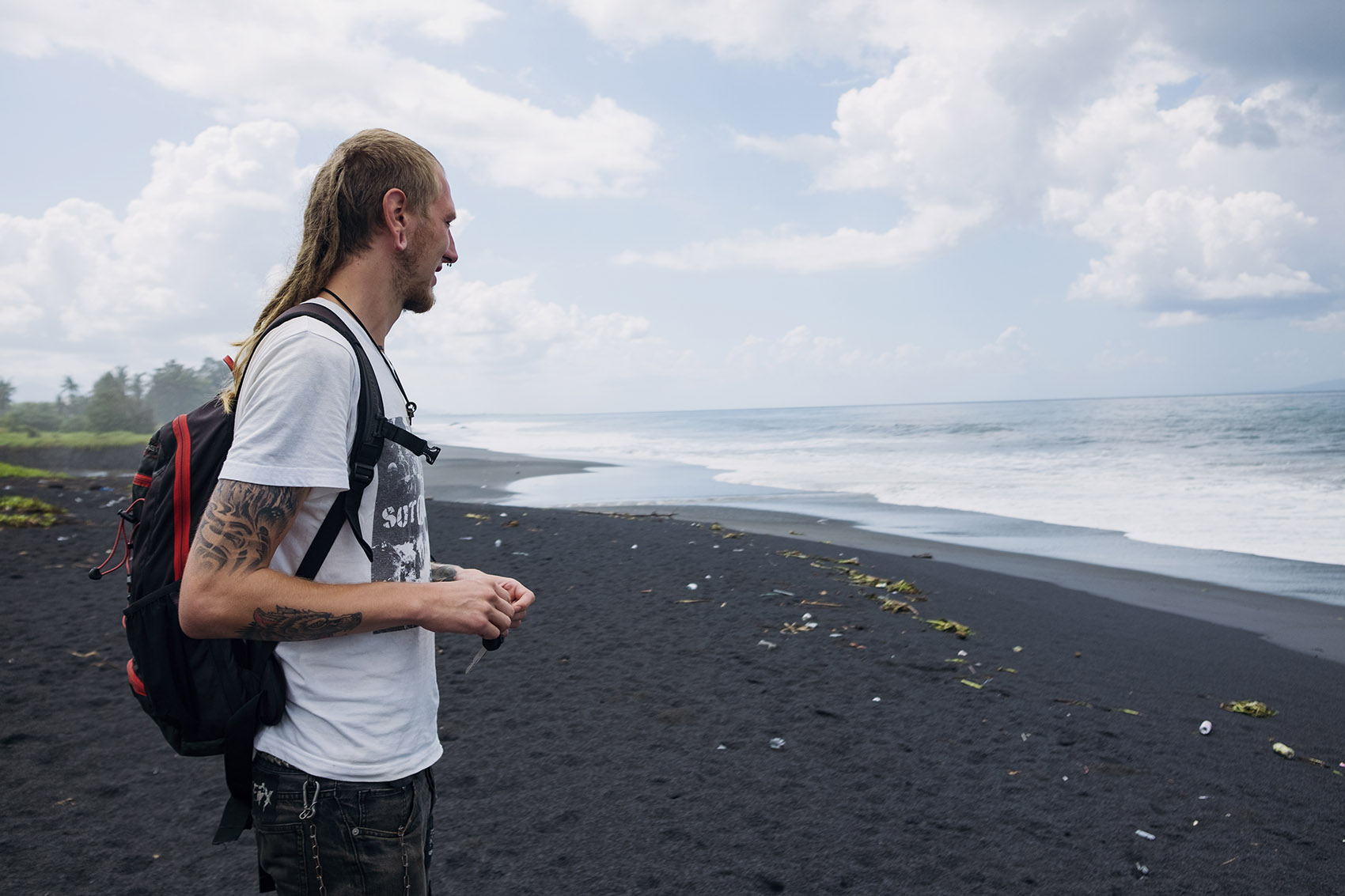 The day after I found Twan again and we wanted to go surfing. So we went to a black sand beach but the current was too strong so we decided to drive a bit further to go snorkeling at Blue Lagoon Beach.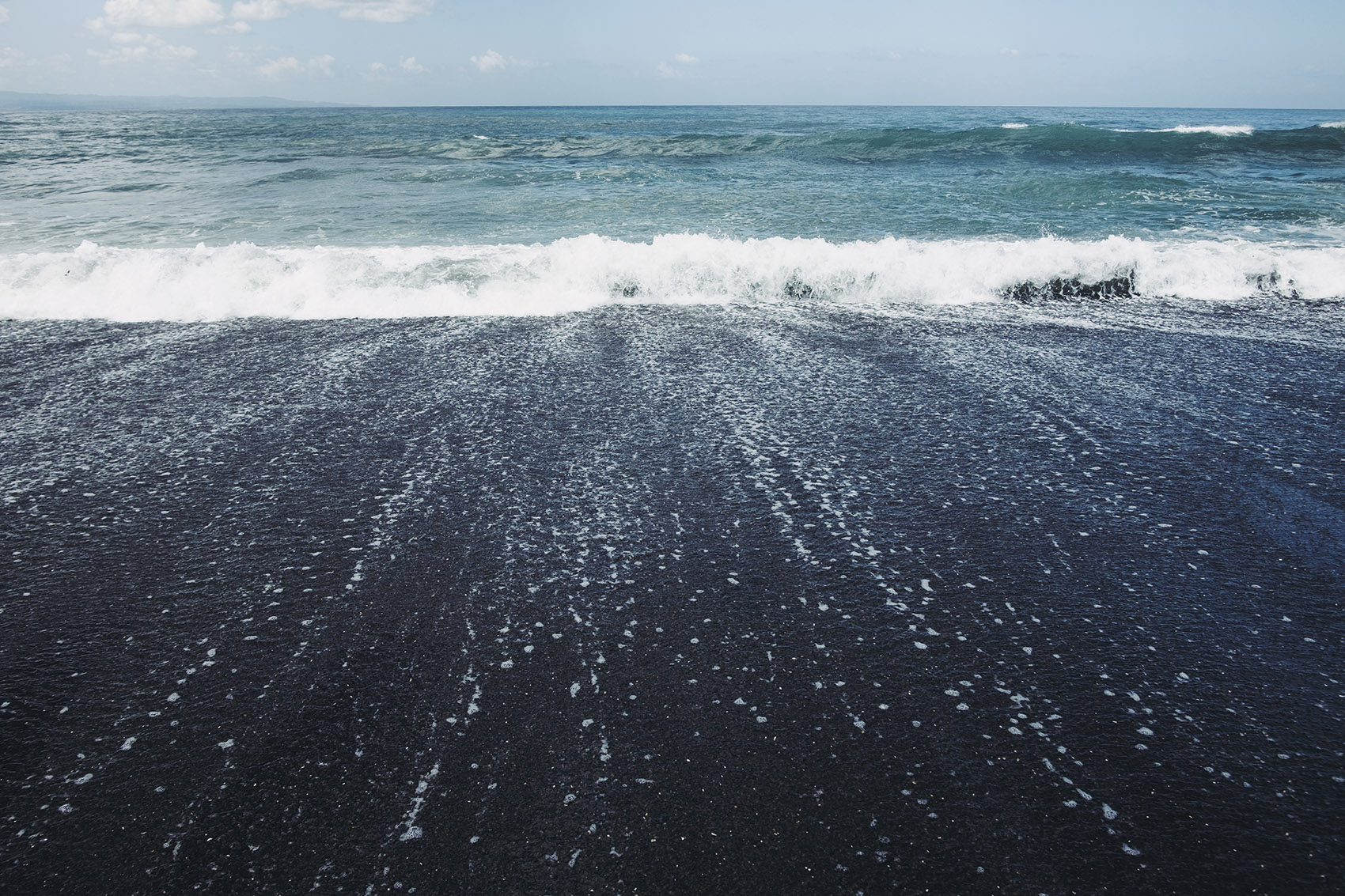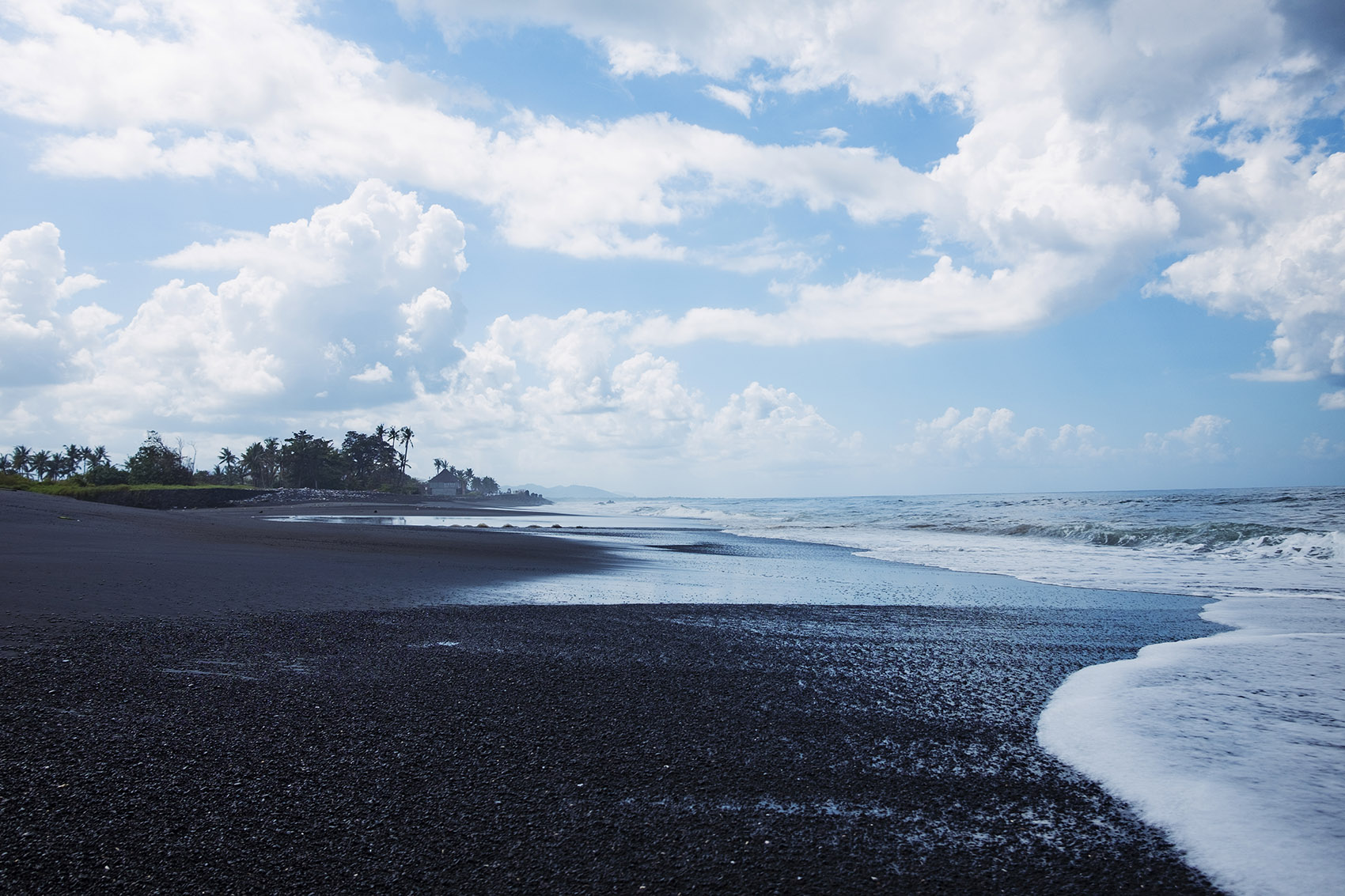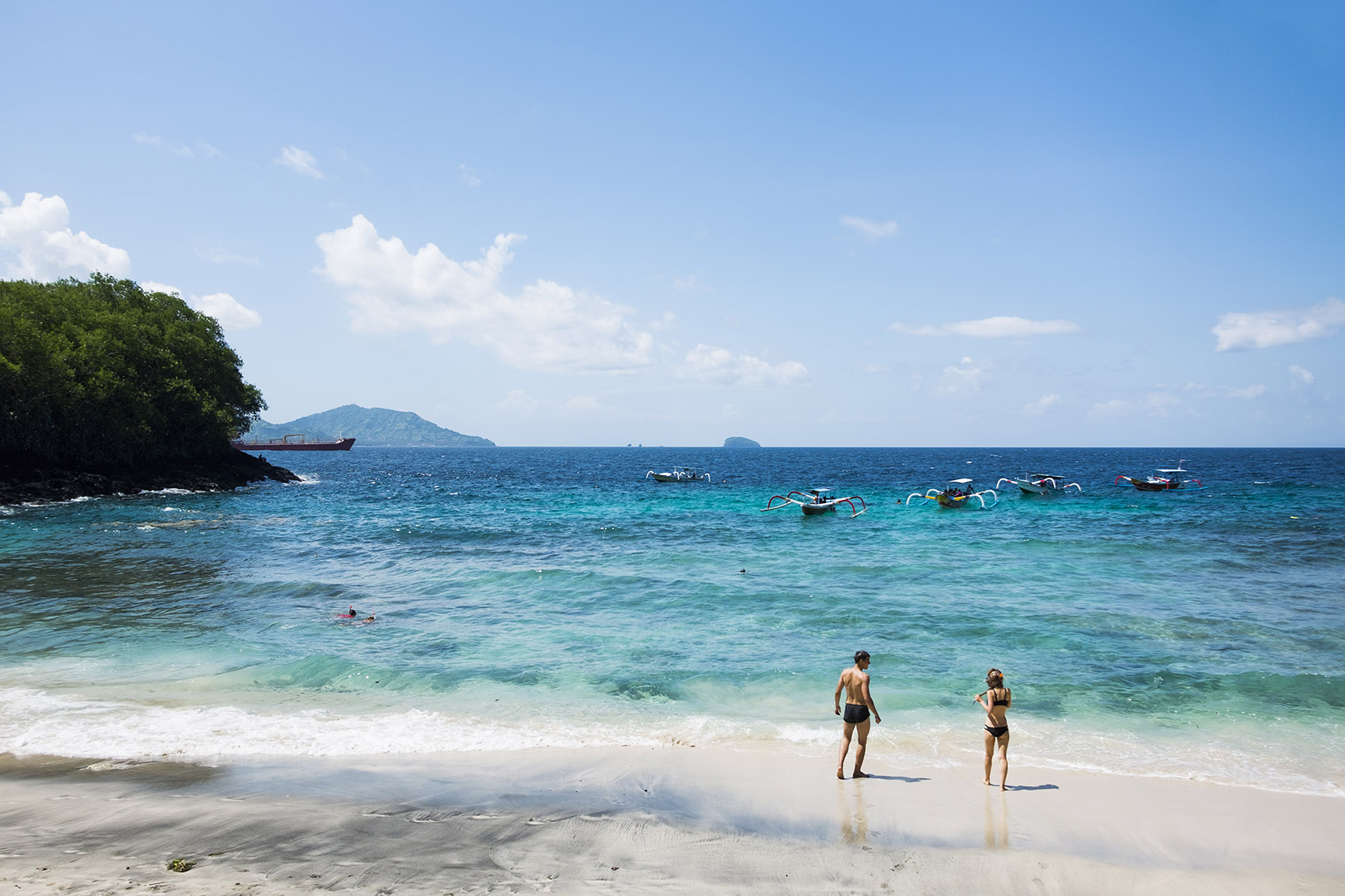 I never went snorkeling before, at first didn't want to wear the mask etc. but after looking for a couple of seconds under water I was hooked. So. Many. Fish. It was insane. I thought those fish only existed in movies like Finding Nemo. Bright coloured fish or even ones with rainbows on them, crazy!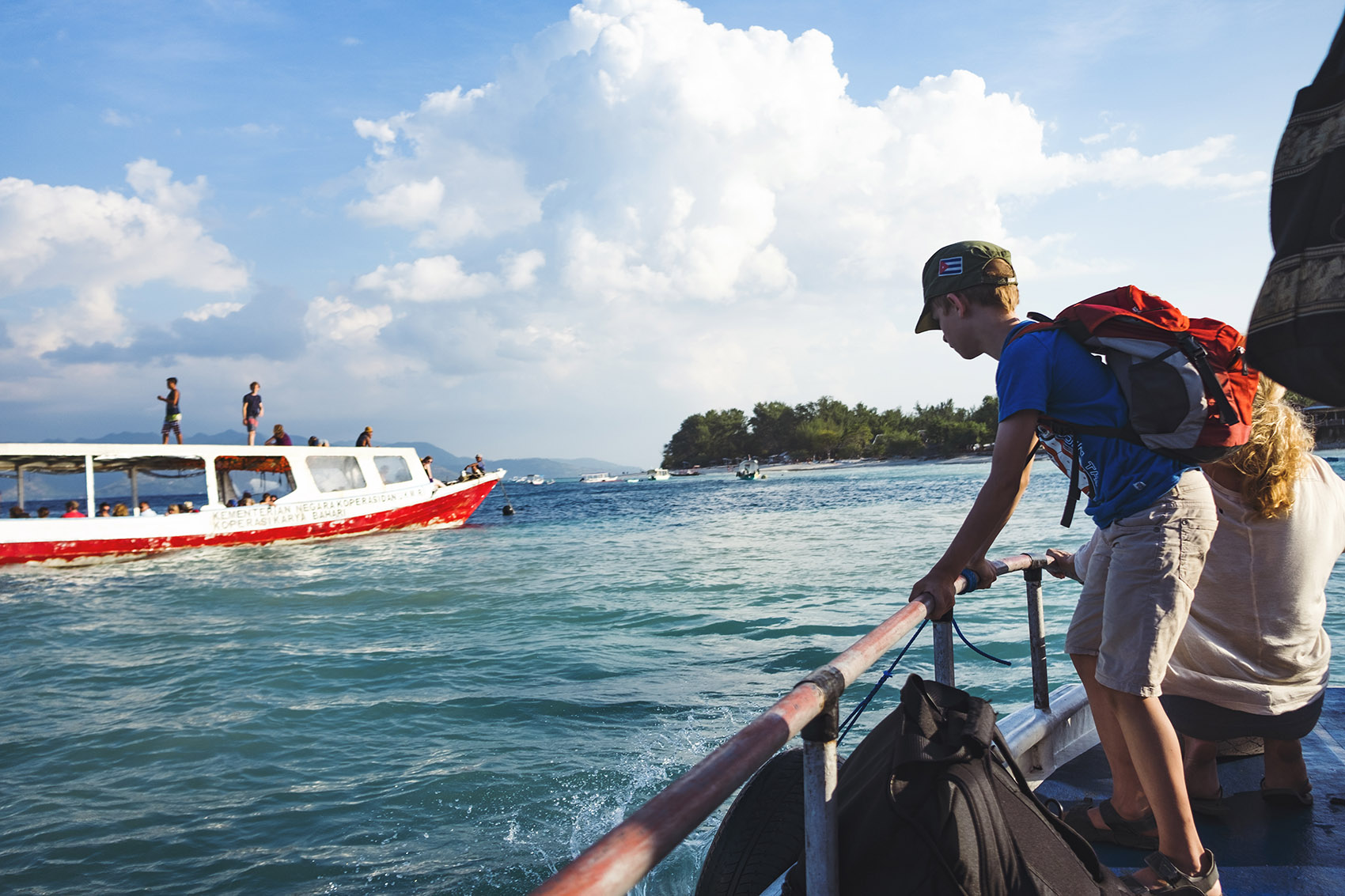 After Bali we took a boat to Gili meno, an island where no motorised vehicles are allowed so it's really quiet and calm which was nice for a change. We spend our time drinking cocktails, walking around and looking at the stars.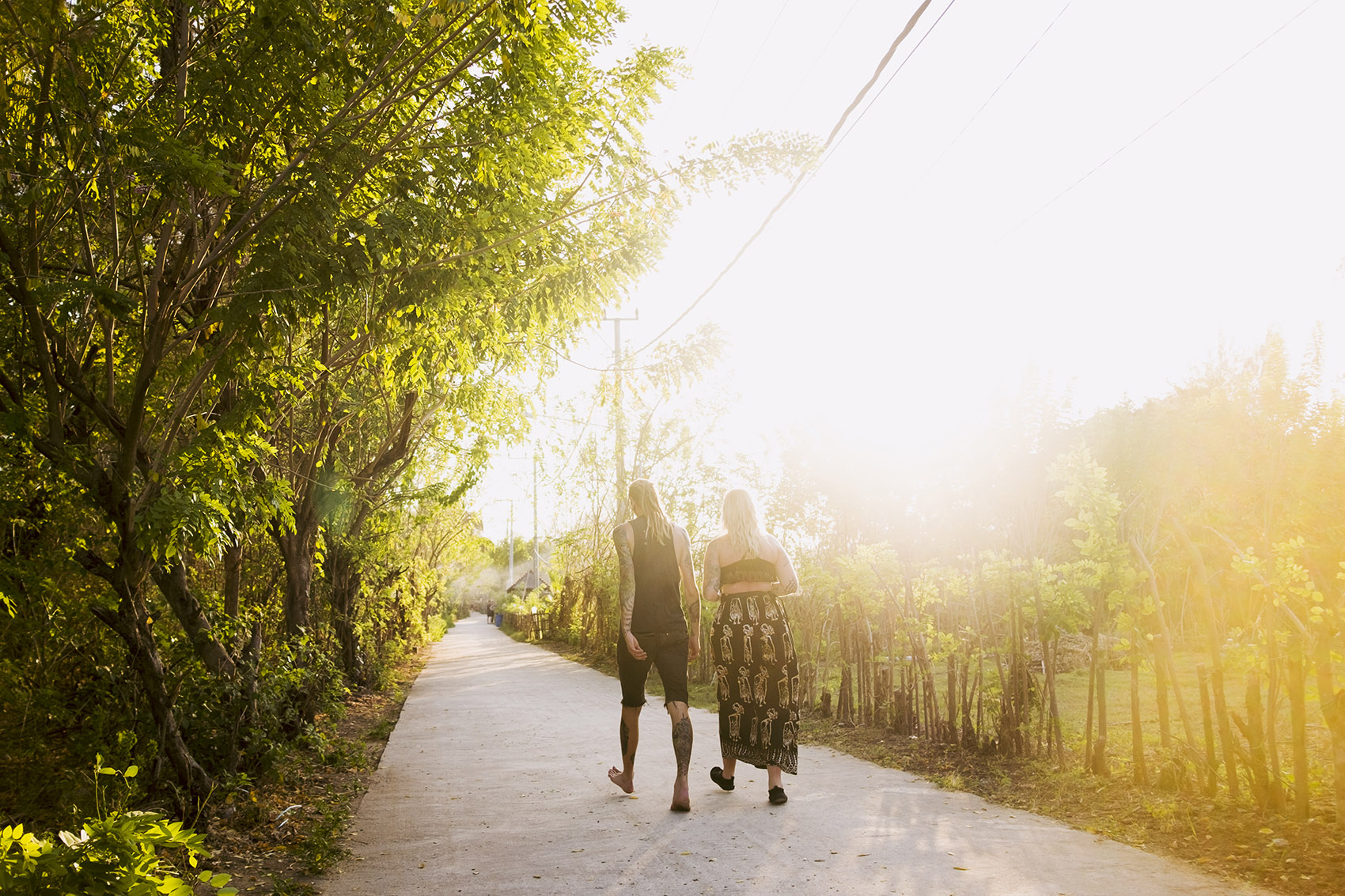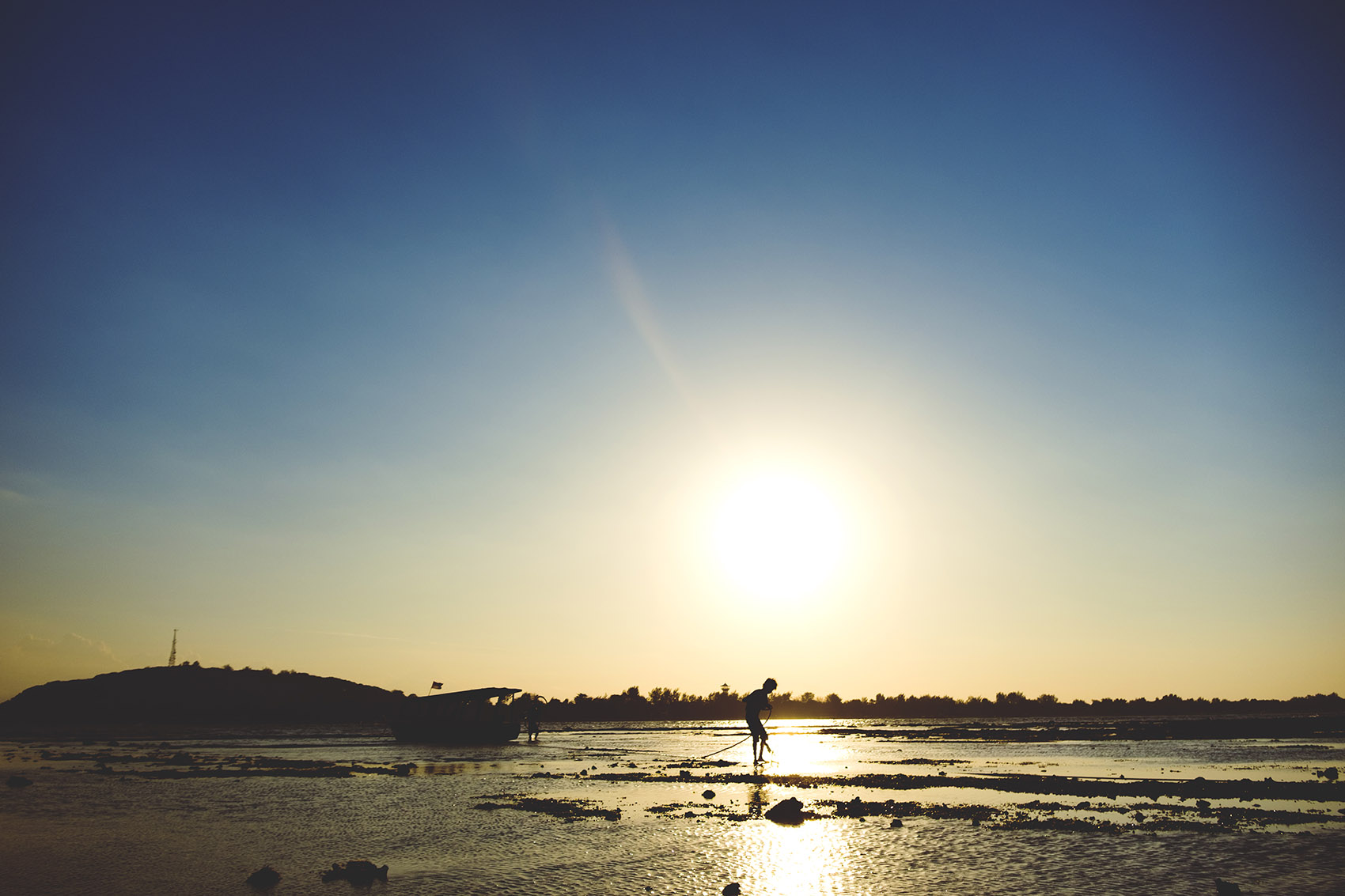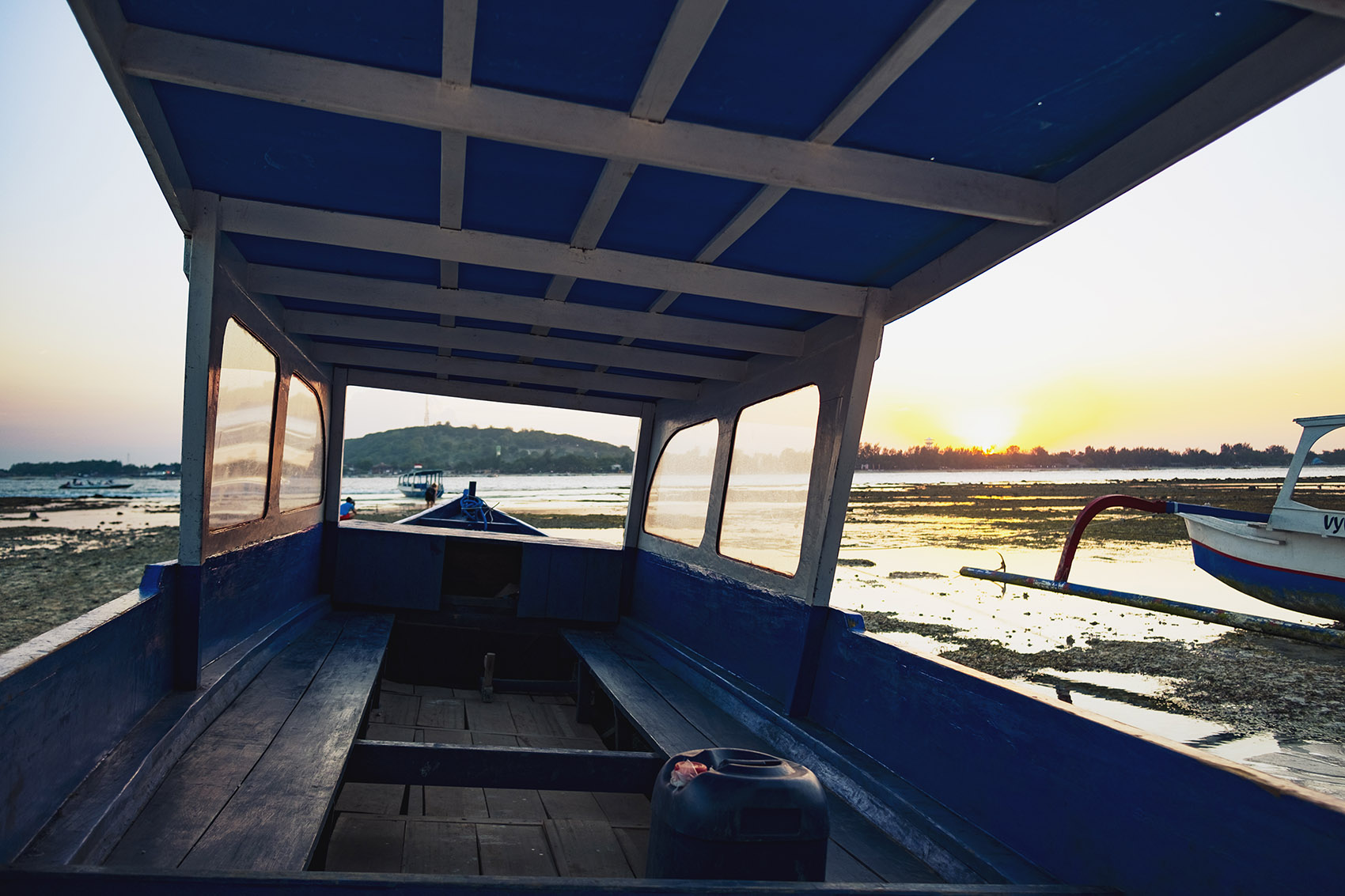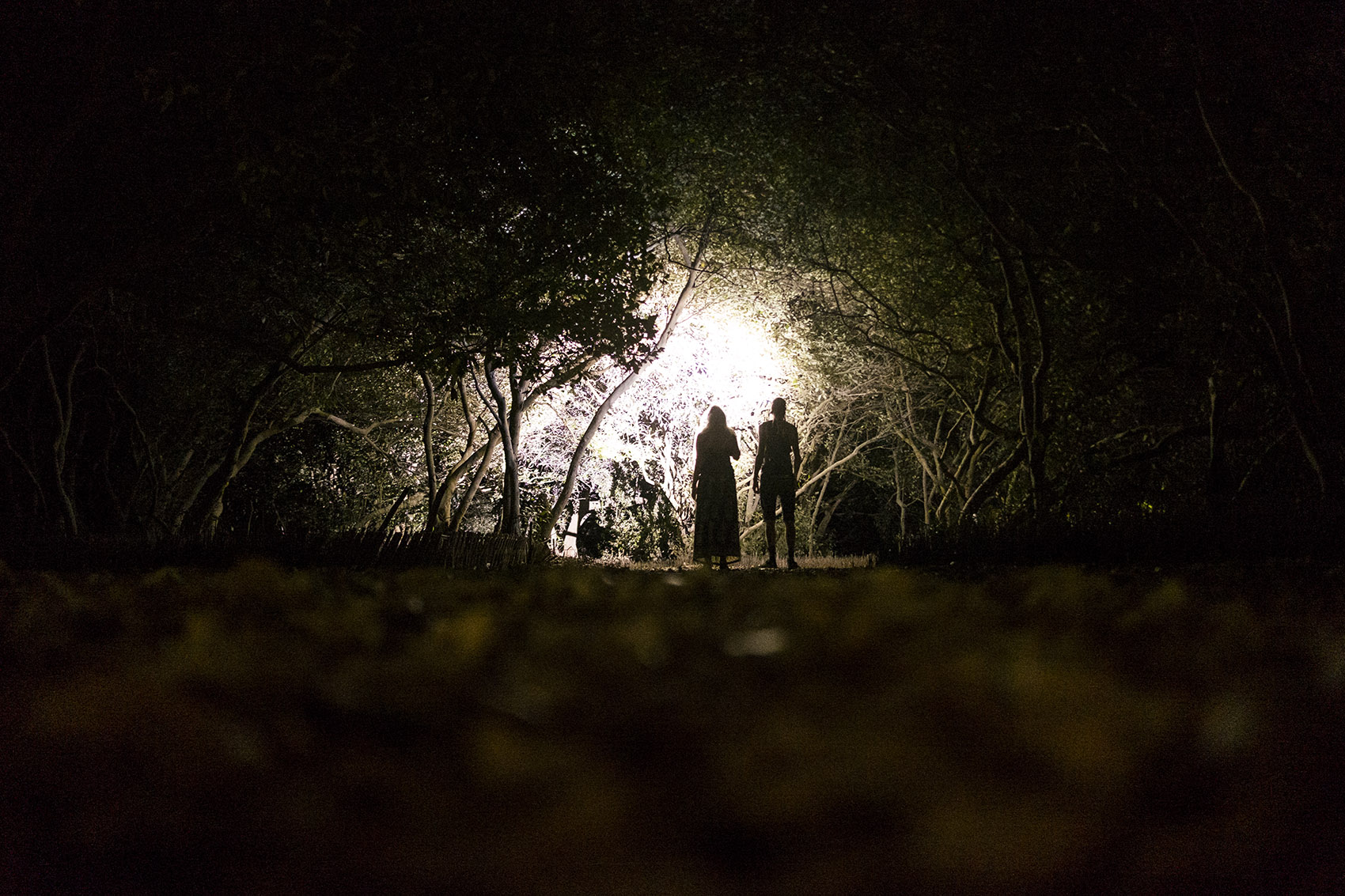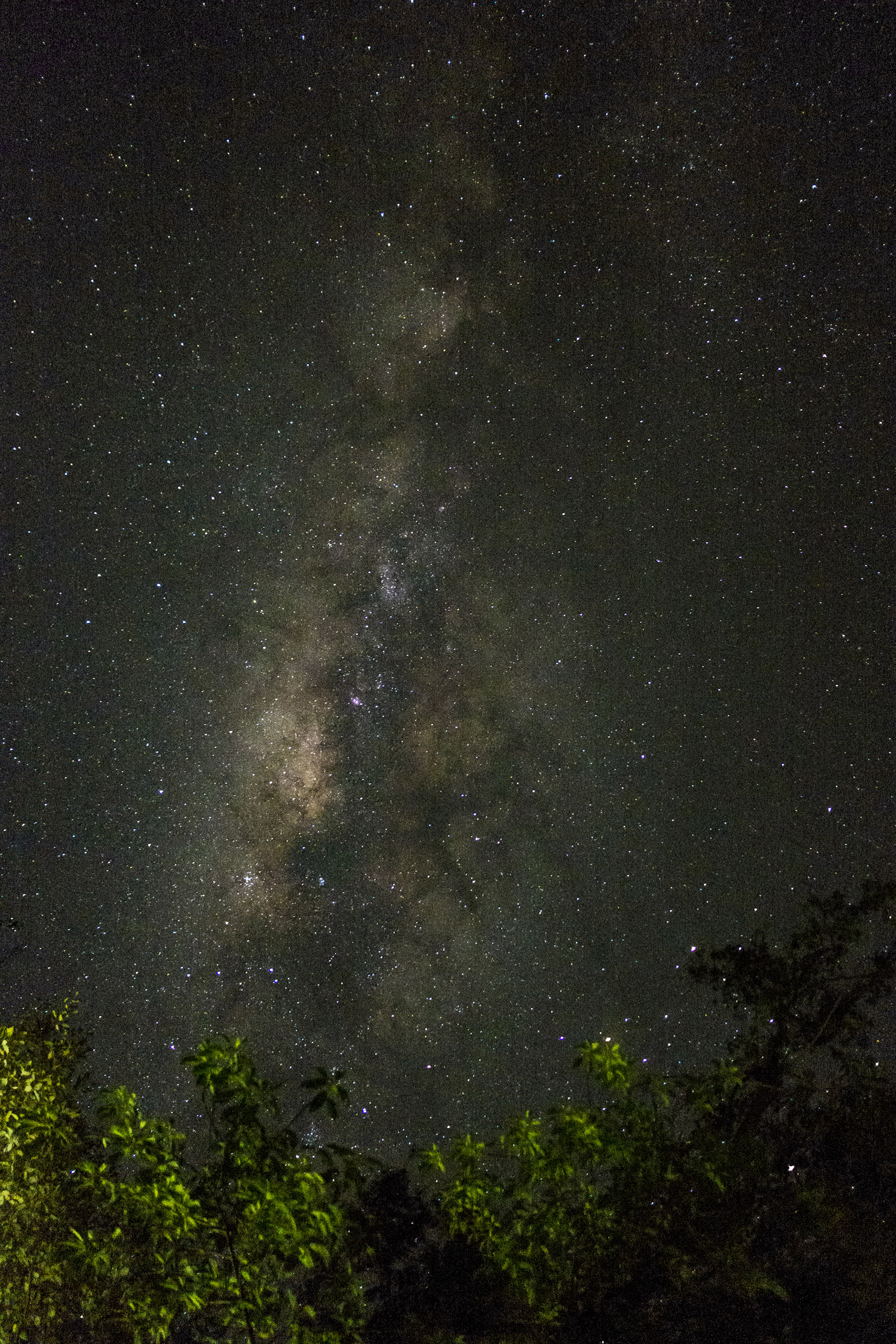 Since there's almost no light pollution on these islands you're able to see the milky way. It's something I always wanted to see but didn't knew we would be able to see it here.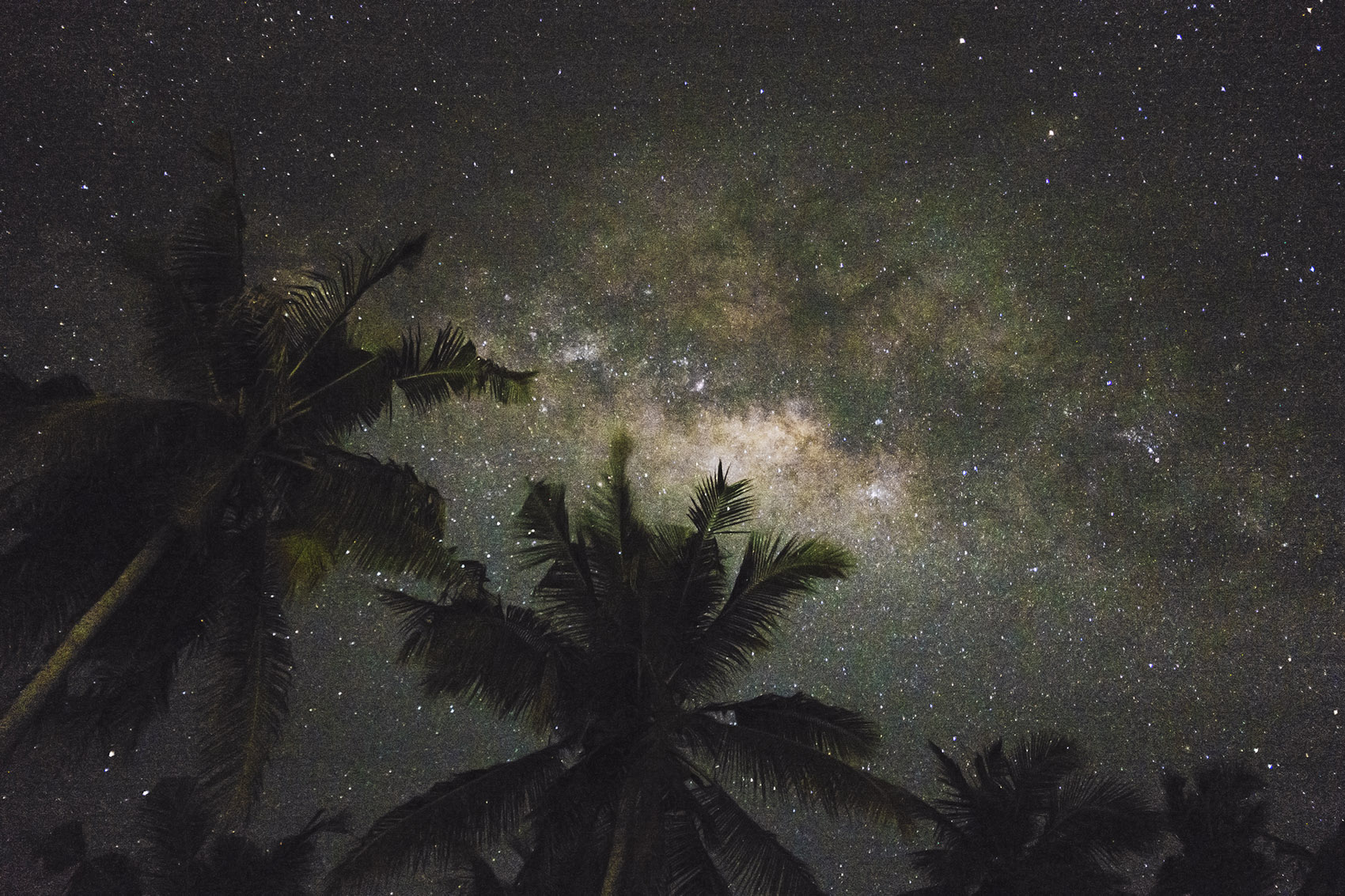 After Gili Meno I went to Lombok and also had a great time there. Unfortunately I got robbed and my camera got stolen so I am missing a lot of photos from the last 1,5 week. I was driving on my scooter wanting to shoot some portraits on the Island but apparently I drove into a dangerous zone. I had my camera around my shoulder but locked to my backpack, so you wouldn't be able to take it off my shoulder. I was driving around 60 km/h and enjoying the scenery when 2 guys came driving next to me, pulled a knife and cut off my camera and drove away. It was a really shitty day where I had to spend 3+ hours at a police station to file a report. Looking back at it I was lucky I didn't fell and didn't get hurt.
Apart from this accident I absolutely loved my month in Indonesia. I met so many amazing people and had a lot of awesome experiences. Can't wait for my next trip.